| | |
| --- | --- |
| Best thing since sliced bread: Clemson commit shines in Shrine Bowl | |
---
| | |
| --- | --- |
| Monday, December 21, 2015 7:01 AM | |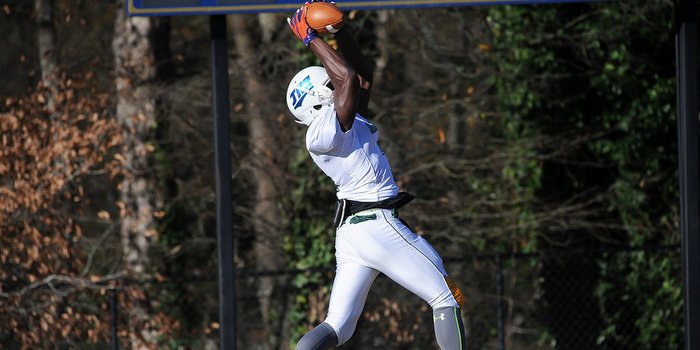 The state of North Carolina has seen what Cornell Powell can do, but Saturday the talented wide receiver put on a show for South Carolinians.
The 4-star Greenville (NC) Rose receiver and Clemson commit was the star of Saturday's Shrine Bowl ,amassing 254 all-purpose yards and two touchdowns. Powell had four catches for 54 yards and a score, one rush for seven yards and three kickoff returns for 203 yards and a touchdown.
Powell said the performance he had at the Shrine Bowl was one he won't soon forget.
"It means a lot, doing what I've been doing all year against other great talent and it really helps my confidence going into next year when I'm going to be at Clemson," Powell said after Saturday's game. "It's just an experience I'll never forget and I'm excited to be from the North Carolina team."
Not only was he able to help his North Carolina team beat the South Carolina Sandlappers 54-39, he was also able to give Clemson fans a glimpse of what's in store for the next four years.
"It's good to get love from fans (in this state) already, and Clemson fans already," Powell said. "It just means a lot because they travel and follow their young talent. But when I get up (to Clemson) I know the state is going to be rocking and I'm ready for it."
Powell is known as a receiving threat, but his 98-yard kickoff return for a touchdown opened eyes to what he can do on special teams, and he said he was more than willing to play the role of return man for the Tigers next season.
"If coach Dabo Swinney wants me to go back there and kick return, I'll go out there and do it and give it my all," he said. "I feel like I have the ability to take it back (for a touchdown) anytime I touch the ball. Hopefully I get to do it when I get there and if not I'm still going to be happy to be a Tiger."
Powell committed to Clemson back in February and he said he's excited to be a part of Clemson's winning tradition.
"It makes my decision look like the best thing since sliced bread," he said. "So I'm just glad I'm going to be a Tiger, and that I committed early. I'm ready to get up there to Clemson and continue the winning ways."
He then said that the transition from his high school offense to Clemson's spread attack shouldn't be difficult, especially since he'll have the entire summer to learn the system after he enrolls in June
"The high school that I come from, we run the same exact offense – the spread offense – so I know I'm going to fit in well and I've just got to keep grinding and perfecting my craft and great things are going to happen," he said.
For his career, Powell has 203 catches for 4,301 yards and 68 touchdowns. He also completed 45-of-101 passes for 779 yards and seven scores, while carrying the ball 110 times for 828 yards and 13 touchdowns.
On special teams he logged 35 kickoff returns for 1,199 yards and 10 punt returns for 353 yards.