| | |
| --- | --- |
| Ben Boulware's biggest fan on August 31st? | |
---
| | |
| --- | --- |
| Wednesday, July 3, 2013 1:21 PM | |
When Ben Boulware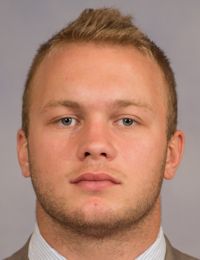 Ben Boulware
Fr. Outside Linebacker
# 6-1, 230
Anderson, SC
View Full Profile stands at the top of The Hill for the first time, his biggest and loudest fan will be his older brother.
Garrett Boulware- Clemson's rising junior catcher- is headed to Omaha to participate in the TD Ameritrade Home Run Derby this week, but he took a few minutes to reflect on what it will be like to see his younger brother enter Memorial Stadium for the first time as a member of the Clemson football team.
The Boulware family has been attending Clemson football games for many years, but Garrett said that seeing his brother in a Clemson uniform for the first time will undoubtedly be a little strange.
"I'm extremely excited. I've been coming to Clemson games my whole life and watching people run down the hill, but it's going to be a little weird watching my brother do it," Boulware said last week. "It's going to be awesome."
Garrett knows that Ben will have to earn his playing time, but the first time his younger brother takes the field, he will be his loudest and proudest fan.
"I hope he's playing, but he's going to have to go through freshman year just like everyone else," Boulware said. "He's going to have to earn it and earn playing time. He's going to have to show that he can play or he's not going to. I hope he is because I'm going to be screaming my heart out for him. It's going to be awesome. I'm really excited about it."
In order to earn playing time, Ben will have to learn how to balance academics and athletics- something that Garrett said is more difficult than it appears.
"I've talked to him a little bit," he said "It's funny because I talked to one of the other football players and they were just talking about how they are doing a couple of routine things every day and I talked to my brother and he was like, 'God, I'm so tired right now.' He doesn't really know how school, football and everything else are really going to add up. He's doing fine and he'll handle it, but it takes about a month to get adjusted. It's tough. It's college sports. It's not supposed to be easy. It's going to take a little bit because he's pretty worn out right now."
According to Garrett, getting acclimated to college life usually takes about a month, which is about the amount of time Ben has during summer school.
"Summer school gives you about a month to get ahead of everybody else," he said. "Everyone else is just doing school. It kind of gets you into a routine and creates a regimen. It makes you do what you have to do. You can't just goof around and have fun. You're not a kid anymore. You're a grown up and they are paying for you to be here. You have to grow up and play like you're a grown up. I think it will be good for him."