| | |
| --- | --- |
| Bailey "has a lot to think about" after Clemson visit | |
---
| | |
| --- | --- |
| Thursday, June 12, 2014 10:46 AM | |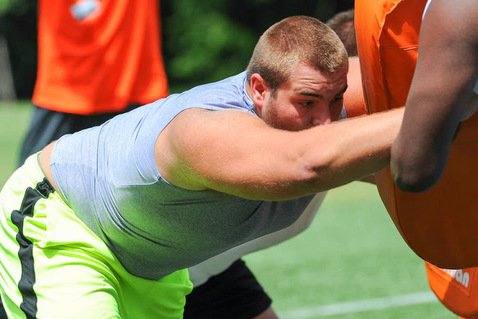 When Zack Bailey

Zack Bailey
Offensive Tackle
6-5, 300
Summerville, SC
View Full Profile finally makes his college decision, he wants to have no regrets. However, after spending the two days in Clemson, he still has a lot to think about.
The 6-5, 305 pound Summerville (SC) offensive lineman came to head coach Dabo Swinney

Dabo Swinney
Head Coach
View Full Profile 's high school camp with one goal in mind and after accomplishing that goal the four-star prospect left even more torn between the Tigers and Gamecocks.
"Going up to Clemson, everything changed," Bailey told TigerNet Wednesday afternoon. "There's always something new there. Seeing Coach (Robbie) Caldwell coach was probably the biggest thing because that was my goal when I camped there. It was nice seeing how he coached and reacts to stuff."
Bailey said that he already knew that he and Clemson offensive line coach Robbie Caldwell

Robbie Caldwell
Assistant Coach / Offensive Line
View Full Profile got along, just from their phone calls. However, he needed to see Caldwell's coaching style.
"We get along well. We talk a lot," Bailey said. "There's always something new when we talk because we don't just talk about football. We just talk about other things. I enjoy him as a coach. He seems like a really good coach, especially after seeing him coach. I didn't know exactly how he reacted to certain things. Seeing him be able to coach was great. I loved it and it was awesome.
"It went great. I enjoyed the camp. It was fun. It was hard because it was hot, but it was fun. It was a great camp and I enjoyed it a ton. It was good to get up there because I haven't been up there in a while. It was good getting up there and seeing the coaches and the environment. The biggest thing was seeing how Coach [Robbie] Caldwell coaches and stuff like that. I like his coaching."
In addition to his relationship with Caldwell, Bailey also has another connection to Clemson – former Summerville and Clemson offensive lineman and current assistant Dustin Fry.
"Dustin also went to Summerville," he said. "We talked about Summerville and how it's changed. He asked me how the coaches were. We just kind of talked to catch up. I asked him when the next time he was coming up. We're close and we talk a lot. He holds our shot put record at our school and I'm not far behind him, so I told him that I was going to break it and take that spot from him. We have that going on, but it's fun. We were just hanging out."
Bailey also enjoyed his time with Clemson's current 2015 trio of offensive line commits.
"We had a good time - Noah [Green], Jake [Fruhmorgen] and Mitch [Hyatt]. They were all up there," he said. "We were just hanging out and just talking. Definitely, size wise, it's good. I know Noah a lot better than I do Jake or Mitch because Noah and I actually played against each other in the semifinals this past year. They are great guys and they are fun to be around. They enjoy being up there. They are definitely interactive people. They've got good size to them and are all athletic."
At the end of the day, though, the decision is more than just about friends, coaches and players.
"This decision is going to affect me the rest of my life so it definitely is a big decision that has to be taken slowly," he said. "You have to make sure the process go well because the last thing I want to do is make the wrong decision."