---
| | |
| --- | --- |
| Friday, October 7, 2011 1:45 PM | |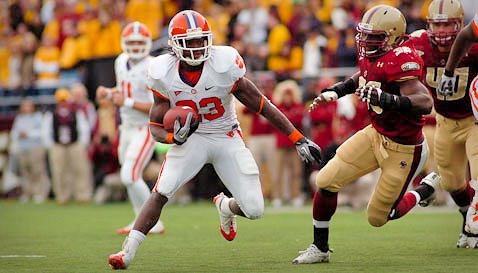 The Clemson Tigers will endeavor to continue their winning ways this weekend, hosting the Boston College Eagles in a 3 p.m. Homecoming contest in Death Valley. The Eagles are never an easy game for the Tigers – Clemson hasn't scored an offensive touchdown against Boston College since 2008 – and the Eagles pulled off a 16-13 stunner in Chestnut Hill a year ago.
The Tigers have proven they can play with the big boys – winning three consecutive games against ranked teams - and now they have to prove they can still maintain that focus against a team with a 1-4 record and in the midst of a tailspin.
A large Homecoming crowd on a sun-splashed day should help with that focus.
BOSTON COLLEGE AT No. 8 CLEMSON
WHEN BOSTON COLLEGE HAS THE BALL
The focal point of the Boston College offense over the last four seasons has been running back Montel Harris, and with good reason. He is Boston College's all-time leading rusher and has 22 career 100-yard games. Last season in Chestnut Hill, he had a workmanlike 37-carry, 143-yard day against a Clemson defense that couldn't get off the field. However, he will be on the sideline in street clothes after his knee injury – he has only played the last two games – caused further swelling. Hid backup is sophomore Andre Williams, who has been steady if not outstanding, averaging 65 yards per contest. However, Williams is questionable with an ankle injury. If he can't go the Eagles will use a combination of Rolandan "Deuce" Finch, Tajh Kimble and Mike Javorski versus the Tigers. Quarterback Chase Rettig has taken a step back this season, completing just 52 percent of his passes, with five touchdowns and four interceptions. If the Clemson defense can do what it did last week and make the offense one dimensional, it allows the defensive line to pin their ears back and go after the quarterback. The Eagles have already allowed 11 sacks this season and Rettig has been hit a ton. He isn't much of a scramble threat, so keeping him in the pocket shouldn't be too much of a problem. The Tigers had four sacks for 31 yards against the Hokies and 10 tackles for loss overall and a young secondary played efficiently in the road test against the Hokies. If Clemson can plug the running lanes, something it did fairly well last week but has struggled with this season, and force Rettig to throw the ball, the Tigers should be in good shape. Look for Brandon Thompson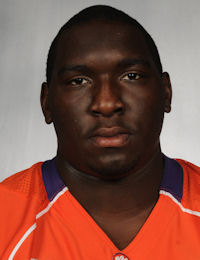 Brandon Thompson
Sr. Defensive Tackle
#98 6-2, 310
Thomasville, GA
View Full Profile , Tyler Shatley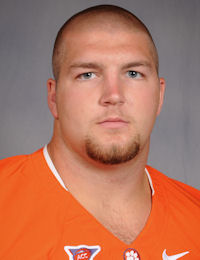 Tyler Shatley
RS So. Defensive Tackle
#43 6-3, 295
Icard, NC
View Full Profile and Rennie Moore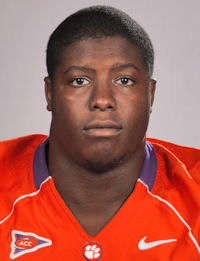 Rennie Moore
RS Sr. Defensive Tackle
#94 6-3, 265
Saint Marys, GA
View Full Profile to have solid days up the middle, while Andre Branch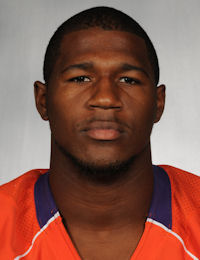 Andre Branch
RS Sr. Defensive End
#40 6-5, 260
Richmond, VA
View Full Profile and Malliciah Goodman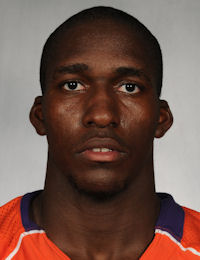 Malliciah Goodman
Jr. Defensive End
#97 6-4, 280
Florence, SC
View Full Profile [who has been way too quiet so far] clean up on the outside.
ADVANTAGE – CLEMSON
WHEN CLEMSON HAS THE BALL
The Tigers managed just 323 yards of total offense last week in conditions that were just a step above miserable. The Hokie defense had a little something to do with that as well as their corners and safeties did a solid job in covering the Tiger receivers. Quarterback Tajh Boyd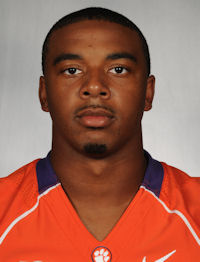 Tajh Boyd
RS So. Quarterback
#10 6-1, 225
Hampton, VA
View Full Profile threw his second interception of the season, but that came on a Hokie blitz and he was expecting his 'hot' receiver to read the blitz and sit in the zone. Instead, the receiver continued up the field and Boyd was picked. This week, the Tigers face a Boston College defense that is led by two outstanding linebackers – Luke Kuechly and Kevin Pierre-Louis. Kuechly is simply one of the best linebackers in the country – he has 83 tackles so far this season and has double-digit tackles in 27 consecutive games after tallying 14 last week against Wake Forest. In contrast, Clemson is led in tackles by Branch, who has 34, while Tig Willard leads the Tiger backers with 25 tackles. Kuechly always seems to be around the football, so look for offensive coordinator Chad Morris to find creative ways to use misdirection plays to take advantage of that over-pursuit and use Clemson's speed. Clemson running back Andre Ellington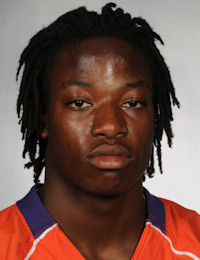 Andre Ellington
RS Jr. Running Back
#23 5-10, 190
Moncks Corner, SC
View Full Profile , at this point, has not looked like the Andre Ellington of last season, before his injury in the Boston College game a year ago. This year, he has battled a hamstring injury and suffered a deep thigh bruise when Boyd hit him trying to make a tackle after the interception last week. Ellington said this week the Tiger trainers and doctors have turned him loose, so it will be interesting to see which Andre shows up. D.J. Howard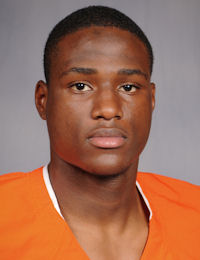 D.J. Howard
RS Fr. Running Back
#22 5-11, 195
Lincoln, AL
View Full Profile should be ready to contribute, and freshman Mike Bellamy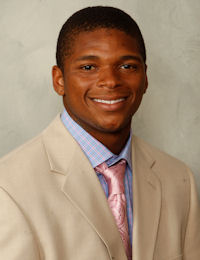 Mike Bellamy
Fr. Running Back
#5 5-10, 175
Nocatee, FL
View Full Profile showed a flash of brilliance last week in his 31-yard touchdown scamper. It would be nice to see Clemson's rushing offense finally have a big game – whether it is Ellington, Howard, McDowell or Bellamy.
ADVANTAGE – CLEMSON
SPECIAL TEAMS
The Tigers are having to reshuffle their special teams in the wake of Spencer Benton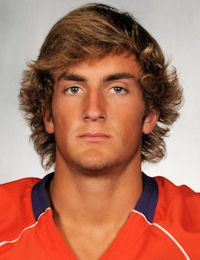 Spencer Benton
RS Jr. Punter / Kicker
#13 6-2, 195
Myrtle Beach, SC
View Full Profile 's shoulder injury last week. Benton was the holder on field goals and extra points and was the kickoff specialist. Now, punter Dawson Zimmerman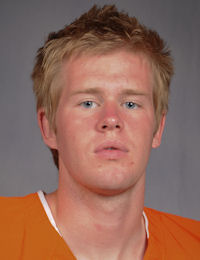 Dawson Zimmerman
Sr. Punter / Kicker
#96 6-2, 205
Lawrenceville, GA
View Full Profile will handle the holds while kicker Chandler Catanzaro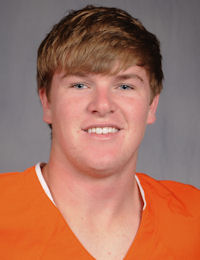 Chandler Catanzaro
RS So. Punter / Kicker
#39 6-2, 200
Greenville, SC
View Full Profile will handle kickoffs. Clemson head coach Dabo Swinney said that Zimmerman could also kick off this week, but neither Zimmerman or Catanzaro have the distance leg of Benton, who was also the backup punter. Zimmerman battled a leg injury in cold and windy conditions last week in Blacksburg as was still solid, as he has been all season. Catanzaro is 5-for-7 on field goals, but it will be interesting to watch how the holds go this week. Boston College kicker Nate Freese is 9-for-12 on the year and drilled a 52-yarder a week ago, so he is solid. What would be nice is to see Clemson's once-feared return game resurface – the Tigers only have one returner with more than one return who is averaging over 20 yards per kickoff return. Still, it appears the Tigers have the edge here.
ADVANATGE – CLEMSON
BOTTOM LINE
If this were two years ago, or even a year ago with a healthy Montel Harris, the Eagles would pose more of a threat. However, I am sure that Boston College head coach Frank Spaziani knows the best strategy for his team is to keep the ball away from the Clemson offense. They will slow it down and run, run and run and throw in a few trick plays here and there in order to keep the Tigers off-balance. Still, the oddsmakers have Clemson a solid 21-point favorite, and that sounds about right, unless the Tigers get a big return day on special team.
FINAL SCORE
CLEMSON 40, BOSTON COLLEGE 13
GUEST PREDICTIONS
Mickey Plyler - 6AM-9M on WCCP 104.9FM - 37-13 Clemson
Dan Scott - 9AM-12PM on WCCP 104.9FM - 42-12 Clemson
El Swann - TigerNet Talk - 47-13 Clemson
Rev O. - Fan's Corner Blog - 45-10 Clemson
Computer simulation - 34-7 Clemson (Boyd: 19-27 244 yards 3Tds 1int; Ellington 21 carries, 119 yards, 1 Td; Hopkins 6 catches for 89 yards 1Td;
Branch 5 tackles, 1 sack; Freeman 5 pancakes; Catman 2/2 fg)
PREDICTION TRACKER
| Game | Actual | David Hood | Mickey Plyler | Dan Scott | El Swann | Rev O. | Computer |
| --- | --- | --- | --- | --- | --- | --- | --- |
| Troy | 43-19 CU | 41-20 CU | 37-17 CU | 34-14 CU | 27-10 CU | 41-21 CU | 34-7 CU |
| Wofford | 35-27 CU | 51-13 CU | 48-17 CU | 40-14 CU | 48-13 CU | 37-13 CU | 38-0 CU |
| Auburn | 38-24 CU | 30-27 AUB | 31-30 CU | 34-31 CU | 24-22 AUB | 34-24 CU | 34-17 CU |
| FSU | 35-30 CU | 23-16 CU | 27-26 CU | 27-16 CU | 35-31 CU | 35-28 CU | 28-24 FSU |
| VT | 23-3 CU | 27-23 CU | 28-27 CU | 31-23 CU | 28-24 CU | 31-24 CU | 24-20 VT |
| Points | - | 8 | 5 | 5 | 6 | 9 | 3 |
* Points: 3 pts for best prediction of the week, 1pt for picking the correct winner

Tags:
Andre Branch
,
Andre Ellington
,
Brandon Thompson
,
Chandler Catanzaro
,
D.J. Howard
,
Dawson Zimmerman
,
Malliciah Goodman
,
Mike Bellamy
,
Rennie Moore
,
Spencer Benton
,
Tajh Boyd
,
Tyler Shatley