| | |
| --- | --- |
| Almost halfway: Spring practice thoughts | |
---
| | |
| --- | --- |
| Sunday, March 15, 2015 8:01 AM | |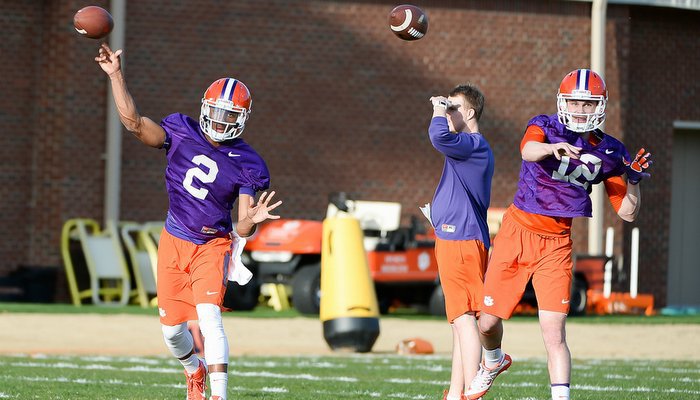 The Clemson football team isn't technically at the halfway point of spring practice after just six practice sessions, but this week's interruption for spring break gives us a good opportunity to take a look at some of the things we've heard and seen to this point.
This camp has been unusual in many respects – the quarterback battle isn't for a starting spot, there are freshmen trying to earn a spot that we can't talk to and things have been relatively quiet on the injury front.
And then there's head coach Dabo Swinney

Dabo Swinney
Head Coach
View Full Profile , who usually has the full range of emotions during a camp session, from the low of outright anger and frustration to the high of making young players sound like a sure-fire first round NFL draft pick.
This spring has seen a different side to Swinney, and he's been on an even keel since the beginning of camp. I like to think of it as a quiet kind of confidence, and when he was asked the other night how he would describe the first six sessions, he just smiled and said, "This team is fun to coach."
Following practice earlier this week, two former Tigers who are currently on NFL rosters were standing just inside the indoor practice facility. I walked up and exchanged the usual greetings, then asked them what they thought about this team after watching the early practices.
One of them smiled from ear to ear and said, "These freshmen are like we were when we were juniors. They get it. This team has the talent to make a run at the college football playoff if 4 ( Deshaun Watson

Deshaun Watson
So. Quarterback
#4 6-2, 205
Gainesville, GA
View Full Profile ) stays healthy."
The young quarterbacks
We've heard the usual reviews out of the quarterback duel, and Swinney and offensive coordinator Tony Elliott

Tony Elliott
Assistant Coach / Running Backs
View Full Profile have been particularly complimentary of veteran Nick Schuessler

Nick Schuessler
RS Jr. Quarterback
#12 6-3, 195
Grayson, GA
View Full Profile . But I purposely asked Swinney the other night if it would be better for all concerned if Schuessler were to just grab the job and let Kelly Bryant

Kelly Bryant
Fr. Quarterback
#2 6-4, 205
Calhoun Falls, SC
View Full Profile and Tucker Israel

Tucker Israel
Fr. Quarterback
#10 5-11, 190
Orlando, FL
View Full Profile redshirt, and he was adamant that the best player will play. That tells me this competition will last well into fall camp.
The reviews on Bryant and Israel have been about what we expected, and what I saw during our limited observation time told me that Bryant has all the physical tools to be the guy. But Israel just has a way of catching your eye, and his arm strength was better than what I saw in camp last year and he's accurate on the short to medium throws.
Defensive ends
I'm not really too worried about the defensive tackle spot D.J. Reader

D.J. Reader
Defensive Tackle (2012 - 2015)
#48 6-2, 325
Greensboro, NC
View Full Profile , Carlos Watkins

Carlos Watkins
RS Jr. Defensive Tackle
#94 6-3, 295
Mooresboro, NC
View Full Profile and Scott Pagano

Scott Pagano
RS So. Defensive Tackle
#56 6-3, 295
Honolulu, HI
View Full Profile are a nice top three to have at that spot and Watkins and Reader have both started games. I was worried about defensive end, but it appears that Kevin Dodd

Kevin Dodd
RS Jr. Defensive End
#98 6-5, 275
Taylors, SC
View Full Profile came to camp focused and in shape and has been a bright light at the end spot opposite Shaq Lawson

Shaq Lawson
So. Defensive End
#90 6-3, 269
Central, SC
View Full Profile .
What I worry about is the pass rush – Lawson and Dodd are both better against the run, and Dodd told us the other night that he likes playing the strongside end spot because he likes to "set the edge" and help stop the run. But Lawson is also really good against the run, and I wondered where the "quick twitch" pass rusher would come from.
Lawson told us he is at 270 pounds – down from 280 – and has three solid pass moves that he hopes will turn him into a better pass rusher. Also, both Swinney and defensive coordinator Brent Venables

Brent Venables
Def. Coordinator / Linebackers
View Full Profile have bragged about the emergence of Ebenezer Ogundeko

Ebenezer Ogundeko
RS So. Defensive End
#1 6-3, 250
Brooklyn, NY
View Full Profile . Venables said that Ogundeko has been more consistent, and that freshman Richard Yeargin

Richard Yeargin
RS Fr. Defensive End
#49 6-4, 225
Lauderdale Lakes, FL
View Full Profile has also emerged as a viable option.
We've been told that veteran Martin Aiken

Martin Aiken
RS Jr. Defensive End
#53 6-2, 255
Smoaks, SC
View Full Profile "is a guy" but isn't quite where he needs to be. Venables was asked about freshman Albert Huggins

Albert Huggins
Fr. Defensive Line
#67 6-3, 280
Orangeburg, SC
View Full Profile , and Venables replied that Huggins "is an end right now." Does that mean he will move to tackle? It seems to leave the option open, but Venables quickly reminded everybody that Huggins has always played defensive end and is more comfortable at that spot.
Another possibility for a move to defensive end is linebacker Chris Register

Chris Register
RS Fr. Outside Linebacker
#45 6-2, 245
Browns Summit, NC
View Full Profile , and I asked Venables if Register could move to the defensive line at some point. His response was, "I don't know."
Offensive linemen
If the season started today, I have every reason to think that the starting five on the line would be Isaiah Battle

Isaiah Battle
Offensive Tackle (2012 - 2015)
#79 6-7, 290
Brooklyn, NY
View Full Profile at left tackle, Eric Mac Lain

Eric Mac Lain
RS Sr. Offensive Tackle
#78 6-4, 305
Hope Mills, NC
View Full Profile at left guard, Ryan Norton

Ryan Norton
RS Sr. Offensive Line
#58 6-3, 285
Simpsonville, SC
View Full Profile at center, Tyrone Crowder

Tyrone Crowder
RS So. Offensive Guard
#55 6-2, 330
Marston, NC
View Full Profile at right guard and Joe Gore

Joe Gore
RS Sr. Offensive Tackle
#73 6-5, 290
Lake Waccamaw, NC
View Full Profile at right tackle.
Freshmen Mitch Hyatt

Mitch Hyatt
Fr. Offensive Line
#75 6-6, 270
Sugar Hill, GA
View Full Profile , Jake Fruhmorgen

Jake Fruhmorgen
Fr. Offensive Line
#63 6-5, 285
Tampa, FL
View Full Profile , Zach Giella

Zach Giella
Fr. Offensive Line
#77 6-5, 275
Augusta, GA
View Full Profile and Noah Green

Noah Green
Fr. Offensive Line
#71 6-5, 275
Boiling Springs, SC
View Full Profile have impressed, but it's still too early to say which of the group will play next season. However, you have to like the fact that all of them have been a little chippy at practice, and Hyatt and Fruhmorgen even got involved in a scuffle with some older players early in camp.
Hyatt was limited last week and wore a yellow jersey, but should be back full strength when the team starts back a week from now.

Tags:
Joe Gore
,
Eric Mac Lain
,
Ryan Norton
,
Nick Schuessler
,
Isaiah Battle
,
Kevin Dodd
,
Carlos Watkins
,
Shaq Lawson
,
D.J. Reader
,
Martin Aiken
,
Tyrone Crowder
,
Scott Pagano
,
Ebenezer Ogundeko
,
Deshaun Watson
,
Chris Register
,
Richard Yeargin
,
Albert Huggins
,
Kelly Bryant
,
Mitch Hyatt
,
Noah Green
,
Tucker Israel
,
Jake Fruhmorgen
,
Zach Giella
,
Brent Venables
,
Tony Elliott