| | |
| --- | --- |
| Albert Huggins and Christian Wilkins: Brooks talks about talented tandem | |
---
| | |
| --- | --- |
| Friday, July 31, 2015 7:01 AM | |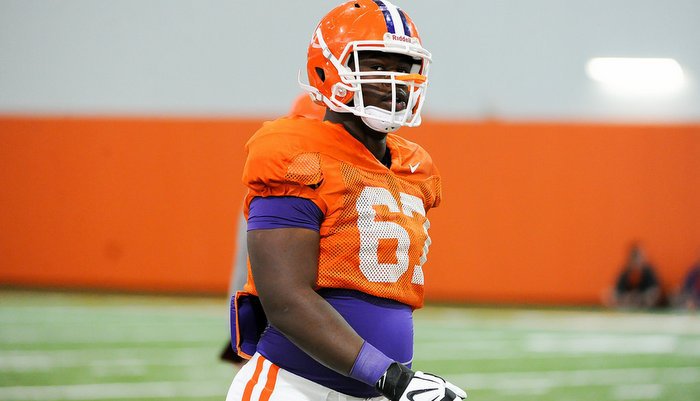 Their names will go down in Clemson football history as some of the best to ever play defensive tackle for the Tigers, and now it's up to Dan Brooks

Dan Brooks
Assoc. Head Coach / Def. Tackles
View Full Profile to grow up a new bunch.
Grady Jarrett

Grady Jarrett
Defensive Tackle (2011 - 2014)
#50 6-0, 290
Conyers, GA
View Full Profile , DeShawn Williams

DeShawn Williams
Defensive Tackle (2011 - 2014)
#99 6-1, 295
Central, SC
View Full Profile , and Josh Watson

Josh Watson
Defensive Tackle (2010 - 2014)
#91 6-4, 290
Wilmington, DE
View Full Profile each left an indelible imprint on the Clemson program, and Brooks will have veterans like D.J. Reader

D.J. Reader
Defensive Tackle (2012 - 2015)
#48 6-2, 325
Greensboro, NC
View Full Profile , Carlos Watkins

Carlos Watkins
RS Jr. Defensive Tackle
#94 6-3, 295
Mooresboro, NC
View Full Profile , and the emerging Scott Pagano

Scott Pagano
RS So. Defensive Tackle
#56 6-3, 295
Honolulu, HI
View Full Profile to lean on this season.
However, rookies Christian Wilkins

Christian Wilkins
Fr. Defensive Tackle
# 6-5, 305
Longmeadow, CT
View Full Profile and Albert Huggins

Albert Huggins
Fr. Defensive Line
#67 6-3, 280
Orangeburg, SC
View Full Profile will get long looks during the fall camp that starts next Tuesday. Huggins enrolled last January and got a head start on the process and participated in spring practice, but he started out at defensive end after a promise that was made during the recruiting process. However, Huggins' size and athletic ability make him an ideal tackle and Brooks said he sees a scenario where Huggins plays at both spots this season.
"I think Albert is a very talented guy," Brooks said two weeks ago at head coach Dabo Swinney

Dabo Swinney
Head Coach
View Full Profile 's golf outing. "Our head coach tells every one of our guys we sign, 'We're going to start you out where you want to be.' That was a big deal in his recruiting; he wanted to be a defensive end and he did work there for the first two and a half weeks of spring ball. Obviously, Coach (Marion) Hobby had been very involved in his recruiting. I had been down there (to Orangeburg), but never from the standpoint of telling him we're going to put you at tackle.
"So, even after we practiced for a while he came to us and said he wanted to look at that because he was 280 pounds when he showed up. He's going to help us. Where our depth is at defensive end, he still can help us there. But we believe Albert is a guy that can help us early, wherever it is. Coach Hobby and I work together with them good — they're not my guys or his guys — and Albert is one of those. There's no question that he will be a very good player here wherever he ends up that is best suited for him."
Brooks said that Huggins has almost limitless potential.
"The things we do with our ends, we're going to drop them (into coverage) some, we're going to stand them up some, we're going to do some of those kinds of things," Brooks said. "I think you're going to see him be a guy that will progress and be a next-level guy. He's probably a three-technique type of guy. If he can do some of both, it just helps him, but I think that's where his ceiling probably is."
Huggins looked noticeably bigger during Swinney's high school camps in June, and Brooks said he thinks the Orangeburg native was adding the right kind of weight.
"He's good. I told him with where he came in, just getting bigger is not better," he said, "It needs to be good weight. Albert looks great; he actually thinned down and stayed about the same weight or gained a little bit — 285. He looks even more cut than when he came in. I think what Coach (Joey) Batson, Coach (Paul) Hogan and Coach Smo (Adam Smotherman) — who has been a great addition to our staff because he's a young guy who works with our defensive linemen individually and has been there and done that — have done with him has been great. I think Albert looks really good, but he's actually a little bit heavier and you look at him and you think his waist is thinned down. That's our thing: we want it to be good weight, not just getting bigger."
Wilkins is a former 5-star prospect with an air of mystery – Wilkins played high school ball in Connecticut and we didn't see him in person; he never showed up at any of the high school camps in the region; and Wilkins didn't do interviews, so a lot about Wilkins is still unknown.
Brooks said that Wilkins' athletic ability is a known quantity, however, and he thinks the freshman could see playing time this season.
"Because of our depth, we're going to put the best guys out there. We can't be around our kids during the summertime," Brooks said. "You can't be out there if there's a ball. I haven't seen him play, other than what I saw in high school. Athletically, he could be one who could play up front. I had a guy named Shaun Ellis (at Tennessee) and everybody said he's going to grow into a three-technique; he played end the whole time and ended up playing six technique in the pros and he played three technique in pass rush and tackle.
"Christian Wilkins, athletically, can be that guy from what I see right now without any football pads on. Again, we have to rely on Coach Batson and Coach Smo and those guys in the summertime and what they're seeing. But what I see in a change of direction with him and that kind of thing, he's athletic enough to help Coach Hobby at end. If he's that guy, that's fine too, but I think his ultimate position is in the three technique."