| | |
| --- | --- |
| Advice from father turns Stoudt's spring around | |
---
| | |
| --- | --- |
| Thursday, April 12, 2012 11:01 AM | |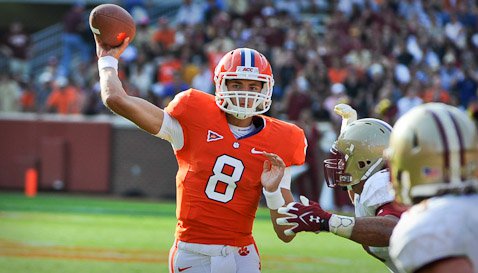 CLEMSON – Not every college player has the luxury of turning to a former NFL player for a little advice when things start to get a little tough, and not every college player grew up in the same house as a former NFL quarterback.
Clemson quarterback Cole Stoudt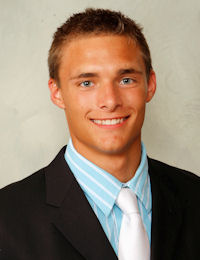 Cole Stoudt
Fr. Quarterback
#8 6-4, 200
Dublin, OH
View Full Profile says he doesn't remember when his dad – Cliff Stoudt – played in the NFL from 1977-1991 and might be best remembered for being Terry Bradshaw's backup with the Pittsburgh Steelers in the early 1980's.
That doesn't mean, however, that Cole doesn't know how to take advantage of his dad's football knowledge.
Stoudt spent the first part of spring practice struggling, leading offensive coordinator and quarterbacks coach Chad Morris to announce that Stoudt was being pushed by Morgan Roberts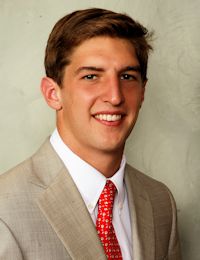 Morgan Roberts
RS Fr. Quarterback
#16 6-2, 200
Charlotte, NC
View Full Profile for the backup spot behind starter Tajh Boyd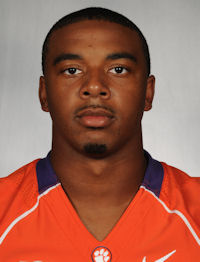 Tajh Boyd
RS So. Quarterback
#10 6-1, 225
Hampton, VA
View Full Profile .
Boyd took his spring break to go to California to work with quarterback guru Bob Whitfield, but Stoudt decided to seek the advice of someone who knows him best – Cliff.
"I started out slow, and I know Coach Swinney talked about that. Once I got back from spring break and threw with my dad, I felt a lot better – more confident and calm," he said. "It's been a lot better after spring break. The biggest thing my dad said was, 'Relax, you're all tightened up, you can't move at all. It helped."
Cole returned to Clemson in time for the Tigers' first scrimmage of the spring and had what both Clemson head coach Dabo Swinney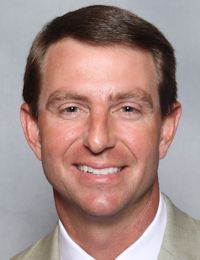 Dabo Swinney
Head Coach
View Full Profile and Morris called his best showing of the spring. That was followed up by another strong showing in this past Monday's scrimmage.
"That [first scrimmage] was probably the best practice I have had," he said. "That was the first scrimmage where Coach Swinney let the quarterbacks get hit, so it had a little bit of game-type feeling, so you play with a little more edge and enthusiasm. Coach Swinney letting us get hit let us get a little energy get going, because if you don't have energy and you get hit you are in trouble."
Stoudt credited his revival to the work he put in with his father.
"My mechanics were a bit off," he said. "It was making me frustrated, and after I got it all straight, I started to calm down a little bit more, everything started to slow down. I had to get that fixed with my dad, and I'm really happy I did. That's helped me a lot this last couple practices."
Spring practice will conclude with this Saturday's game, and Stoudt said he will use his time in not only getting better, but in trying to fend off the push by Roberts.
"Coming in and competing, there's nothing wrong with competing," he said. "Competing makes you better. I'm really excited for how summer's going to turn out and how fall's going to be. Morgan Roberts has been very good this spring. That was a big eye-opener to me," he said. "He came out and he was a different Morgan. I'm really impressed with how he's doing. He's pushing me, I'm pushing him, we're both pushing Tajh. It's going to be good and competitive."