| | |
| --- | --- |
| ACC Championship prediction | |
---
| | |
| --- | --- |
| Saturday, December 3, 2011 8:46 AM | |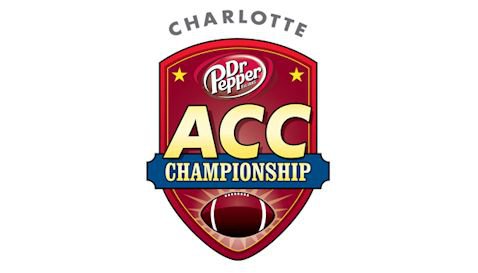 CHARLOTTE, N.C. – Now we have to turn our attention to the ACC Championship, where the Clemson Tigers take on a Virginia Tech team that is on a winning streak and is looking for redemption after losing 23-3 to the Tigers – in Blacksburg – earlier this season.
Clemson head coach Dabo Swinney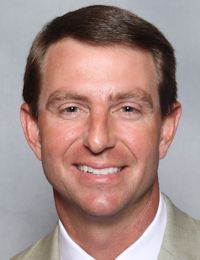 Dabo Swinney
Head Coach
View Full Profile did everything in his power to take the attention away from his team and the losing streak with his comments that were aired Thursday night. Are they enough to fire his team up and send them to victory? It's hard to say, because the Hokies present a challenge. They are better than the team that rolled the Tigers last week – better at quarterback and running back and positions all over the field.
This one, folks, is gonna be tough to win.
CLEMSON VS. VIRGINIA TECH
ACC CHAMPIONSHIP GAME
WHEN VIRGINIA TECH HAS THE BALL
Quarterback Logan Thomas has improved tremendously since the first game between the two teams. Thomas is still a threat to run the football – he is second on the team with 414 rushing yards – but is also more of a threat in the passing game. But the passing game isn't what concerns the Tigers – it's the fact that Clemson's defense hasn't been able to effectively stop the run this season. Last week, they let a second-string and rather pedestrian quarterback beat them and had no answer. This week, they get Thomas and running back David Wilson, the ACC Player of the Year. Wilson is just five yards shy of 1600 on the year, and is averaging 6.5 yards per carry. He is shifty – remember his winding run against Clemson in the first meeting? – and powerful. Without the added threat of Thomas, he would be hard to stop. Clemson's linebackers have been almost non-existent in recent weeks and the secondary simply hasn't tackled well once players break the first and second levels. Add in the mistakes in containment that the defensive line has made, and this is a recipe for much of what was seen last week. One idea – what happened to the 3-4 defense we heard so much about in the offseason? Clemson ran it twice last week – once it caused the offense to call a timeout and the other time was a minimal gain. Throw in the younger linebackers and see what happens. Because right now, this leans heavily toward Tech.
ADVANTAGE – VIRGINIA TECH
WHEN CLEMSON HAS THE BALL
Yes, wide receiver Sammy Watkins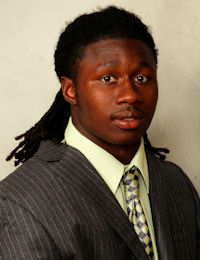 Sammy Watkins
Fr. Wide Receiver
#2 6-1, 200
Fort Myers, FL
View Full Profile will be back for this game. Hopefully, left tackle Phillip Price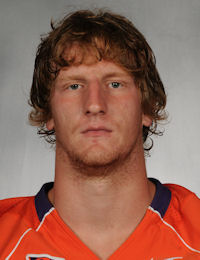 Phillip Price
RS Sr. Offensive Tackle
#79 6-5, 315
Dillon, SC
View Full Profile will be able to play and add some stability to quarterback Tajh Boyd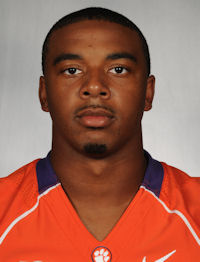 Tajh Boyd
RS So. Quarterback
#10 6-1, 225
Hampton, VA
View Full Profile 's blindside. But the key for this offense begins and ends with Boyd. He was a machine in the first weeks of the season, but slumped to a season-low last week with his 11-for-29 performance. Yes, he was hit by the defense. But even when he had time he looked shaky, and a couple of times that nervousness resulted in sacks. Can he get that mojo back this week? If Clemson wants to win, he had better. The one weakness in the Virginia Tech defense might be the passing game, and you have to figure that one of the matchups that favors Clemson is tight end Dwayne Allen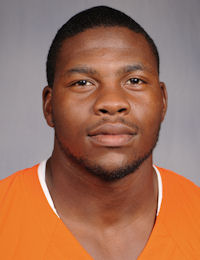 Dwayne Allen
RS Jr. Tight End
#83 6-3, 255
Fayetteville, NC
View Full Profile versus the Tech linebackers. Allen caught a huge touchdown pass in the first game against the Hokies, and he should be a target again. I thought the Tigers went away from the run too early and too often last week – junior running back Andre Ellington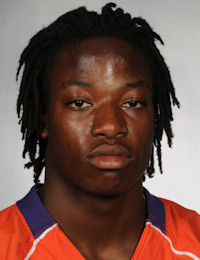 Andre Ellington
RS Jr. Running Back
#23 5-10, 190
Moncks Corner, SC
View Full Profile looked fresh and quick, and it appeared the Gamecocks had no answer, yet he ran it just 13 times. This week, offensive coordinator Chad Morris needs to stay with the run, even it isn't clicking early, just to take the pressure off Boyd. Play-action passes work better when the defense actually believes the run is a threat. Run the ball, use the play-action and hit Allen in the seams. When the defense creeps up, hit Watkins or someone else deep. It sounds simple, but it starts up front and it starts with Boyd. Which team shows up?
ADVANTAGE – VIRGINIA TECH
SPECIAL TEAMS
The Virginia Tech punting game hasn't been all that spectacular, and early in the season it appeared that kicker Cody Journell might be a liability. But he has settled in nicely and has hit 13-of-16 on the season with a long of 41 yards. Inside of 30 yards he is perfect. Clemson's Chandler Catanzaro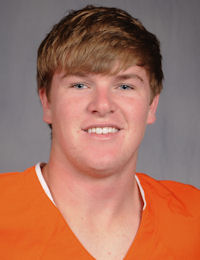 Chandler Catanzaro
RS So. Punter / Kicker
#39 6-2, 200
Greenville, SC
View Full Profile has hit 19-of-24 this season, and hit two last week on the road at South Carolina and earned second team All-ACC honors. Punter Dawson Zimmerman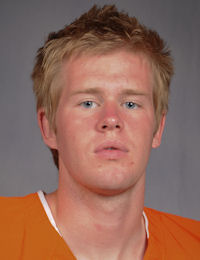 Dawson Zimmerman
Sr. Punter / Kicker
#96 6-2, 205
Lawrenceville, GA
View Full Profile , when he is on, is a dangerous weapon. Lately, however, he has not been as good as he was early in the season. One thing that could give the Tigers the spark they need is a big play in the return game, and here is hoping that Watkins gets his chance. He was held out of return duty last week because of his shoulder. No reason to hold him out this week.
ADVANTAGE – CLEMSON
WHAT WILL HAPPEN
Logic says Virginia Tech is just better, and has all the momentum. The intangibles say that Clemson plays better when no one expects them to win, and that is certainly the case here. Did Dabo's rant do enough to help his team? The guess here is that Clemson plays better this week and looks a little more like the team that started out 8-0. But momentum is a fickle thing, and right now it all sits with Virginia Tech.
FINAL SCORE
VIRGINIA TECH 30, CLEMSON 20
---
GUEST PREDICTIONS
---
Mickey Plyler - 6AM-9M on WCCP 104.9FM - 21-20 Clemson
Dan Scott - 9AM-12PM on WCCP 104.9FM - 21-20 Clemson
El Swann - TigerNet Talk - 27-17 Clemson
Rev O. - Fan's Corner Blog - 33-25 Virginia Tech
Computer simulation - Offline
PREDICTION TRACKER
| Game | Actual | David Hood | Mickey Plyler | Dan Scott | El Swann | Rev O. | Computer |
| --- | --- | --- | --- | --- | --- | --- | --- |
| Troy | 43-19 CU | 41-20 CU | 37-17 CU | 34-14 CU | 27-10 CU | 41-21 CU | 34-7 CU |
| Wofford | 35-27 CU | 51-13 CU | 48-17 CU | 40-14 CU | 48-13 CU | 37-13 CU | 38-0 CU |
| Auburn | 38-24 CU | 30-27 AUB | 31-30 CU | 34-31 CU | 24-22 AUB | 34-24 CU | 34-17 CU |
| FSU | 35-30 CU | 23-16 CU | 27-26 CU | 27-16 CU | 35-31 CU | 35-28 CU | 28-24 FSU |
| VT | 23-3 CU | 27-23 CU | 28-27 CU | 31-23 CU | 28-24 CU | 31-24 CU | 24-20 VT |
| BC | 36-14 CU | 40-13 CU | 37-13 CU | 42-12 CU | 47-13 CU | 45-10 CU | 34-7 CU |
| MARY | 56-45 CU | 30-16 CU | 37-24 CU | 31-17 CU | 38-17 CU | 40-10 CU | 34-20 CU |
| UNC | 59-38 CU | 38-27 CU | 31-21 CU | 37-21 CU | 41-20 CU | 38-21 CU | 37-27 CU |
| GT | 31-17 GT | 41-28 CU | 37-24 CU | 42-24 CU | 43-17 CU | 48-30 CU | 31-28 CU |
| WF | 31-28 CU | 37-23 CU | 42-24 CU | 42-17 CU | 42-16 CU | 45-24 CU | 38-21 CU |
| NCSU | 37-13 NCSU | 38-16 CU | 30-17 CU | 31-21 CU | 34-13 CU | 37-27 CU | 31-24 CU |
| NCSU | 34-13 USC | 31-30 CU | 20-17 CU | 38-24 CU | 24-18 USC | 24-14 USC | - |
| Points | - | 16 | 13 | 9 | 11 | 16 | 7 |
* Points: 3 pts for best prediction of the week, 1pt for picking the correct winner