| | |
| --- | --- |
| 31 days: Tigers preparing for November championship run with youth | |
---
| | |
| --- | --- |
| Wednesday, October 28, 2015 9:11 PM | |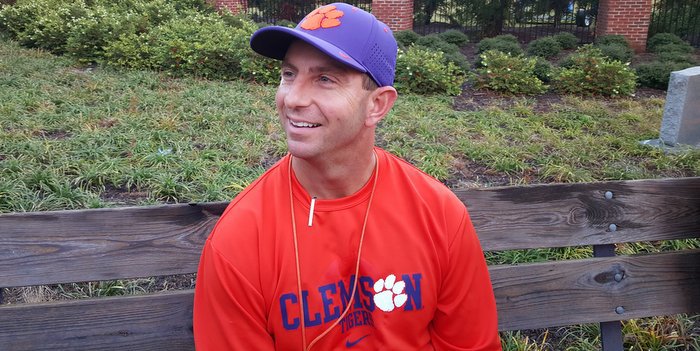 CLEMSON – The Clemson football team is preparing for the championship month of November, but head coach Dabo Swinney said the Tigers have to complete an unbeaten October before they can concentrate on what November brings.
After all, there are only 31 days until the Tigers conclude the regular season in Columbia against arch-rival South Carolina.
Clemson plays its fifth game of the month Saturday when they travel to Raleigh to take on a 5-2 N.C. State team at Carter-Finley Stadium. A win would give the Tigers an 8-0 start and momentum heading into November's crucial games.
"We've got to get to 5-0 in this month, that's what we're trying to do, and then we'll move on to November. That starts a different part of our journey," Swinney said after Wednesday's practice. "We break the year down into a journey - our get ready phase, our transformation phase, we're getting ready to finish up primetime and then November is championship time for us. It's all a part of the journey that we're on. That will take care of itself. Our focus right now is trying to have a great Halloween."
Swinney said time is running out of the season.
"We only have 31 days left in the regular season between now and South Carolina. We started with 120-something days, so we've put a lot of work in," Swinney said. "We've put a ton of work in. We've been fortunate to this point because our depth has been able to come at a healthy pace. We've gotten a little lucky with some of the injuries, and then we've made some of the critical plays along the way. We've found some ways to win. Last year, we had a tough opener down at Georgia, and we weren't near the offense we are now - not even close. I think we're a more complete team, but I think the focus of last year's team was excellent.
"To lose like we did down at Tallahassee and the win nine out of ten and finish the way we did. It might have been the best we can be, and that's what I talk about all of the time. I don't get caught up in what our record is. I just want us to go compete every week and put our best foot forward. I think we did that all year, but sometimes you might have an individual not play as well, but from a team standpoint our guys put their best foot forward and we were able to have an excellent year. So far this year, these guys have brought the same type of work ethic."
Swinney said he thinks the success he's seen this season comes from the youthful infusion into the program.
"I think this team has a unique chemistry and I think that comes from the youth on this team," he said. "That's one of the things I like about the make-up. When you have 40 freshmen, there's a lot of uncertainty and a lot of coaching to do and a lot of inexperience, but there's also this hunger and this energy that youth brings and competition. Then a mix with our veteran guys, it's been a smooth year to this point. We have to keep it going."
Other notes
Injuries
"He [Kevin Dodd] is moving around a little better today. Injury wise, Jabril [Robinson], we're probably going to hold him another week. He's not quite there. The same thing with Zach Riggs. Both of those guys are improving. [Ryan] Norton is a lot better. It's really the best he's looked, so that's a good thing. Other than that, we're in pretty good shape."
Backup QB competition
"We're just splitting the reps. Both of those guys have had a good week and are ready to play."
Jordan Leggett not Lazy Leggett this season
"He's not lazy Leggett anymore. No. And, he's not lugubrious Leggett anymore either. He's doing a great job for us."
Is Deon Cain back in your good graces?'
"He wasn't really in any bad graces. Sometimes we have to help them grow up a little bit. He's just a young guy who has got a little maturing to do. He's not a bad kid at all. He responds the right way and is coachable. We've got guys all over this roster that from time to time we've said, 'You know what, just go stand over there for a little while.' He's had a great week and we need him to have a big game on Saturday."
Mike Williams update
"I think he gets his brace off next week. He gets that hard brace off and will go to some type of soft brace."
Can you compare Deshaun Watson to any other famous athlete or person?
"He's pretty special He's a focused, serious guy like [C.J.] Spiller was. Spiller, off the field, was just tunnel vision on being great, and Deshaun is the same way. I wasn't around him a lot, but just the couple of times I was around him, he's a lot like [Marcus] Mariota - they kind of have a similar demeanor as far as how they carry themselves. He's just Deshaun Watson, and I think at some point there's going to be a lot of people comparing somebody else to him because he's very, very unique."