| | |
| --- | --- |
| 13 to 1: Ranking the games of Clemson's undefeated season | |
---
| | |
| --- | --- |
| Monday, December 28, 2015 6:49 PM | |
In a season of 13 wins and zero losses heading into a College Football Playoff semifinal game with Oklahoma on Thursday, it's hard to be critical of any game. A win is a win, after all.
But here are Clemson's 13 games so far, ranked from No. 13 to No. 1 and maybe not surprisingly starting with the opener and wrapping up with an ACC title.
13. Wofford, 49-10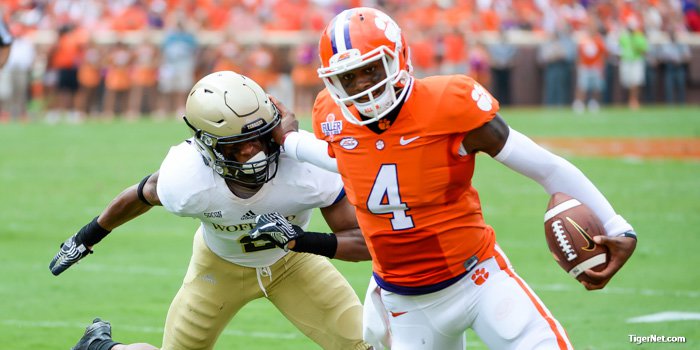 Key moment: Deshaun Watson hits Mike Williams with a 4-yard touchdown pass with 11:07 left in the first quarter. Williams suffers a neck injury and is lost for the season.
Key player: Watson completes 18-of-22 passes for 194 yards and two touchdowns. Not eye-popping numbers, for sure, but a solid start to the season.
What it means: Watson is crisp in his first start coming off knee surgery in December, and the sophomore getting through the opener unscathed offers a sigh of relief for Clemson fans.
12. Appalachian State, 41-10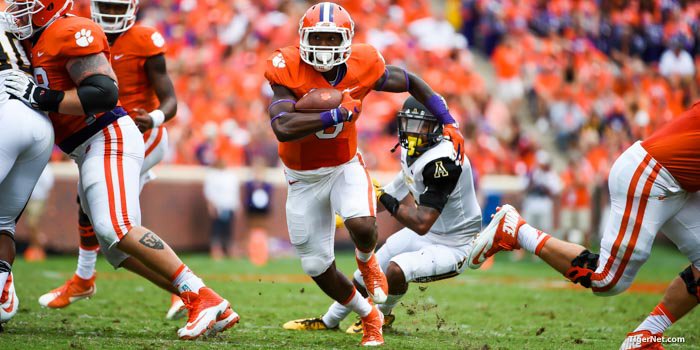 Key moment: Leading just 3-0, Carlos Watkins' 15-yard interception return for a touchdown early in the second quarter gives the Tigers some life, and they go on to lead 31-0 at the half.
Key player: Watson again is solid, although he throws his first interception of the season, completing 19-of-26 passes for 248 yards and three touchdowns.
What it means: This is actually a quality win. In their second season of FBS play, the Mountaineers finish 11-2 with a bowl win over Ohio.
11. Syracuse, 37-27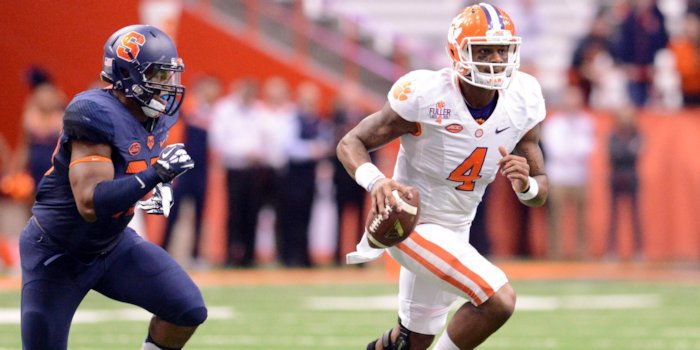 Key moment(s): Greg Huegel makes two fourth-quarter field goals (31 and 42 yards) to give the Tigers some breathing room in a game that remains close throughout.
Key player: Watson is remarkable with 368 yards passing and another 105 rushing.
What it means: In a sloppy defensive performance that would be a sign of things to come in the final month, Clemson shows it can win on the road when it's not playing its best.
10. Boston College, 34-17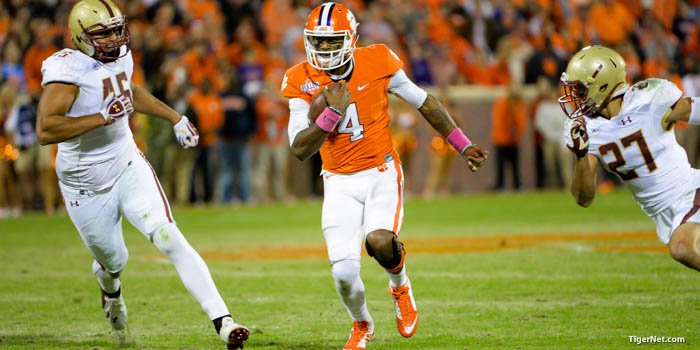 Key moment: After trailing early, Zac Brooks takes a pass from Watson and goes 21 yards for a touchdown and a 17-7 lead midway through the second quarter.
Key player: Yes Watson throws for 420 yards, but Artavis Scott has a big game with 10 catches for 162 yards and a touchdown.
What it means: Facing the nation's No. 1 statistical defense, the Clemson offense flexes its muscles with 532 yards of offense and overcomes a shaky start.
9. N.C. State, 56-41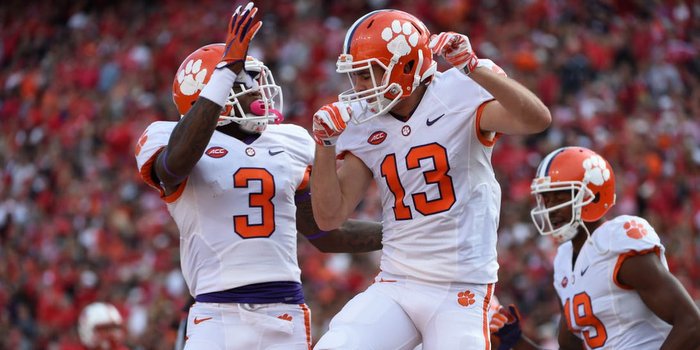 Key moment: Watson hits Charone Peake with a 42-yard touchdown pass with 40 seconds remaining in the first half for a 26-20 lead and some momentum going into the break.
Key player: It's hard to go against Watson in this one as he throws for 383 yards and five touchdowns and rushes for another score.
What it means: The Tigers head into their showdown with Florida State unscathed after many predicted this would be a trap game.
8. Wake Forest, 33-13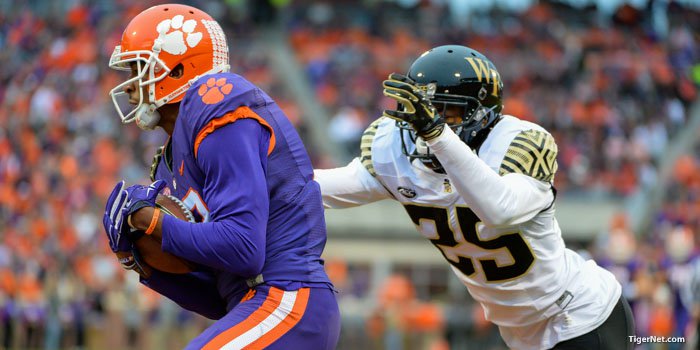 Key moment: Watson's pass to Germone Hopper sets up an 11-yard touchdown pass to Deon Cain and a 20-0 lead late in the first quarter.
Key player: Ben Boulware has five tackles, 2.5 tackles for loss and 1.5 sacks.
What it means: The Tigers' defense gets its momentum back, recording five sacks and 12 tackles for loss while allowing just 152 total yards.
7. Georgia Tech, 43-24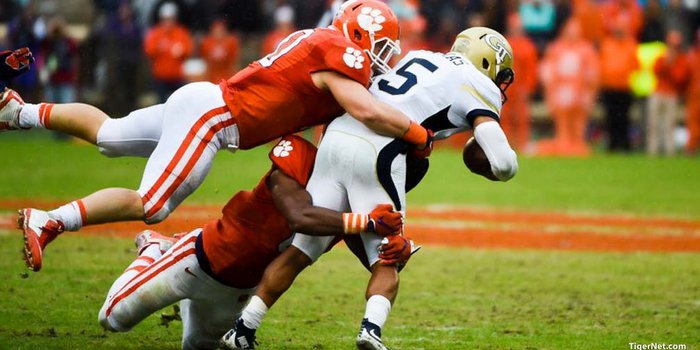 Key moment: Wayne Gallman's 66-yard scoring run just more than one minute into the game sets the tone for the rout.
Key player: Gallman finishes with 115 yards and two touchdowns on just 13 carries.
What it means: Clemson gains revenge for its only loss with Watson as its starting quarterback, when he was injured early in the 2014 meeting.
6. Louisville, 20-17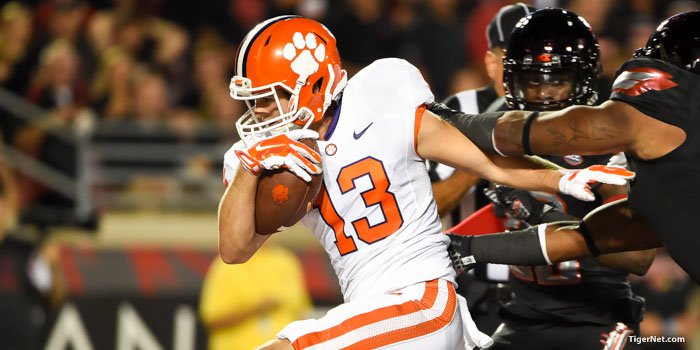 Key moment: Kevin Dodd sacks Louisville quarterback Kyle Bolin to force a desperation pass on third down, and it is intercepted by Jadar Johnson to end the game.
Key player: Gallman has a breakout game with 139 yards on 24 tough carries.
What it means: Clemson passes its first true test of the season, on the road and on a short week.
5. Miami, 58-0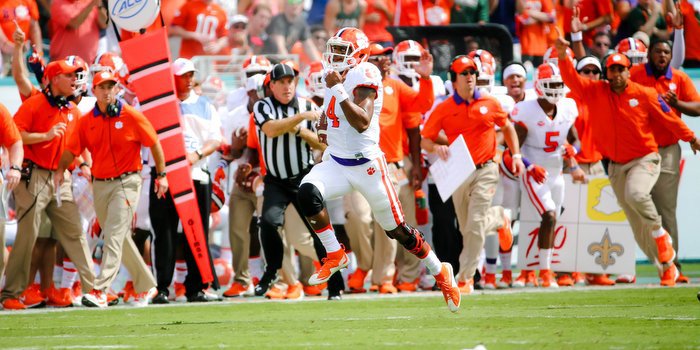 Key moment: Johnson's interception deep in Clemson territory keeps Miami from tying the game early sets the Tigers on their way to a blowout.
Key player: Gallman rushes 22 times for 118 yards and a touchdown.
What it means: Another supposed trap game for the Tigers turns into their most complete performance of the season and costs Al Golden his job as Miami's head coach.
4. South Carolina, 37-32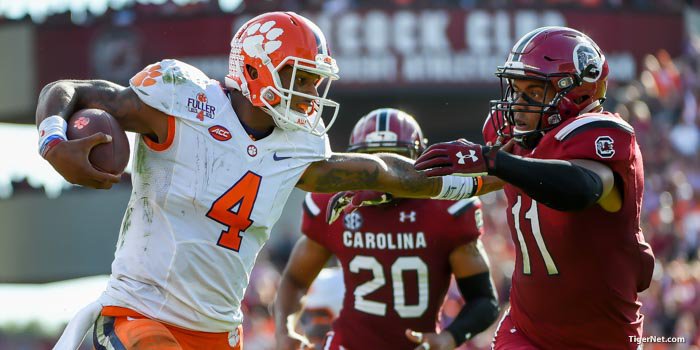 Key moment: With their lead cut to 28-25, the Tigers need a play and get one from their leader as Watson hits Trevion Thompson with a huge 24-yard completion on third-and-7. That sets up a Watson touchdown run for a 34-25 lead and a little bit of breathing room.
Key player: Watson comes up huge every time Clemson needs it, passing for 279 yards and a touchdown and rushing for 114 yards and three more scores.
What it means: Watson improves to 2-0 as a starter against the Gamecocks as the Tigers finish off a perfect regular season. It's hard to rank a Tigers win over their hated rivals this low, but the top three games on our list prove to be huge wins for the program.
3. Notre Dame, 24-22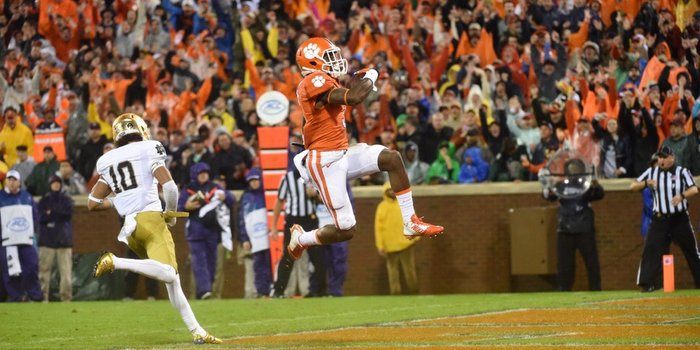 Key moment: Notre Dame's furious comeback comes up just short as Irish quarterback Deshone Kizer is stopped by several Tigers on a two-point try with seven seconds left.
Key player: Watson passes for only 84 yards but has two early touchdown throws and rushes for 93 yards and a key touchdown in the second half.
What it means: Some doubters change their tune on the Tigers, who show plenty of mettle in terrible weather with a win over a determined Notre Dame team. The showdown lives up to the pregame hype as Clemson jumps on top early and then holds on for dear life in the closing seconds.
2. Florida State, 23-13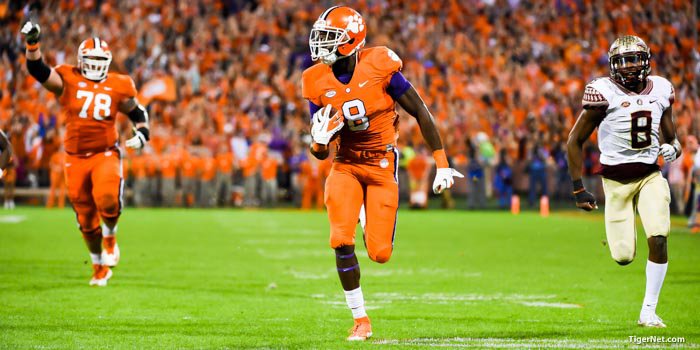 Key moment: Shaq Lawson, Boulware and the Clemson defense stop the Seminoles on fourth down near midfield with about six minutes left.
Key player: Gallman rushes for 103 yards and the game-clinching touchdown from 25 yards out with 2:34 left as the offense takes advantage of the defense's big stop.
What it means: Another hurdle is cleared as the Tigers end a three-game losing streak to the Seminoles and clinch the ACC Atlantic Division title.
1. North Carolina, 45-37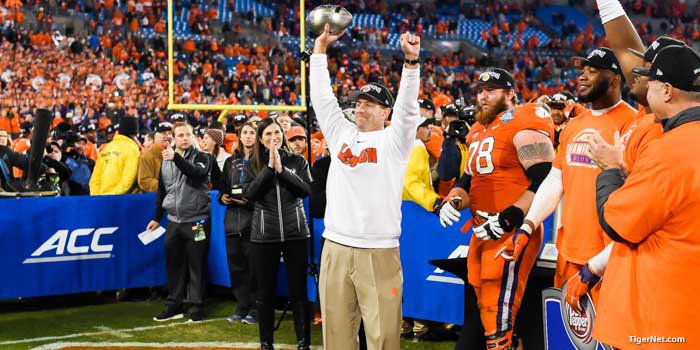 Key moment: Lawson sacks Marquise Williams and forces a fumble that is recovered by Austin Bryant, and the Tigers take advantage with a field goal for a 45-30 lead that helps them hold off a wild North Carolina rally.
Key player(s): Watson saves his best for the biggest stage of the season, passing for 289 yards and three touchdowns and rushing for 131 yards and two more scores. … After getting shut down in the first half, Gallman comes alive in the second half and finishes with 187 yards and a touchdown.
What it means: The Tigers wrap up their first ACC title since 2011 and keep alive their hopes of a national title as they clinch a spot in the College Football Playoff.
Daniel Shirley is the sports editor of The Telegraph in Macon, Ga., and co-host of The Morning Show on FoxSports 1670 AM. Follow him on Twitter at @DM_Shirley and read his blog at macon.com/peachsports.

Tags:
Charone Peake
,
Zac Brooks
,
Kevin Dodd
,
Germone Hopper
,
Carlos Watkins
,
Shaq Lawson
,
Mike Williams
,
Wayne Gallman
,
Ben Boulware
,
Jadar Johnson
,
Deshaun Watson
,
Trevion Thompson
,
Artavis Scott
,
Austin Bryant
,
Deon Cain
,
Greg Huegel