TigerNet

is the oldest and largest Clemson Community online with 154,326 members, 58,758 news articles and 29M forum posts.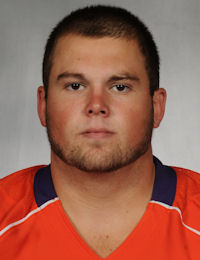 #62
Mason Cloy
Offensive Line
| | |
| --- | --- |
| Position: | Offensive Line |
| Ht./Wt.: | 6-3, 310 lbs |
| Hometown: | Columbia, SC |
| High School: | Spring Valley |
| Class: | Graduated |
| Exp: | 4VL |
| Years: | 2007 - 2011 |
| Major: | Park & Prot. Area Mgmt. |
B I O
Versatile offensive lineman who played at guard and center during his career...has 143 knockdowns in 1,715 snaps over 51 games (20 starts) in his career...top reserve offensive lineman who was capable of playing either guard or center...two-time Academic All-ACC selection.

2011: Had seven knockdowns in 177 snaps over 13 games (one start)...played five snaps in a starting role before leaving the game with an injury against #19 Auburn on Sept. 17...played 21 snaps off the bench against #11 Florida State on Sept. 24...played 20 snaps against Boston College on Oct. 8...played 16 snaps at Maryland on Oct. 15...graded 89 percent in 19 snaps against North Carolina on Oct. 22...graded 85 percent in 16 snaps against Wake Forest on Nov. 12; he proposed to his girlfriend on the sideline just prior to the game...played 29 snaps at N.C. State on Nov. 19...graded 86 percent with three knockdowns in 14 snaps against #3 Virginia Tech in the ACC Championship game on Dec. 3.

2010: Academic All-ACC selection...co-winner of the 12th Man Award (offense)...played 356 snaps in 12 games (two starts); he missed the Georgia Tech game with a concussion...had 31 knockdowns...had an 85-percent grade in 22 snaps against Presbyterian College...had a 75-percent grade and six knockdown blocks in 31 snaps at #15 Auburn...moved into the starting lineup against Miami (FL) and North Carolina when David Smith was out with an injury...had eight knockdown blocks, second-most on the team, in 68 snaps against #16 Miami (FL)...had a 79-percent grade at North Carolina...had an 86-percent grade in 19 snaps at Wake Forest.

2009: Academic All-ACC selection...had a solid year with 52 knockdown blocks, third-best on the team...that total included 12.5 knockdowns and an 85 percent grade for 71 plays against Georgia Tech in the regular season game in Atlanta...started five of the 14 games in 2009, but saw plenty of action when he was not starting...played in 13 of the 14 games overall...saw action at both guard positions and center over the course of the season...had an average film grade of 76 percent...played 522 snaps, an average of 40 plays per game...had 8.5 knockdown blocks in 69 plays in the win over Boston College...had team-best seven knockdowns at Maryland...had 5.5 knockdowns and an 80 percent grade in 31 plays against Florida State...had an 80 percent grade in the win over Virginia.

2008: Second on the team in knockdown blocks (53)...had an average grade of 72.2 percent, fourth-best among Tiger offensive linemen...played 660 snaps, third-most on the team, but one of the top totals by a freshman offensive linemen in school history...second on the offensive line in starts (12); he only came off the bench in the Alabama game...started and played 53 snaps at guard against Nebraska in the Gator Bowl...moved into the starting lineup after Barry Humphries suffered a knee injury against Alabama; he played 23 snaps in that game after Humphries was hurt, so he had a "baptism by fire" going against Alabama's fine defense in his first college game; he had 4.5 knockdown blocks in that game...responded in the second week with a team-high 10.5 knockdowns against The Citadel in 43 snaps...had six knockdowns in 60 snaps against N.C. State...led or tied for the team-lead in snaps five times...had three games with a film grade in the 80s...had an 82-percent grade in 33 snaps against Georgia Tech, an 80-percent grade in 63 snaps at #24 Florida State, and an 82-percent grade in 67 snaps at Virginia...had an average grade of 76 percent in the last four games.

2007: Red-shirted.

Before Clemson: Rated as the #9 center in the nation by Scout.com...#10 center in the nation by Rivals.com...#11 prospect in South Carolina by Scout.com...#15 prospect in South Carolina by SuperPrep and Rivals.com...rated in the South Carolina Top-40 and #16 prospect by TigerIllustrated.com...all-region pick by PrepStar...first-team all-state by The State...Shrine Bowl selection...coached by Jimmy Noonan at Spring Valley High School...AP All-State pick...had 57 knockdowns as a senior...played tight end with 16 catches for 251 yards and three touchdowns in his career...had a school-record 175 knockdowns in his career...all-district, all-region, and all-state as a junior at tight end...selected to the Max Emfinger All-American Bowl Classic East Team and was team captain...Lowerstate Division AAAA Offensive Lineman-of-the-Year by the South Carolina Coaches Association...Wendy's High School Heisman Award winner...Carolina Panther Community Captain Award recipient...recruited by Brad Scott...chose Clemson over Georgia Tech, Kentucky, Louisville, North Carolina, N.C. State, South Carolina, Vanderbilt, Virginia, and Virginia Tech.

Personal: Three-time member of the ACC Academic Honor Roll...Clemson's nominee for the 2010 All-State Goodworks Team...active in community service...in Clemson's ROTC program and a member of the FCA leadership team; he spent the summer of 2010 at Fort Knox, KY in the Leader's Training Course...his father is retired Col. Michael Cloy, the former chief of staff for the U.S. Army Cadet Command...graduated on May 13, 2011 with a degree in park & protected area management...born Jan. 22, 1989.

*Courtesy Clemson Media Guide
| | |
| --- | --- |
| | VIDEO HIGHLIGHTS |
Latest Mason Cloy News
RPO -
So -

Click the link below to read more!