TigerNet

is the oldest and largest Clemson Community online with 155,288 members, 59,351 news articles and 29M forum posts.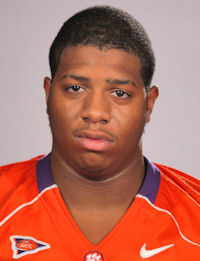 #74
Antoine McClain
Offensive Guard
| | |
| --- | --- |
| Position: | Offensive Guard |
| Ht./Wt.: | 6-6, 335 lbs |
| Hometown: | Anniston, AL |
| High School: | Anniston |
| Class: | Professional |
| Exp: | 4VL |
| Years: | 2008 - 2011 |
| Major: | Sociology |
B I O
Had 183 knockdowns in 2,438 snaps over 54 games (41 starts) in his career...second in school history in games...started every game from the start of 2009 (41 consecutive games), the only Tiger who could make that claim.

2011: Had 35 knockdowns in 921 snaps over 14 games (14 starts)...had four knockdowns in playing all 94 snaps against #19 Auburn on Sept. 17...graded 89 percent with four knockdowns in 62 snaps at #10 Virginia Tech on Oct. 1...graded 89 percent in 63 snaps against North Carolina on Oct. 22...graded 83 percent in 74 snaps against Wake Forest on Nov. 12...graded 86 percent with three knockdowns in 62 snaps against #3 Virginia Tech in the ACC Championship game on Dec. 3...had six knockdowns in 66 snaps against #22 West Virginia in the Orange Bowl on Jan. 4.

2010: Third-team All-ACC by Phil Steele...played 704 snaps in 13 games (13 starts)...had a team-high 69 knockdown blocks...led the Tigers in knockdown blocks in four games (Auburn, Miami (FL), Florida State, Wake Forest)...had an average grade of 76 percent...had 14 knockdowns and a 79-percent grade in 78 snaps at #15 Auburn; he was a big reason that Andre Ellington rushed for 140 yards...had 14 knockdowns against #16 Miami (FL)...had five knockdowns and an 83-percent grade against Georgia Tech...had an 82-percent grade at Wake Forest...won the Strength Training Award for offensive linemen for spring practice.

2009: Started all 14 games at an offensive guard position and had 66 knockdown blocks, second-most on the team behind departed senior Thomas Austin...led the team in knockdowns with 6.5 against Wake Forest...had season-high 12.5 knockdowns against Georgia Tech in regular season contest in Atlanta, just behind the 14.5 by Austin for that game...had best film grade of the year against Virginia when he had 80 percent effort for 46 snaps, with three knockdowns...played well at Miami, he had eight knockdowns in 36 snaps...led team in knockdowns against Coastal Carolina with five...had six against Georgia Tech in the ACC Championship game...averaged a 73-percent grade for the year; he played a total of 664 snaps.

2008: First-year freshman who saw action in all 13 games...played 149 snaps, a high figure for a first-year freshman...played on scrimmage plays in nine games, including 22 snaps against Nebraska...played each of the last five games on the offensive line...played 18 snaps against The Citadel and had a 72-percent grade...played 35 snaps against S.C. State and had two knockdowns...played 20 snaps against Georgia Tech and had three knockdowns...had a season-high four knockdowns in 10 snaps at #24 Florida State...had a season-high grade of 76 percent in 25 snaps against Duke...played 12 snaps against South Carolina and graded 70 percent...had 13 knockdown blocks.

Before Clemson: One of the highest-rated offensive linemen in the Southeast by many publications...#78 player in the nation by ESPN.com...#6 offensive tackle in the nation by ESPN.com...#108 player in the nation by Rivals.com...#13 offensive tackle in the nation and #7 prospect in Alabama by Rivals.com...#109 player in the nation by Scout.com...#9 offensive tackle in the nation by Scout.com...#4 player in Alabama and #10 offensive lineman in the nation by SuperPrep...ASWA First-Team All-State as a senior...member of Press Register Elite 18 and Super Southeast 120...played in the ESPN/Under Armour All-American game...had 50 pancake blocks and 17 tackles as a senior at Anniston High School...coached by Mike Justice...recruited by Dabo Swinney...chose Clemson over Alabama, Auburn, Florida, Georgia, Louisiana State, and Tennessee.

Personal: Member of the ACC Academic Honor Roll in 2010-11...winner of the 2010 Vickery Hall Award for his work in the classroom...majoring in sociology...born Dec. 6, 1989.

*Courtesy Clemson Media Guide
| | |
| --- | --- |
| | VIDEO HIGHLIGHTS |
Latest Antoine McClain News
Ugay -
30-0 -

Click the link below to read more!