TigerNet

is the oldest and largest Clemson Community online with 149,119 members, 54,443 news articles and 27M forum posts.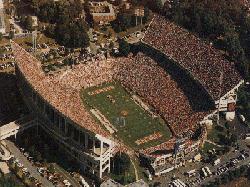 Memorial Stadium
In 1991, two very special anniversaries in the Clemson football tradition were observed. Not only did the 1991 season mark the lOth anniversary of Clemson's National Championship season, but it also marked the 50th birthday of the place where the Tigers won six games that season: Memorial Stadium.
In the first 53 years of Memorial Stadium, Clemson has a record of 184-67-7, including a 26-5-1 ledger over the last five seasons. Clemson had a 16-game unbeaten streak at home between 1990-92 and has a career winning ratio of 73.0 percent.
The stadium has definitely been good to the Tigers who call it home, but the stadium was constructed against the advice of at least one Clemson coach. Just before head coach Jess Neely left for Rice University after the 1939 season, he gave Clemson a message. "Don't ever let them talk you into building a big stadium," he said. "Put about 10,000 seats behind the Y.M.C.A. That's all you'll ever need'.
Instead of following Coach Neely's advice, however, Clemson officials de- cided to build the new stadium in a valley on the western part of campus. The place would take some clearing there were many trees, but luckily there were no hedges.
The crews went to work: clearing, cutting, pouring, and forming. Finally, on September 19,1942, Clemson Memorial Stadium opened with the Tiger Football team thrashing Presbyterian College, 32-13. Those 20,000 seats installed for Opening Day would soon grow; and grow and grow. This year Clemson celebrates its 54th year in this outstanding facility.
When the original part of the stadium was built in the early 40's, much of the work was done by scholarship athletes, including many football players. The first staking out of the stadium was done by two members of the football team, A.N. Cameron and Hugh Webb. Webb returned to Clemson years later to be an architecture professor, and Cameron went on to become a civil engineer in Louisiana.
The building of the stadium did not proceed without a few problems. One day during the clearing of the land, one young football player proudly announced that he was not allergic to poison oak. He then commenced to attack the poison oak with a swing blade, throwing the plants to and fro. The next day, however, the boy was swollen twice his size and had to be put in the hospital.
There are many other stories about the stadium including one stating that Frank Howard put a chew of tobacco in each corner of the stadium as the concrete poured.
Howard says that the seeding of the grass caused a few problems. "About 40 people and I laid sod on the field," he says. "After three weeks, on July l5, we had only gotten halfway through.
"I told them that it had taken us three weeks to get that far, and I would give them three more week's pay for however long it took. I also told them we would have 50 gallons of ice cream when we got through. After that it took them three days to do the rest of the field. Then we sat down in the middle of the field and ate up that whole 50 gallons "
Howard says that on the first day of the first game in the stadium,"the gates were hung at 1:00 p.m. and we played at 2:00 p.m.: But that would be all of the construction for a while. Then in 1958, 18 000 sideline seats were added and, in 1960, a total of 5,658 West end zone seats were added in response to increasing attendance. With the large end zone,"Green Grass" section, this expansion increased capacity to about 53,000.
Later, upper decks were added to each side of the stadium as crowds swelled-the first one in 1978 and the second in 1983. This increased capacity to over 80,000 which makes it one of the 10 largest on-campus stadiums in the country.
The effect spiraling inflation has had in this century can be dramatically seen in the differences in stadium construction. The original part of the stadium was built at a cost of $125,000 or at $6.25 a seat. The newest upper deck was finished in 1983 at a cost of $13.5 million, or $866 a seat.
Through the years, Memorial Stadium has become known as "Death Valley." It was tagged this by the late Presbyterian coach, Lonnie McMillan. After bringing his P.C. Teams to Clemson for years and getting whipped McMillan said the " place was like Death Valley. A few years later the name stuck.
On November 16, 1974 the playing surface was named Frank Howard Field for the legendary coach because of his long service and dedication to the University.
Athletic Director Bobby Robinson says that Memorial Stadium has many features which makes it a top facility. "One thing that makes it so good is the number of sideline seats," he says "We don't think there is a bad seat in the house.
"We also have outstanding dressing rooms, press facilities, and ample parking nearby. Another unique feature of the stadium is the number of private boxes."
If Memorial Stadium is expanded again and the capacity is pushed closer to 100,000 there will be room for construction over the west stands, enclosing that end like a horseshoe.
Luckily, the stadium wasn't built behind the Y.
Quotes about Death Valley
"Death Valley really lives up to its image. I was impressed with this stadium. When you put 80,000 people in there, it really feels like they are on top of you. I would hate to be Georgia Tech or whoever else comes in here."
--San Francisco 49ers Quarterback Steve Young
"Everything just seems like a hushed roar. Thats all you hear. You really cant hear anybody standing next to you. You just have to shake your head and pretend like you heard what they said. I think its just the mystique of Clemson and seeing the guys coming off the hilltop and the way the stadium is shaped."
--North Carolina All-American Marcus Jones
"There is no place louder or picturesque than Death Valley. There, where Clemson folks see magic in a hill and a rock, orange gets more respect than anywhere this side of Gainesville, FL."
--Terence Moore, Atlanta Constitution
"I remember being nervous before the game because there were 80,000 people dressed in orange. Its intimidating. I even threw up before the game. Its the only time I've ever done that."
--Former Duke Quarterback Dave Brown
"When Clemson players rub that rock and run down the hill, its the most exciting 25 seconds in college football. "
--Brent Musberger, ABC Sports
"I came here knowing it would be loud and that Clemson would hit me hard, but to me, the noise was the biggest factor. I know I didn't concentrate as well because of it."
--Herschel Walker after Clemson's 13-3 victory in 1981, his only regular season loss at Georgia.
"When you get to the bottom its like you're in a hole and all around you are nothing but Clemson fans. Its like the crowd is one big voice. You feel like little kings."
--Former Clemson running back Rodney Blunt
"Clemson's record at home is not a coincidence. Running down the hill is a part of that record. You get so inspired, and so much of college football is about emotion. You get out of that bus and you hear the roar of the crowd and it gives up chills up and down your spine."
--Former Clemson All-America kicker David Treadwell
"The rock has strange powers. When you rub it, and run down the hill, the adrenaline flows. It's the most emotional experience I've ever had."
--Five-time All-Pro and former Clemson All-American Michael Dean Perry
"Running down the hill is still talked about everywhere I go. Players who played against Clemson when I was in college remember us running the hill and thinking we would gain some type of spirit. The adrenaline rush was unbelievable for a Clemson player and quite a shock for the opponent."
--Former Clemson All-American Jerry Butler
Source: 1996 Clemson Football Media Guide