| | |
| --- | --- |
| Former Bama coach says "Dabo is Clemson" and won't leave when "momma calls" | |
---
| | |
| --- | --- |
| Friday, May 11, 2018 11:59 AM | |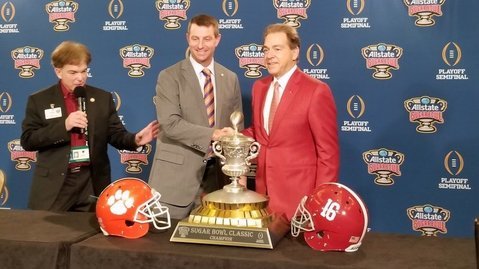 Dabo Swinney has built Clemson into a national football power, and the Tigers are mentioned in the same breath as Alabama and Ohio St. when the time comes to mention the top programs in the country. As a result, many have speculated that Swinney, a former player at Alabama and an Alabama graduate, would return to the Crimson Tide if current Alabama head coach Nick Saban decided to retire.
Someone close to Swinney doesn't think so.
Former Alabama coach Woody McCorvey, who was Swinney's position coach at Alabama and serves as Swinney's "right-hand man" at Clemson, doesn't see Swinney returning to Alabama, even if "momma calls."
"Dabo is Clemson. That's who he is," McCorvey told told Chris Low in a piece for ESPN.. "Dabo's the perfect fit here. He can get on his moped and ride from the house to the office and then back to the house, and everybody just waves at him and he's waving at everybody. Some places, you can't do that. And then look at his kids. Clemson is all they know. The only thing they know about Alabama is that their daddy played there. They've grown up Clemson, and now, he's got two sons on the team. This is their home."
Swinney told Low that his job is to make it harder for the next coach at Clemson, not try and follow Nick Saban.
"It doesn't matter if you're behind Nick or not at Alabama," Swinney said. "Listen, I spent 13 years there, so I get it. I know exactly what that mentality is and something I've tried to always fight here. You don't see that anywhere in our building, that it's national championship or bust. Our team goals are to win the opener, win the division, win the state championship, win the conference and win the closer.
"Now, hopefully, this will be a job that will be hard on the next guy because we've created a standard. That's what you want. You want to take over a job that has a winning tradition, has high expectations and has everybody fully invested. To me, I'd rather have that than take over a program that everybody is fired for a reason. We have all that and then some right here at Clemson."