TigerNet

is the oldest and largest Clemson Community online with 152,168 members, 57,865 news articles and 29M forum posts.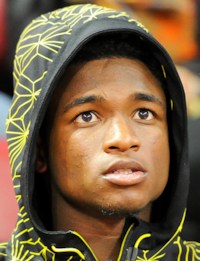 B I O
Second-team USA Today All-American cornerback…played in the US Army All-American game…ranked as the No. 18 player in the nation according to ESPN.com…they have hi as the second best cornerback and fourth best player in the state of Florida…ranked as No. 60 player in the nation by 247 Sports, sixth best cornerback and 10th best player in the state…Tom Lemming has Mullen as 66th best overall player in the nation and Scout.com has him No. 72…ranked No. 81 player in the nation by Prep Stars…Rivals.com has him No. 117 overall, 10th best cornerback and 16th best player in Florida....had outstanding year on offense at Coconut Creek High School in Florida…had 45 receptions for 800 yards, a 17.8 average…had 98-yard interception return for a touchdown as a freshman…unanimous 4-star player who narrowed his choices to Clemson, TCU, LSU, Louisville and Florida State….coached by Kareem Reid…recruited by Brent Venables and Mike Reed.

Mickey Plyler on Mullen: Mullen is one of the nation's top ranked defensive back prospects. He has great quickness and top end speed. It is easy to see why two schools like LSU and FSU liked him. He looks like what they have been playing with in the secondary.

Reminds Plyler of: Bashaud Breeland

Clemson offered on 5/13/14.


S T A T S
He has a 4.37 40-yard dash, 37 inch vertical jump, 195 pound bench press and a 260 pound squat.
COLLEGE CHOICES

| School | Offered (33) | Visit Date |
| --- | --- | --- |
| Clemson | Yes | |
| Alabama | Yes | |
| Arkansas | Yes | |
| Auburn | Yes | |
| Cincinnati | Yes | |
| Colorado | Yes | |
| Florida | Yes | |
| Florida St | Yes | |
| Georgia | Yes | |
| Illinois | Yes | |
| Indiana | Yes | |
| Kentucky | Yes | |
| LSU | Yes | |
| Louisville | Yes | |
| Maryland | Yes | |
| Michigan | Yes | |
| Michigan St | Yes | |
| Mississippi St | Yes | |
| North Carolina | Yes | |
| Notre Dame | Yes | |
| Ohio State | Yes | |
| Oklahoma | Yes | |
| Ole Miss | Yes | |
| Oregon | Yes | |
| Rutgers | Yes | |
| South Carolina | Yes | |
| TCU | Yes | |
| Tennessee | Yes | |
| Texas A | Yes | |
| Texas Tech | Yes | |
| UCLA | Yes | |
| Virginia Tech | Yes | |
| West Virginia | Yes | |

VIDEO HIGHLIGHTS
Latest Trayvon Mullen News