TigerNet

is the oldest and largest Clemson Community online with 152,195 members, 57,881 news articles and 29M forum posts.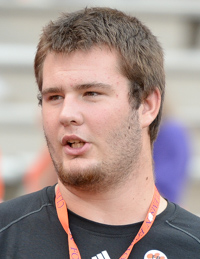 Sean Pollard
Offensive Guard
B I O
Enrolled at Clemson in January 2016…first-team Associated Press All-State offensive lineman in 2014 and 2015…ranked as the No. 17 player in the state by AP…invited to The Opening in Oregon in summer prior to senior year…played in the Semper Fidelis All-American Bowl…first-team all-conference in 2014 and 2015…helped his 2014 team to 11-3 record…ranked in the top 200 players nationally… rated as No. 129 overall player by Scout.com…listed 173 by ESPN.com and 177 by Rivals…ESPN has Pollard as 10th best player in North Carolina and Rivals lists him as 11th best in the state…ESPN also has him as 10th best player at his position in the nation …attended the 2014 Dabo Swinney football camp in June… committed to Clemson 12/19/14… narrowed his school choices to Clemson, Duke, Miami and North Carolina….played his high school football for Chris Metzger…recruited by Robbie Caldwell.

Mickey Plyler on Pollard: It's hard judging offensive linemen from their video of their careers, but I like seeing how they play in their all-star games. Pollard was very impressive in his national all-star game. I was surprised how well he ran. He has a great frame and plays hard but his feet were the biggest surprise. You can see that he is the second best offensive lineman in North Carolina and maybe the second best offensive lineman in the Carolinas.

Reminds Plyler of: Glenn Roundtree

Clemson offered on 7/8/14 and he committed to Clemson on 12/19/14.


COLLEGE CHOICES

| School | Offered (11) | Visit Date |
| --- | --- | --- |
| Clemson | Yes | |
| Duke | Yes | |
| East Carolina | Yes | |
| Miami | Yes | |
| North Carolina | Yes | |
| North Carolina St | Yes | |
| Penn St | Yes | |
| Rutgers | Yes | |
| South Carolina | Yes | |
| Virginia | Yes | |
| Wake Forest | Yes | |

VIDEO HIGHLIGHTS
Latest Sean Pollard News
Click the link below to read more!