| | |
| --- | --- |
| Clemson products ready for NFL draft | |
---
| | | |
| --- | --- | --- |
| Wednesday, April 25, 2018, 2:36 PM | | |
Clemson, S.C.— Multiple members of the 2017 Clemson football team could have their name called at the NFL Draft in Dallas, Texas this week. The 83rd annual selection of former college players will take place April 26-28 at AT&T Stadium.
The first round will be held Thursday evening beginning at 8 p.m. eastern with rounds two and three on Friday night. Rounds 4-7 will be on Saturday afternoon. The draft will be televised by ESPN, the NFL Network and Fox.
Clemson posted a 12-2 record last year, won the ACC Championship for the third straight year and was selected for the College Football Playoff for the third straight year. The players who are available for the draft this weekend had a big role in that success.
None of the Clemson players are projected to go in the first round, but linebacker Dorian O'Daniel and wide receiver Deon Cain could be selected on Friday evening. O'Daniel was an All-American this past year and Cain led Clemson in receiving yards and touchdowns on the way to making All-ACC.
Strong safety Van Smith, receiver Ray-Ray McCloud, offensive linemen Taylor Hearn and Tyrone Crowder, and graduate cornerback Ryan Carter all could be chosen on Saturday according to media that cover the NFL draft.
Clemson has had at least four players selected in the NFL draft each of the last nine years, something only Alabama, LSU and Oklahoma can also claim. That is the longest streak of at least four selections by an ACC team since Florida State had a 10-year run from 1992-2001.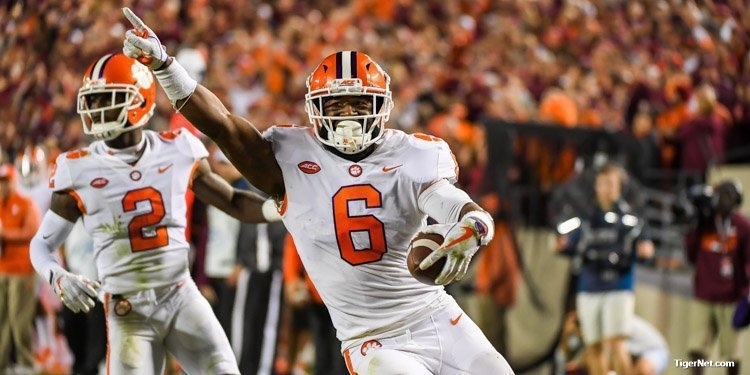 Since Dabo Swinney became the full-time head coach of the Clemson program, Clemson has had 48 players selected, sixth most in the nation. That includes 15 selections the last two years, the most in a two-year period for Clemson since 1983-84 when the Tigers had 16.
Last year, Clemson's six selections ranked tied for eighth in the nation. Michigan had the most with 11, while Alabama had 10. Miami (FL) had nine, while LSU, Florida and Utah had eight apiece. Ohio State had seven, while Clemson, North Carolina and Tennessee had six apiece. This year there will be 256 players selected over the seven rounds.
Clemson has had at least one first-round selection each of the last five years. A year ago Mike Williams and Deshaun Watson were both selected within the top 12 picks. It marked the first time since the AFL and NFL merger in 1967 that the same school produced a quarterback and a wide receiver within the first 12 picks. It marked the second time in three years, but just the fourth time overall that Clemson had two first-round selections.
A year ago Clemson had 39 players on an NFL roster, including seven who were rookies that helped Clemson to the 2016 National Championship. Of the 39, 34 played in at least one game and 25 of the 34 started at least one game. The 34 players who got into at least one game combined to earn over $43 million last year.
NFL draft projections
NFL.com (Reuter): Deon Cain - fifth round to LA Rams (111th pick); Dorian O'Daniel - fifth round to Miami Dolphins (131).
NFL.com (Schager; 3-round): Cain - third round to Kansas City Chiefs (86); Taylor Hearn - third round to Pittsburgh Steelers (92).
CBS Sports: Cain - third round to Baltimore Ravens (91); O'Daniel - fifth round to San Francisco 49ers (143); Hearn - seventh round to Carolina Panthers (234).
USA TODAY: O'Daniel - third round to Minnesota Vikings (94); Cain - third round to New England Patriots (95).
WalterFootball.com: Cain - fifth round to the New York Giants (139); O'Daniel - fifth round to the Pittsburgh Steelers (148); Taylor Hearn - sixth round to the Atlanta Falcons (200).
Clemson Draft Picks under Dabo Swinney
Player Rd Pick Team
2009
Dorell Scott 4 103 Rams
Chris Clemons 5 165 Dolphins
Michael Hamlin 5 166 Cowboys
James Davis 6 195 Browns
2010
C.J. Spiller 1 9 Bills
Jacoby Ford 4 108 Raiders
Ricky Sapp 5 134 Eagles
Crezdon Butler 5 164 Steelers
Kavell Conner 7 240 Colts
2011
Jarvis Jenkins 2 41 Redskins
Marcus Gilchrist 2 50 Chargers
Da'Quan Bowers 2 51 Buccaneers
Chris Hairston 4 122 Bills
Jamie Harper 4 130 Titans
Byron Maxwell 6 173 Seahawks
2012
Andre Branch 2 38 Jaquars
Dwayne Allen 3 64 Colts
Brandon Thompson 3 93 Bengals
Coty Sensabaugh 4 115 Titans
2013
DeAndre Hopkins 1 27 Texans
Malliciah Goodman 4 127 Falcons
Jonathan Meeks 5 143 Bills
Andre Ellington 6 187 Cardinals
2014
Sammy Watkins 1 4 Bill
Brandon Thomas 3 100 49ers
Baushad Breeland 4 102 Redskins
Martavis Bryant 4 118 Steelers
Tajh Boyd 6 213 Jets
2015
Vic Beasley 1 8 Falcons
Stephone Anthony 1 31 Saints
Grady Jarrett 5 137 Falcons
Bradley Pinion 5 165 49ers
Tony Steward 6 188 Bills
2016
Shaq Lawson 1 19 Bills
Kevin Dodd 2 33 Titans
Mackensie Alexander 2 54 Vikings
T.J. Green 2 57 Colts
B.J. Goodson 4 109 Giants
D.J. Reader 5 166 Texans
Charone Peake 7 241 Jets
Jayron Kearse 7 244 Vikings
Zac Brooks 7 247 Seahawks
2017
Mike Williams 1 7 Chargers
Deshaun Watson 1 12 Texans
Cordrea Tankersley 3 97 Dolphins
Wayne Gallman 4 140 Giants
Carlos Watkins 4 142 Texans
Jordan Leggett 5 150 Dolphins

Tags: Clemson NFL
,
Andre Ellington
,
Andre Branch
,
James Davis
,
Kavell Conner
,
Byron Maxwell
,
Ricky Sapp
,
Crezdon Butler
,
Chris Hairston
,
Jacoby Ford
,
Marcus Gilchrist
,
Brandon Thomas
,
Dwayne Allen
,
Vic Beasley
,
Tajh Boyd
,
Jamie Harper
,
C.J. Spiller
,
Malliciah Goodman
,
DeAndre Hopkins
,
Jarvis Jenkins
,
Jonathan Meeks
,
Coty Sensabaugh
,
Brandon Thompson
,
Grady Jarrett
,
Charone Peake
,
Tony Steward
,
Stephone Anthony
,
B.J. Goodson
,
Martavis Bryant
,
Michael Hamlin
,
Bradley Pinion
,
Zac Brooks
,
Kevin Dodd
,
Carlos Watkins
,
Shaq Lawson
,
Cordrea Tankersley
,
D.J. Reader
,
Sammy Watkins
,
Mike Williams
,
Wayne Gallman
,
Jordan Leggett
,
Tyrone Crowder
,
Mackensie Alexander
,
Jayron Kearse
,
Ryan Carter
,
T.J. Green
,
Deshaun Watson
,
Taylor Hearn
,
Chris Clemons
,
Ray-Ray McCloud
,
Van Smith
,
Deon Cain