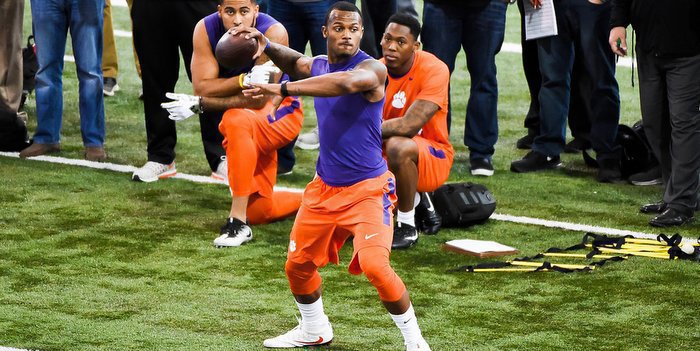 | | |
| --- | --- |
| Jordan Palmer says Deshaun Watson shares same traits as Manning, Brady | |
---
| | | |
| --- | --- | --- |
| Monday, March 20, 2017, 2:18 PM | | |
CLEMSON – Quarterback consultant Jordan Palmer has been working with Deshaun Watson for a few years now, and in that time he's seen the best and worst of Clemson's championship-winning quarterback. So when he says that Watson has the same traits as Super Bowl winners Peyton Manning and Tom Brady, you take notice.
Palmer helped and watched Watson work out in front of NFL coaches, general managers and scouts last Thursday, putting the Gainesville native through the paces to make sure they knew that Watson has the natural ability it takes to succeed on the next level.
However, Palmer says he wants the NFL to realize Watson is the total package.
"Everybody knows he's a great kid, and everybody thinks he's smart, and everybody knows he's a winner. But the thing I've said is that it is all based on fact," Palmer told TigerNet. "When I say he's smart - he graduated high school early, and he graduated college in two-and-a-half years. When I say he's a winner - he's 89-10 in high school and college. And when I say he's a good kid, he's won awards for community service. I think a lot of people have coaches and agents telling how great everybody is.
"I've been telling teams, no, grill him. Don't take my word for it. Grill him. Just see how far he can go with these protections and these concepts. He does have a great understanding of what needs to be done. But also a willingness to figure out what he needs to work on. That is the combination you see in the Mannings and Bradys and Brees and those guys. I think that is all there. And then the last piece is that he hates losing more than anything in the world."
Palmer said that Clemson asked a lot of Watson, and it will pay off in the NFL.
"He knows more football than I anticipated him knowing. I watched him on TV a lot, and it can look like a spread offense and you just throw to a guy," Palmer said. "But he had to do a lot of stuff pre-snap. And once I got him on the board, I realized they ask their quarterbacks to do a lot. I was surprised with that, and it's a great foundation to build on."
Watson overthrew a couple of receivers early, but settled in and had just another day.
"I have worked with a lot of guys that have been drafted really high, and they were really nervous on pro day," Palmer said. "It is a big day, but I think that is why he was so cool in the national championship game and in those situations," Palmer said. "I have had Drew Brees come out. I had Norv Turner come out. Those were his best days. For Deshaun, this was just another Thursday."
Palmer then detailed what he and Watson have been working on the last few months.
"He never turned his back to the defense at Clemson," Palmer said. "That is not an indictment on Clemson. It is the best college football program in the country. They are wearing the crown right now. But there is an aspect of getting comfortable with those things. Our time spending the last two months together is not going to turn on the on-switch and make him a super star. What it does, I train and develop muscle memory on things that are new.
"A lot of the things we did today were play action, faking off to the running back and all of that. It may look really easy, but I want to get him to the point where he is not thinking about doing that. He has to develop the muscle memory where when he gets into rookie mini-camp he is just worried about what is happening over there and not worried about what he is doing."

Upgrade Your Account
Unlock premium boards and exclusive features (e.g. ad-free) by upgrading your account today.
Upgrade Now