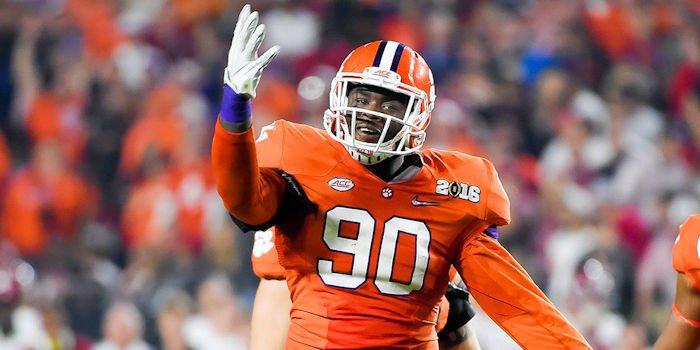 | | |
| --- | --- |
| 45 former Tigers currently in NFL Camps | |
---
| | | |
| --- | --- | --- |
| Wednesday, August 3, 2016, 11:37 AM | | |
Clemson, S.C.—Forty-five former Clemson football players are in NFL camps this week according to team websites on NFL.com. The NFL preseason schedule kicks off this weekend with the Hall of Fame game from Canton, Ohio.
Twenty-five of the 45 players have appeared in an NFL game and 36 of the 45 have been on an NFL roster previously. Last year 37 former Tigers made NFL rosters for the regular season, an all-time record.
The list of former Tigers currently on active rosters includes eight players classified as defensive ends or outside linebackers, six wide receivers, five safeties, five cornerbacks, five defensive tackles, four linebackers, three offensive guards, three running backs, two offensive tackles, one center, one tight end, one kicker and one punter.
The Arizona Cardinals have the most former Tigers on their roster with five, while the Buffalo Bills, New York Jets, Houston Texans, Atlanta Falcons and New Orleans Saints have three apiece. Fifteen different teams have multiple Clemson players and 22 of the 32 teams in the league have at least one former Tiger.
Six of the 45 players were first round draft choices, and six more were taken in the second round. It is interesting to note that 10 made NFL rosters as free agents. There are 25 players in the NFC and 20 in the AFC. Twenty-seven of the players are defensive players, 16 offensive players and two kicking specialists.
Chris Clemons is the veteran of the group as he is entering his eighth year in the NFL. He is one of the five players with the Arizona Cardinals. C.J. Spiller has played the most games in his NFL career with 83, while Clemons has played 79, Marcus Gilchrist 78 and Kavell Conner 78. Gilchrist has the most career starts among former Tigers in the NFL with 56.
Nine of the players were drafted off of last year's team, including first round draft choice Shaq Lawson with the Buffalo Bills. He is one of seven NFL rookies who played on Clemson's defense last year.
Former Clemson Players in the NFL
As of August 2, 2016
No Name Team Pos Exp GP-S Clemson
20 Mackenzie Alexander Vikings CB R -- 2014-15
83 Dwayne Allen Colts TE 4 43-43 2009-11
50 Stephone Anthony Saints LB 1 16-16 2011-14
95 Tavaris Barnes Seahawks DE 1 12-0 2011-14
77 Isaiah Battle Rams OT 1 0-0 2012-14
44 Vic Beasley Falcons OLB 1 16-16 2011-14
50 Andre Branch Dolphins DE 4 51-12 2008-11
26 Bashaud Breeland Redskins CB 2 31-29 2011-13
30 Zac Brooks Seahawks RB R -- 2012-15
13 Jaron Brown Cardinals WR 3 48-2 2009-12
90 Kourtnei Brown Bucs DE 2 5-0 2007-11
10 #Martavis Bryant Steelers WR 2 21-8 2011-13
29 Crezdon Butler Lions CB 6 45-3 2006-09
7 Chandler Catanzaro Cardinals PK 2 32-0 2010-13
29 Chris Clemons Cardinals S 7 79-48 2005-08
44 Kavell Conner Ravens LB 6 78-46 2006-09
95 Corey Crawford Redskins DE 1 0-0 2011-14
93 Kevin Dodd Titans OLB R -- 2013-15
38 Andre Ellington Cardinals RB 3 37-15 2009-12
64 Dalton Freeman Texans C 2 16-1 2009-12
21 Marcus Gilchrist Jets S 5 78-56 2007-10
93 Malliciah Goodman Falcons DE 3 34-11 2009-12
93 B.J. Goodson Giants LB R -- 2012-15
32 T.J. Green Colts S R -- 2013-15
75 Chris Hairston Chargers OT 4 57-26 2007-10
10 DeAndre Hopkins Texas WR 3 48-48 2010-12
11 Adam Humphries Bucs WR 1 13-0 2011-14
97 Grady Jarrett Falcons DT 1 15-2 2011-14
98 Jarvis Jenkins Jets DT 5 59-48 2007-10
27 Jayron Kearse Vikings S R -- 2013-15
90 Shaq Lawson Bills DE R -- 2013-15
41 Byron Maxwell Dolphins CB 5 61-31 2007-10
60 Antoine McClain Cardinals OG 1 0-0 2008-11
36 Jonathan Meeks Bills S 3 22-0 2009-12
17 Charone Peake Jets WR R -- 2011-15
5 Bradley Pinion 49ers P 1 16-0 2012-14
98 D.J. Reader Texans DT R -- 2012-15
21 Coty Sensabaugh Rams CB 4 59-27 2008-11
69 Tyler Shatley Jaguars OG 2 14-0 2010-13
28 C.J. Spiller Saints RB 6 83-38 2006-09
97 Tony Steward Saints LB 1 7-0 2011-14
60 Brandon Thomas 49ers OG 2 0-0 2010-13
98 Brandon Thompson Bengals DT 4 39-7 2008-11
14 Sammy Watkins Bills WR 2 29-29 2011-13
69 DeShawn Williams Bengals DT 1 0-0 2011-14
#Suspended for 2016

Tags: Clemson NFL
,
Shaq Lawson
,
Andre Ellington
,
Andre Branch
,
Kavell Conner
,
Byron Maxwell
,
Crezdon Butler
,
Chris Hairston
,
Marcus Gilchrist
,
Brandon Thomas
,
Dwayne Allen
,
Tavaris Barnes
,
Vic Beasley
,
Bashaud Breeland
,
Jaron Brown
,
Kourtnei Brown
,
Chandler Catanzaro
,
C.J. Spiller
,
Dalton Freeman
,
Malliciah Goodman
,
DeAndre Hopkins
,
Jarvis Jenkins
,
Antoine McClain
,
Jonathan Meeks
,
Coty Sensabaugh
,
Tyler Shatley
,
Brandon Thompson
,
Adam Humphries
,
Grady Jarrett
,
Charone Peake
,
DeShawn Williams
,
Tony Steward
,
Stephone Anthony
,
B.J. Goodson
,
Martavis Bryant
,
Corey Crawford
,
Isaiah Battle
,
Bradley Pinion
,
Zac Brooks
,
Kevin Dodd
,
D.J. Reader
,
Sammy Watkins
,
Jayron Kearse
,
T.J. Green
,
Chris Clemons