---
| | | |
| --- | --- | --- |
| Saturday, May 2, 2015, 8:33 PM | | |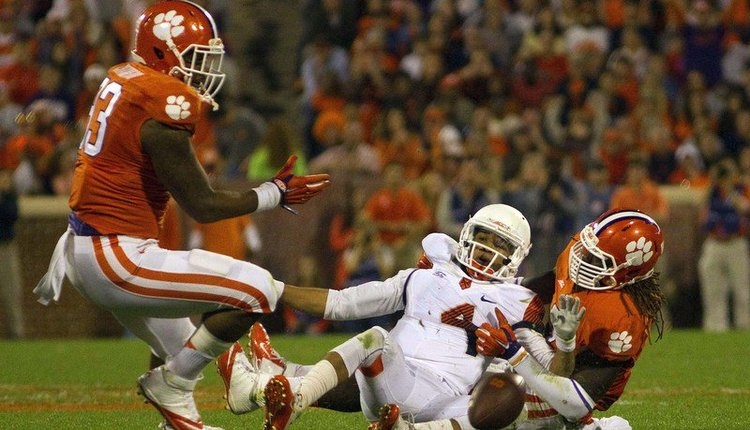 CLEMSON, S.C. - Three more Tigers were selected in the 2015 NFL draft Saturday. Defensive tackle Grady Jarrett

Grady Jarrett
Defensive Tackle (2011 - 2014)
#50 6-0, 290
Conyers, GA
View Full Profile , punter Bradley Pinion

Bradley Pinion
Punter (2012 - 2014)
#92 6-6, 230
Concord, NC
View Full Profile and linebacker Tony Steward

Tony Steward
Linebacker (2011 - 2014)
#7 6-, 235
Hastings, FL
View Full Profile were selected on Day 3 of the draft that was held in Chicago, Ill.
On Thursday night, Clemson had two first-round selections. Vic Beasley

Vic Beasley
Defensive End (2010 - 2014)
#3 6-2, 236
Adairsville, GA
View Full Profile was the No. 8 pick of the draft by the Atlanta Falcons and Stephone Anthony

Stephone Anthony
Linebacker (2011 - 2014)
#42 6-3, 245
Polkton, NC
View Full Profile was the No. 31 pick of the first round by the New Orleans Saints. It marked the first time since the 1982 draft that Clemson had two first-round draft selections and just the third time in history (1979 was the other year). It was the first time Clemson had two defensive players taken in the first round as well.
Five Tigers were drafted overall, the seventh consecutive year Clemson has had 4+ players selected. Clemson is the only school in the ACC that can boast that accomplishment. Clemson's five selections tied for 10th most in the nation and its four defensive players tied for second most. Only Louisville (6) had more defensive players drafted than Clemson.
Jarrett was the first selection of the fifth round, the 137th player selected overall, by the Atlanta Falcons. The First-Team All-ACC Tiger joins teammate Vic Beasley with Atlanta. Former Tiger Malliciah Goodman

Malliciah Goodman
Defensive End (2009 - 2012)
#97 6-4, 270
Florence, SC
View Full Profile will be in his third year on the Falcons' defensive line in 2015.
Like Beasley, Jarrett is a native of Georgia (Conyers) and was a big reason Clemson led the nation in total defense in 2014. Jarrett finished the season with 73 tackles, including 10 tackles for loss and 1.5 sacks. He started all 13 games in 2014 and made 37 starts in his career.
A fifth-round selection by the San Francisco 49ers, Pinion was the first kicker selected in this draft and the first Clemson kicker drafted since 1991 when Chris Gardocki was a third-round selection by the Chicago Bears. Pinion, who was a junior in 2014, handled the punting and kickoff chores for Clemson in 2014. He averaged 42.6 yards per punt and had a school-record 28 punts inside the 20. In terms of kickoffs, he had 36 touchbacks on 74 kickoffs.
Steward was selected in the sixth round by Buffalo. The native of Hastings, Fla. did not become a starter until 2014, as he was injured a good portion of his career. He was Clemson's Special Teams Player-of-the-Year in 2012 and 2013. But in 2014, he was Clemson's third-leading tackler with 73, the same total Jarrett had. Steward also had 10 tackles for loss, 3.5 sacks and a team-high 13 quarterback pressures. It was the fifth time in the last six years the Bills drafted a Tiger.
TIGER DRAFT NOTES
• When Tony Steward was selected by the Buffalo Bills in the sixth round, it marked the third straight year the Bills selected a Tiger. This is the first time the same NFL team has taken at least one Tiger three years in a row since the 1983-85 era, when the Giants did it. The Giants took three Tigers in 1983, the most Tigers ever by one team in the same draft, then took two in 1984 and one in 1985.
• The Atlanta Falcons drafted two Tigers, Vic Beasley and Grady Jarrett. It marked the first time since the 2003 draft that one NFL team has taken two Tigers in the same draft. That year, Denver selected Nick Eason

Nick Eason
Defensive Line
# 6-3, 305
Lyons, GA
View Full Profile and Bryant McNeal.
• Clemson had four defensive players selected in the draft, tied for the most for the program in the last 16 years. Clemson also had four defensive players taken in the 2011 draft. The record is six (1999).
• As stated above, Louisville had the most defensive players taken in the draft with six. Clemson had four along with Arkansas, Florida State, Oregon State, Stanford, Texas and Washington. So when Clemson defeated Louisville last year at Memorial Stadium, there were 10 defensive players on the field who were drafted in 2015.
• As far as total NFL draft picks since the 2009 season, or since Dabo Swinney became Clemson's head coach, the Tigers have the ninth-most selections in the nation with 33. Alabama is first with 48, LSU is second with 45, Southern California is third with 43 and Florida State is fourth with 40. Georgia and Oklahoma have 39 apiece, while Florida is seventh with 38. Ohio State is eighth with 35 and Clemson is ninth with 33. Miami (Fla.) rounds out the top 10 in total NFL draft picks since 2009 with 31.
• This marked the second straight year Clemson had five players taken in the draft. Clemson had four offensive players selected last year and four defensive players selected this year.
• Florida State had the most players selected in this year's draft with 11. Louisville was second with 10 and Florida was third with eight. Miami (Fla.) and Alabama were tied for fourth with seven apiece. Missouri, Oklahoma, Southern California and Stanford were tied for sixth with six selections apiece. Clemson was tied with for 10th with five selections. Other schools with five selections were Arkansas, Auburn, Georgia, Mississippi State, Ohio State, Oregon, Oregon State and Texas.
• The Atlanta Falcons had drafted just four Tigers in their history prior to this year, then took two this year (Vic Beasley, Grady Jarrett).
• When Bradley Pinion was taken in the fifth round by San Francisco, it marked the second straight year the 49ers selected a Tiger. The 49ers drafted Brandon Thomas

Brandon Thomas
Offensive Line (2009 - 2013)
#63 6-3, 305
Spartanburg, SC
View Full Profile in the third round last year, but Thomas had a torn ACL and did not play in a game in 2014. The last Tiger to appear in a game for the 49ers is Derrick Hamilton in 2005. Four different former Tigers have played on 49ers' Super Bowl Championship teams (Dwight Clark, Terrence Flagler, Archie Reese, Jim Stuckey).