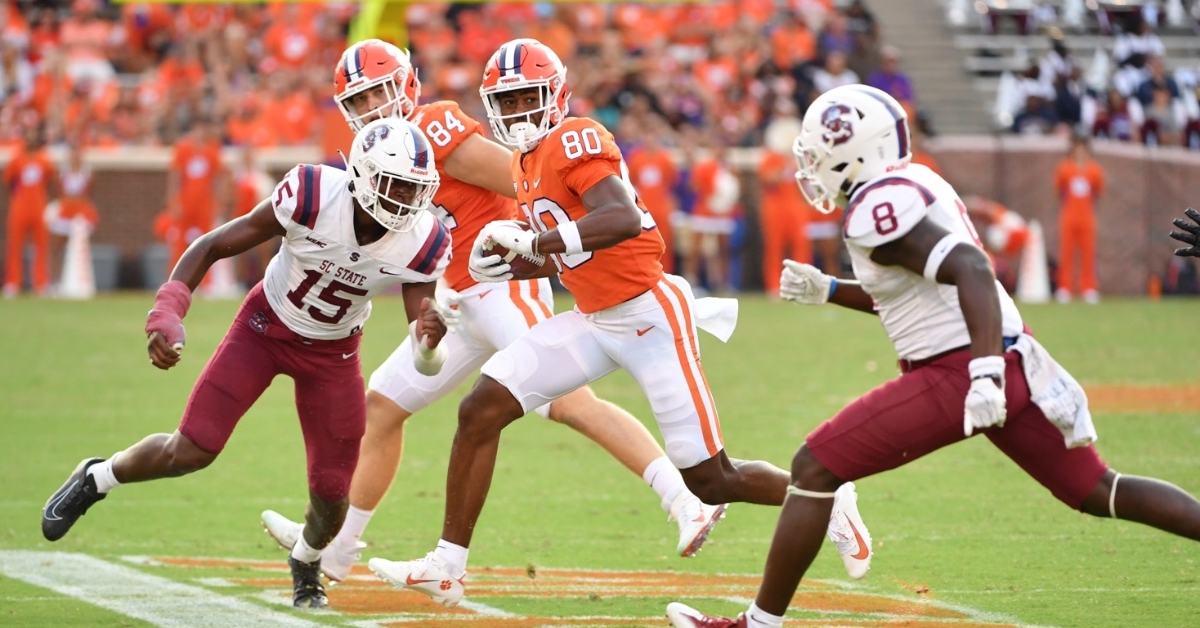 | | |
| --- | --- |
| Clemson stays outside top-5 in AP Poll | |
---
| | | |
| --- | --- | --- |
| Sunday, September 12, 2021, 2:37 PM | | |
There was movement in the top-5 of the Associated Press rankings this week, but that did not change Clemson's place in the poll.
Oregon vaulted to No. 4 after a top-5 win at Ohio State Saturday, 35-28. Alabama still tops the poll, followed by Georgia, Oklahoma, Oregon and Iowa, which also grabbed a top-25 win at Iowa State, leaving Dabo Swinney's Tigers No. 6 again.
Elsewhere among top-10 teams going into the weekend, Alabama dominated FCS opponent Mercer (48-14), Georgia rolled UAB in its home opener (56-7), Oklahoma obliterated Western Carolina (76-0), Texas A&M came back late at Colorado (10-7) and saw a drop to No. 7 from No. 5, Cincinnati cruised against Murray State (42-7) and Notre Dame rallied at home against Toledo (32-29), falling to No. 12.
The ACC's other ranked teams won this week with No. 15 Virginia Tech beating Middle Tennessee (35-14), No. 21 UNC rolling Georgia State (59-17) and No. 24 Miami holding on to a win over App. State, 25-23.
Clemson hasn't given up a defensive touchdown through two games, a 49-3 win over SC State on Saturday and a 10-3 loss to No. 2 Georgia to open the season in Charlotte.
AP Poll - Week 2
RANK TEAM PV RANK CONFERENCE POINTS
1 Alabama (2-0) 1 SEC 1,572 (60)
2 Georgia (2-0) 2 SEC 1,514 (3)
3 Oklahoma (2-0) 4 Big 12 1,402
4 Oregon (2-0) 12 Pac-12 1,355
5 Iowa (2-0) 10 Big Ten 1,263
6 Clemson (1-1) 6 ACC 1,246
7 Texas A&M (2-0) 5 SEC 1,206
8 Cincinnati (2-0) 7 American Athletic 1,149
9 Ohio State (1-1) 3 Big Ten 1,029
10 Penn State (2-0) 11 Big Ten 1,005
11 Florida (2-0) 13 SEC 935
12 Notre Dame (2-0) 8 IA Independents 926
13 UCLA (2-0) 16 Pac-12 804
14 Iowa State (1-1) 9 Big 12 593
15 Virginia Tech (2-0) 19 ACC 591
16 Coastal Carolina (2-0) 17 Sun Belt 562
17 Ole Miss (2-0) 20 SEC 550
18 Wisconsin (1-1) 18 Big Ten 499
19 Arizona State (2-0) 23 Pac-12 341
20 Arkansas (2-0) SEC 277
21 North Carolina (1-1) 24 ACC 268
22 Auburn (2-0) 25 SEC 233
23 Brigham Young (2-0) IA Independents 213
24 Miami (FL) (1-1) 22 ACC 177
25 Michigan (2-0) Big Ten 163
Others receiving votes:
UCF 111, TCU 103, Liberty 52, Michigan State 44, USC 39, Indiana 34, LSU 31, Kansas State 30, Nevada 28, Oklahoma State 27, Texas 23, Maryland 14, Pittsburgh 13, Kentucky 13, Stanford 10, Utah 9, Boston College 8, Arizona 6, Texas Tech 2, Fresno State 2, Toledo 2, Army 1