| | |
| --- | --- |
| Chat Transcript with TigerNet's David Hood | |
---
| | | |
| --- | --- | --- |
| Tuesday, May 15, 2018, 12:11 PM | | |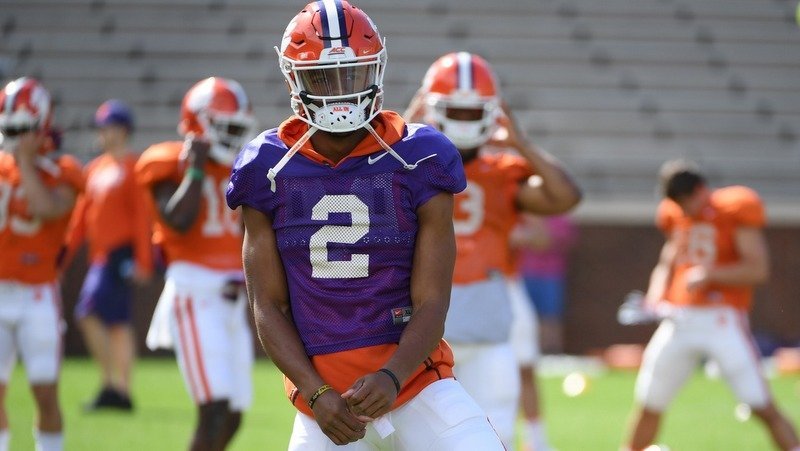 TigerNet's David Hood answered questions from Clemson fans for an hour on Monday night. Below is the transcript. Stay tuned for future chats.
Guest chat with David Hood
Question: I know that our staff evaluates talent better than the recruiting services, but I know we?d rather have 25 5 Star players. How much do future and current recruits pay attention to the actual ranking services? And what kind of effect could we see from having a ?lower-ranked? class?
Answer: In my experience, I've never had a recruit tell me that he knew where a team landed in the rankings, and when it comes to their own rankings, I've only seen one (who will remain nameless) that chased stars. They are more interested in who offers them. I don't think where a team lands in the rankings has any effect on recruits
Question: Any ideas of any more early football transfers?
Answer: I think the transfers are done for now. The next wave, if it happens, would happen after summer workouts when everybody gets an idea of what freshmen will have an impact.
Question: Best guess on Reed and Mitchell coming back for one more year?
Answer: My guess, as of now, is that both might seek to play overseas. Everybody keeps pointing to their lack of a NBA Combine invite, but I think both players understand what they are and have to figure out how much they can improve anything with another year. Is that worth staying, or should they go overseas right now and start earning a paycheck?
Question: Are you more concerned about cornerback or safety depth?
Answer: Safety. Muse had a hard time staying healthy this spring and battled injuries last season, and they've moved K'Von Wallace back and forth from safety to corner and i hope he can find a permanent home.
Question: Are you more concerned about cornerback or safety depth?
Answer: Safety. Muse had a hard time staying healthy this spring and battled injuries last season, and they've moved K'Von Wallace back and forth from safety to corner and i hope he can find a permanent home.
Question: Any new info on Meredith and Teo's injuries?
Answer: I think they are taking it easy with Kier Meredith right now, and its hard to take Sam Hall out of the lineup. As for Teo, I am afraid he is done for the year. He dove for a ball in an intrasquad scrimmage, and while Lee hasn't told us the exact injury it's my understanding he broke his collarbone. He won't play again this season which is a shame because he is a plus defender who was starting to find his stroke
Question: Any earth shattering news coming out of ACC meetings in Florida?
Answer: I don't think we will see anything that will make us stop the presses
Question: What is your favorite pizza?
Answer: Depends on my mood, but I love any kind of supreme with a LOT of toppings.
Question: You were spot on with the Lemanski Hall talk as our next assistant coach. Who else is in the queue? Kyle Richardson? Tyler Grisham?
Answer: There are a couple in the queue........Kyle is definitely waiting his turn and deserves a shot at some point. Thomas Austin is another guy I can see them bringing back on board at some point. There is another guy that not a lot of people know about named Cam Aiken, who works in offensive player development. He has been given a lot of credit over the last few seasons by the offensive coaches for designing plays, and it's only a matter of time before someone makes him a full-time guy. He's bright with a great future.
Question: Hey DHood - do you think Diamond Knowledge is the greatest thing since the DH rule like HE thinks he is ?
Answer: WHO???????????????
Question: This is a greeat idea - thanks for the time, DH. Who's idea was it ?
Answer: It was my idea...a lot of questions on the board that I can't get to because I am either driving to or attending some event or calling the next recruit.
Question: Is a hot dog a sandwich?
Answer: Don't you have a baby to take care of?
Question: Has Kelly Bryant been approached about redshirting at all? I truly believe that it is the best for both parties. He is an insurance policy should either Trevor or Hunter get hurt and have a full spring + summer to workout with a team before leading them in '19.
Answer: Nope. And don't expect him to change positions
Question: How would you compare Andrew Booth to Mackensie Alexander coming out of high school?
Answer: Very similar in terms of intensity but Booth is a larger corner than Alexander. Booth can play physical with the tall receivers where Alexander sometimes had issues. I like Booth A LOT
Question: Who is the one recruit that Clemson missed that you think would have had the largest impact on the program?
Answer: Todd Gurley recently. I really thought Clemson was gonna land him, but Georgia got him at the last minute. Dabo has a different answer - he had Tim Tebow ready to commit to Clemson and Tommy Bowden nixed it, instead going for Willy Korn. Imagine Clemson's offense with Tebow under center?
Question: David, your thoughts on diaper changes? Be honest...
Answer: I do what I have to do
Question: What's your feeling on where we stand with Crouch out of Charlotte
Answer: I think Clemson is in good shape with Crouch.....he is gonna check out a few places this summer, but I like Clemson's chances
Question: Is Pierce Quick still an option on the offensive line?
Answer: As a Bama kid, I fully expect him to stick with the Tide
Question: Do you think the OL will take a step forward or a step back, relative to last year?
Answer: I think a step forward. Pollard will be do better at RG than RT simply because his footwork is better suited for guard. They also have a lot of guys who can play there, and I've heard the practices during the spring were physical. I also expect Mitch Hyatt to be even better this season
Question: As thin as we supposedly are in the secondary, do you think the staff considered taking a graduate transfer for depth?
Answer: Probably considered it, but transfers are hard to land and it 's even harder to find one you think could contribute here
Question: Who will be the next recruit to commit?
Answer: I haven't heard anything over the last few days, but maybe TE Luke Deal. I thought he was headed elsewhere but now I think otherwise. Still work to be done but I am watching that one
Question: Who will be the next recruit to commit?
Answer: See above....maybe Luke Deal, but there are no guarantees in recruiting
Question: Do you see us playing (2) quarterbacks alot this season and not just mop up duty? How is the attitude in QB room...do the guys seem to get along?
Answer: Both Dabo Swinney and Brandon Streeter mentioned that as a possibility during the spring, that two guys could play. But......I think this team is a viable candidate for a Nat Champ and the coaches have to find one guy. As far as the QB room, the attitudes have been on point from everything I've heard. I think they all truly like each other
Question: David Hood Do you expect Carmen to play a lot this year?
Answer: Too early to tell. He has a lot to work on before he gets anywhere close to an 8-man or 9-man rotation. As of right now, I am not seeing significant snaps
Question: Is there a problem with Justin Hawkins getting playing time other than lack of production at the plate?
Answer: I think production is it.......Greene hasn't been bad and Byrd has been solid. Add Hall to the mix and Monte has had options there
Question: If you had to bet yr life saving on who starts at T A And M , who would yr $ be on?
Answer: If you mean at QB, and it was my life savings, it would be Kelly Bryant
Question: Does Josh Belk redshirt? And will Brian Dawkins Jr. ever play a meaningful snap in his career?
Answer: Dawkins might have to play meaningful snaps this season. He's gotten better and is earning the trust of the coaches but there is work to do. I think the coaches understand that Huggins and Wilkins and Lawrence will be gone after this season and want to get Belk in some games.
Question: Lots of praise for Spence in spring. Battle with Huegel?
Answer: And Potter. BT Potter told me the other day he thinks he can come in and be the guy. I doubt he redshirts because he will be needed on kickoffs. So a two-way battle for sure, and maybe three-way
Question: David, how do you see the TE spot possibly shaking out through the fall to start the season with Williams returning? Would Richard still be the lead TE, or would Williams have an upside that might place him in 1st team (blocking comes yo mind from the past)?
Answer: Williams has to be better at route running. Richard is still the lead guy til further notice, but Williams will push him. Heard nothing but good things during the spring
Question: How many lottery scratchers could you buy with your life savings? Just want to know how confident you are with that Kelly Bryant pick at QB.
Answer: Three ...lol....
Question: Do anticipate less, the same, or more commitments this summer around the Cook Out. With more spots, one would think more commitments.
Answer: Maybe a few more. I expect the first wave to happen during Dabo Swinney's high school camp next month. More offers will go out then, and then more commits will come. But the Cookout should be busy!
Question: How many juniors do you think will leave early this year
Answer: Maybe less than you would think.....Lawrence of course, and maybe Isaiah Simmons if he has a good year. Everyone else has a LOT to prove
Question: How many OL will the staff realistically take this year? Just joined the chat so it may have been answered earlier.
Answer: I think they are looking to take four right now
Question: Any idea on remaining recruiting numbers? I know you've said this was a larger class than most recent. Also any that you feel strong leans for Clemson?
Answer: 25-27 as it sits right now.
Question: JD Stewart...what do you see as his potential. A first team OL guy?
Answer: If you mean Cade Stewart, all of the OL raved about him during the spring. I think he starts at some point in his career here
Question: Is a virtual chatroom really a room? If yes, how do we know
Answer: Virtually impossible to answer
Question: Is Clemson Okra the best Okra to plant this summer?
Answer: The spineless Clemson okra has a great flavor and is high-yield, so yes
Question: Your opinion on whether the baseball team could win it all
Answer: I would love to say yes, but this offense disappears way too often for my liking
Question: Were there any changes in the QB depth chart after the Spring Game?
Answer: Dabo won't tell us, preferring to keep it in house
Question: ETN and Feater looking to split snaps or is one blocking better than the other? Bonus question - Ginger or Mary Ann?
Answer: Feaster is better at blocking, but I see Etienne getting more snaps as the season progresses and he learns more of the playbook. Mary Ann of course.
Question: Who will win the pick ?em this year? My money is on Nikki.
Answer: I will go with Nikki
Question: Without choosing one of the 5 stars which recruit on offense and defense are you most excited for?
Answer: Darnell Jeffries on defense and J-Lyn Dixon on offense
Question: Do you think the coaches are as confident heading into this year as they were entering 2016?
Answer: I do. Dabo has worn a big old smile all spring. He knows this is a good team
Question: Thoughts on Florida State ? Generally, coaches have some success their first season with a new team
Answer: I think they will be better than people think IF he makes the right decision at QB and lets Francois play. They will have a strong running game and those big old dudes on the defense should be better
Question: What are the biggest positions of need for 19?
Answer: OL, RB, LB, S
Question: Any chance Trevor Lawrence redshirts?
Answer: I don't think he redshirts
Question: O line recruits, do we lead for any?
Answer: I think the coaches have sent out some recent offers that will see Clemson in the lead sooner rather than later
Question: Vague mentions of Death Valley upgrades - less Hill, more seats?
Answer: I think the Hill stays the way it is. At least I hope so. More seats might come with additions to luxury boxes
Question: Favorite Clemson coach to interview? All time and regardless of sport.
Answer: We don' get to do it enough, but Robbie Caldwell. He is absolute gold every time I talk to him
Question: Do we win it all this year?
Answer: Can't say for sure, but I think they will be there playing for it in the end. Had people from the bowls tell me they expect Clemson and Bama part IV
Question: Would we take a 2nd quarterback commitment this year?
Answer: Yes, they are trying to find a 2nd one
Question: Did chats used to be more common?
Answer: I think so. Need to do this more often
Question: First perfect 15-0 season?
Answer: Would be fantastic but so hard to do, even for Bama and Clemson
Question: How much longer do you think Caldwell will coach the OL?
Answer: A few more years
Question: Shaq Smith is MIA ... Why ?
Answer: He is? Where did he go? He had a great spring, is one of the leaders and I expect him to take a big jump this fall. Some guys just take longer than others to develop, and he's had some pretty good players standing in his way
Question: Who is the biggest ?ambassadors? for Clemson on the FB team (excluding Wilkins)?
Answer: Excluding Dabo and Wilkins....a guy like Clelin Ferrell is the next in line. He is great with the media, and he's all about staying in school
Question: Who goes to media days this year?
Answer: Kelly Bryant for the offense and Clelin Ferrell or Kendall Joseph for the defense. Just a guess
Question: Recruiting Pickens - save him from going Gamecock? Or other?
Answer: I think Clemson is in better shape than people think. I spoke with his mother day and she is a big fan of Todd Bates
Question: Is B-Meist real or a bot?
Answer: He is real. I have been to his house!!!!! And he's a good dude. Thanks for all of the questions, and hopefully Crump will let us make this a tradition. Until next chat....

Tags: Clemson Football
,
Thomas Austin
,
Tyler Grisham
,
Willy Korn
,
Mackensie Alexander
,
Thomas Austin
,
Kendall Joseph
,
Thomas Austin
,
Kelly Bryant
,
Mitch Hyatt
,
Clelin Ferrell
,
Shaq Smith
,
Isaiah Simmons
,
K'Von Wallace
,
Cade Stewart
,
BT Potter
,
Trevor Lawrence
,
Josh Belk