| | |
| --- | --- |
| 8 Tigers invited to the NFL combine | |
---
| | | |
| --- | --- | --- |
| Thursday, February 11, 2016, 1:37 PM | | |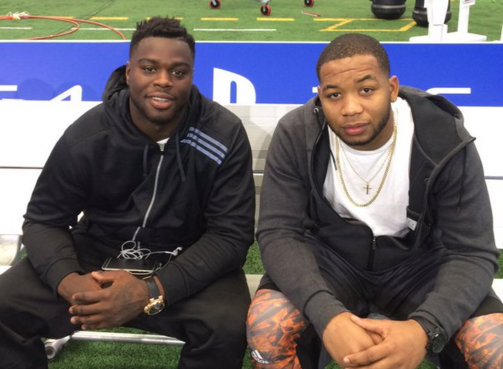 Clemson, S.C—Eight members of Clemson's No. 2 ranked 2015 football team have been invited to the 2016 NFL Combine. The four-day event will be held in Indianapolis, Ind. Feb. 26-29.
The Clemson players invited include MacKensie Alexander (CB), Kevin Dodd (DE), B.J. Goodson (LB), T.J. Green (SAF), Jayron Kearse (SAF), Shaq Lawson (DE), Charone Peake (WR), and D.J. Reader (DT). Peake will work out on Feb. 27, while the seven Clemson defensive players will work out Feb. 28 and 29th.
Lawson (1st team), Alexander (2nd team), and Kearse (2nd team) were all named All-American in 2015. Lawson was a consensus selection as he led the nation in total tackles for loss with 25.5. Goodson was a first-team All-ACC selection and led the Tigers in tackles with 160. Dodd ranked second to Lawson nationally in tackles for loss with 23.5. Peake ranked second on the Clemson team in receptions with 50 and Reader had 31 tackles in eight games, five as a starter.
Seven of the eight Clemson players invited are defensive players, tied for the most in the nation with Ohio State. The Buckeyes had the most overall players invited with 14, while Notre Dame was second with 10. UCLA and Alabama were tied for third with nine players apiece, while the Tigers were tied for fifth in the nation with Auburn, Florida and Georgia.
The eight players invited stand as a Clemson record. The previous high for Clemson invitations to the NFL Combine was seven set in 1999, 2007 and 2011.
This is the second straight year Clemson has had the most or tied for the most defensive player invitations to the combine. Clemson had six defensive players invited last year to lead the country. Five of the 13 over the last two years have been defensive ends. Last year defensive ends Corey Crawford, Vic Beasley and Tararis Barnes were all invited and made an NFL roster.
The seven defensive players helped the 2015 Tigers to a No. 10 final national ranking in total defense and a No. 2 ranking in pass completion defense. Clemson led the nation in three and outs for the second straight year and ranked in the top five in the nation in tackles for loss per game for the third straight year.
Clemson has had 33 players drafted over the last seven years, ninth in the nation for that time period. Clemson has had at least four players drafted each of the last seven years.
The program has had at least one first-round draft choice each of the last three years. DeAndre Hopkins was a first-round pick by Houston in 2013 and was named to the Pro Bowl this year. Sammy Watkins was the No. 4 overall selection of the 2014 NFL draft by the Buffalo Bills. Last year Vic Beasley and Stephone Anthony were both first round picks. Beasley went to Atlanta and Anthony to New Orleans.
Many 2016 Mock Drafts have Alexander, Lawson and Dodd going in the first round. Clemson has never had three first-round picks in the same year.
Clemson had 38 former players on NFL rosters last year, the most in one season in NFL history.
Clemson Yearly Combine Invitations since 1999:
1999 (7), 2000 (0), 2001 (3), 2002 (0), 2003 (3), 2004 (2), 2005 (4), 2006 (3), 2007 (7), 2008 (2), 2009 (6), 2010 (6), 2011 (7), 2012 (6), 2013 (3), 2014 (5), 2015 (6). 2016 (8).
Most NFL Combine Invites:
14 - Ohio State
10 - Notre Dame
9 - Alabama, UCLA
8 - Auburn, Clemson, Florida, UGA
7 - Michigan St, OU, USC

— Pick Six Previews (@PickSixPreviews) February 11, 2016

Tags: Clemson Football
,
Shaq Lawson
,
Joe Gore
,
Eric Mac Lain
,
Charone Peake
,
B.J. Goodson
,
Travis Blanks
,
Zac Brooks
,
Kevin Dodd
,
D.J. Reader
,
Mackensie Alexander
,
Jayron Kearse
,
T.J. Green