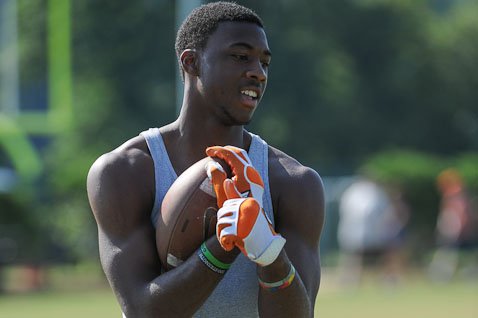 | | |
| --- | --- |
| Williams commits to Clemson | |
---
| | | |
| --- | --- | --- |
| Tuesday, July 31, 2012, 5:15 PM | | |
Clemson's newest verbal commitment for the 2013 recruiting cycle said he knew his mind was made up two weeks ago, but wanted to take a few weeks of reflection to make sure he made the right decision.
It was.
Four-star wide receiver Mike Williams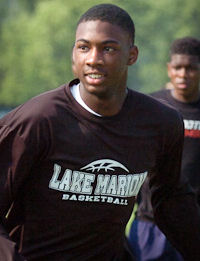 Mike Williams
Wide Receiver
6-5, 205
Holly Hill, SC
View Full Profile of Lake Marion High School chose the Tigers in a press conference at his high school Tuesday afternoon. In an exclusive interview with TigerNet Monday evening, he said that attending the All In Cookout a few weeks ago helped make up his mind.
He then said he wanted to take a few weeks to talk the decision over with his family, and by Tuesday he was ready to become Clemson's 16th commitment for 2013.
"I am ready, and I wanted to do it right now because my mind is made up," Williams told TigerNet. "I want to say what I am going to do and get it over with. The recruiting process was good, but it can get out of hand. I am just ready to make a decision and get ready for my senior season."
Williams had offers from Clemson, South Carolina, Alabama, Georgia, Marshall, Mississippi St., Notre Dame, Tennessee and Vanderbilt.
He is rated by ESPN as the No. 199 player in the nation, the No. 31 receiver in the nation and the third-best prospect in the state of South Carolina. He recently narrowed his choices down to Clemson and South Carolina, and left South Carolina's Gamecock Showcase in mid-July with the Gamecocks as his leader. Williams commits to Clemson
He attended the All In Cookout later, however, and knew Clemson was where he wanted to be.
"I went up there a couple of weeks ago, and it just felt like home," Williams said. "I knew I wanted to be there. It was All In, like a family. It's the place I can see myself spending the next four years because it's so special. And my mother says she is fine with it, because she wants me to be all I can be."
Williams- who was recruited by Marion Hobby and Jeff Scott - told TigerNet that he has a great relationship with the coaches.
"I get along with Coach Scott and Coach Swinney really well," he said. "Coach Scott will be my position coach, and I call him once a week and we talk about everything. Not just about football."
Williams said he also got along with Clemson's current group of receivers, and seeing their success made him want to see if he could follow in their footsteps.
"I got to talk to Nuk Hopkins and Martavis Bryant, and I get along with them really well," he said. "I have also gotten to talk to Sammy Watkins. I like talking to them, and they let me know what kind of school Clemson is and what kind of success you have in this offense."
As a junior, Williams caught 65 passes for 1,269 yards and 12 touchdowns. As a quarterback, he completed 20-of-35 passes for 354 yards and three touchdowns. As a sophomore, he caught 42 passes for over 700 yards and caught five touchdown passes.
2013 FOOTBALL COMMITS (16)


Name			POS	Ht/Wt		Hometown	



  
 Robert Nkemdiche 

Robert Nkemdiche




Defensive End
6-5, 275
Loganville, GA


View Full Profile
  
 	DE	6-5/275		Loganville, GA	



  
 Ryan Jenkins 

Ryan Jenkins




Wide Receiver
5-11, 177
Alpharetta, GA


View Full Profile
  
 		WR/DB	5-11/177	Alpharetta, GA	



  
 Tyshon Dye 

Tyshon Dye




Running Back
6-1, 210
Elberton, GA


View Full Profile
  
 		RB	6-1/210		Elberton, GA	



  
 Wayne Gallman 

Wayne Gallman




Running Back
6-1, 195
Loganville, GA


View Full Profile
  
 		RB	6-1/195		Loganville, GA	



  
 Ben Boulware 

Ben Boulware




Outside Linebacker
6-1, 230
Anderson, SC


View Full Profile
  
 		OLB	6-1/230		Anderson, SC	



  
 Dane Rogers 

Dane Rogers




Defensive End
6-3, 245
Shelby, NC


View Full Profile
  
 		DE/TE	6-3/245		Shelby, NC	



  
 Jordan Leggett 

Jordan Leggett




Tight End
6-6, 235
Navarre, FL


View Full Profile
  
 		TE/ATH	6-6/235		Navarre, FL	



  
 Dorian O'Daniel 

Dorian O'Daniel




Outside Linebacker
6-1, 205
Olney, MD


View Full Profile
  
 	OLB/RB	6-1/205		Olney, MD	


DeMarcus Robinson	WR	6-2/200		Fort Valley, GA	



  
 Elijah Daniel 

Elijah Daniel




Defensive End
6-4, 255
Avon, IN


View Full Profile
  
 		DE	6-4/255		Avon, IN


Mike Williams	        WR      6-5/205         Holly Hill, SC



  
 Scott Pagano 

Scott Pagano




Defensive Tackle
6-4, 280
Honolulu, HI


View Full Profile
  
 		DT	6-4/280		Honolulu, HI	



  
 D.J. Greenlee 

D.J. Greenlee




Linebacker
6-2, 210
Central, SC


View Full Profile
  
 		LB/WR	6-2/210		Central, SC	



  
 Jadar Johnson 

Jadar Johnson




Defensive Back
6-1, 180
Orangeburg, SC


View Full Profile
  
 		DB/S	6-1/180		Orangeburg, SC	



  
 David Kamara 

David Kamara





5-11, 185
Loganville, GA


View Full Profile
  
 		CB	5-11/185	Loganville, GA	



  
 Maverick Morris 

Maverick Morris




Offensive Tackle
6-5, 290
Douglas, GA


View Full Profile
  
 	OT	6-5/290		Douglas, GA

Tags: Clemson Football
,
Ben Boulware
,
D.J. Greenlee
,
Dane Rogers
,
David Kamara
,
Dorian O'Daniel
,
Elijah Daniel
,
Jadar Johnson
,
Jordan Leggett
,
Marcus Robinson
,
Maverick Morris
,
Mike Williams
,
Robert Nkemdiche
,
Ryan Jenkins
,
Scott Pagano
,
Tyshon Dye
,
Wayne Gallman