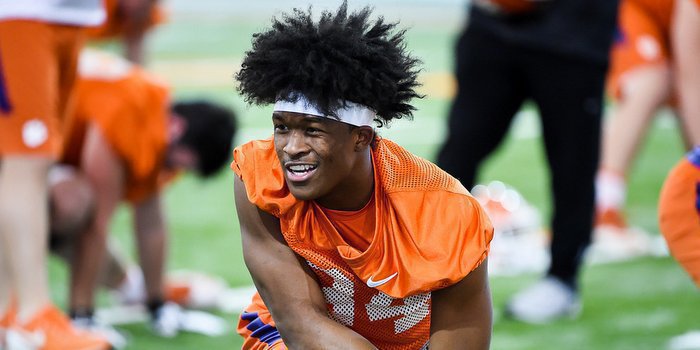 | | |
| --- | --- |
| "Why not us?" Chippy McCloud says team is chasing another championship | |
---
| | | |
| --- | --- | --- |
| Wednesday, March 29, 2017, 10:08 AM | | |
CLEMSON – The bar has been set, and a National Championship has been won, so what's left to do for Ray-Ray McCloud and the Clemson Tigers?
Do it again.
Not taking the accomplishment of winning a National Championship lightly, McCloud told TigerNet after Monday's spring practice that the mentality of this year's team is almost one of been there, done that, and they want to do it again.
"I have personal goals, but I want to get back to the National Championship in Atlanta," McCloud said Monday. "That's a big goal. It's hard to go three back-to-back-to-back, so why not do it? Why not us? I've been winning my whole life - high school, little league, my whole life. That's all I'm used to. Going 10-2, whatever the season may be, I'm not used to that. Winning is always a must to me. Going back-to-back-to-back has never been done here. Winning a National Championship has been done. Last year's seniors set a standard for us, so we have to keep it at that."
Having reached the mountain top in 2016, McCloud said there's a different mentality around this year's team, but there's still that well-known chip and a determination to prove the doubters wrong.
"There's a different swagger. The way people talk," McCloud said. "When you've done something, you've already done it so nobody can tell me that I can't do it. When you've already done something, it's like, 'Alright, you're going to see.' With the team itself, the swagger, the confidence, the competitive leadership we've got out there, it's building every day. I think we're just getting better."
Just having the experience and having played in back-to-back College Football Playoffs is a big reason for wanting to return to the spotlight.
"Just the experience. Even the players who weren't playing, just being in Arizona and Tampa, the experience itself was fun there," he said.
However, if the Tigers are to reach new heights in 2017, they will need to rely on a new set of playmakers and leaders, a challenge McCloud said he and his teammates are willing to accept.
"It's different with them not being here, but more different without Tay (Artavis Scott) because me and Tay sat right next to each other," he said. "It's a big difference with them not there. Mike (Williams) didn't even talk. He was a really quiet one. It's different having the older boys in front of you and gaining knowledge from them. Now, me, Deon Cain, Hunter Renfrow, Trevion Thompson, we understand what it takes, and we have to put the work in."
For McCloud, he has a new outlook on the game and new confidence.
"For one, I want to come out every day with a mentality that I'm the best in the country, and that's got to be the mentality for everyone," he said. "If you don't feel like you're the best and you're not confident, you're not going to perform well. Every day in the weight room and every day at practice, I try to push it to the limit. I want to become a better leader. I want to take care of my body more. I want to make it more of a profession for me, more than anything. I want to make it more of a business."
A lot of the new confidence comes from taking his preparation more seriously and finally being 100-percent healthy.
"I've always got confidence, so it's more the weight room. The weight room builds confidence when you do certain things" he said. "I just have to start playing and being myself again. My downs have had a lot to do with me being hurt, not me just not playing. I had a sprained ankle. Everything happens for a reason, so I just have to go out there and play."
McCloud said the fans could expect to see a more focused player on and off the field, something the coaches saw in spurts last season.
"It (the dropped punts and mistakes) had a lot more to do with me being focused," he said. "I can catch punts all day. It was more of me being focused. That's all it was. At the beginning of the season, they (the coaches) saw what I could do with the ball in my hands and when I'm focused they saw what I could do. They're just telling me to be consistent and be a leader and everything else will take care of itself. A baller gonna ball."