| | |
| --- | --- |
| Wednesday night practice update | |
---
| | | |
| --- | --- | --- |
| Wednesday, September 2, 2015, 7:47 PM | | |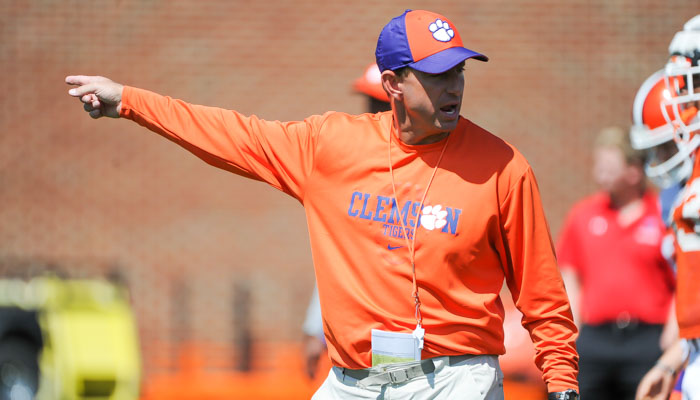 CLEMSON – Clemson head coach Dabo Swinney

Dabo Swinney
Head Coach
View Full Profile looked and acted excited about the season's start during his Tuesday press conference, and that trend continued following Wednesday's practice session.
The Tigers practiced for two hours Wednesday afternoon in preparation for Saturday's 12:30 p.m. kickoff against Wofford.
"We are a little bit closer now. Thursday and Friday we will finish up on some preparation things. I like where our team is at," Swinney said after practice. "Tomorrow is a critical day for us, kind of buttoning it all up and then finishing up with what we call Focus Friday with our game prep. I still like where our team is at. I think we are healthy. I think the guys feel good about the camp and where their bodies and mind are at right now. Everybody is anxious to get this thing going. The good news is that it won't be long now. Just a couple of days."
NOTES
Kicker Greg Huegel

Greg Huegel
Fr. Punter / Kicker
#92 5-11, 180
Blythewood, SC
View Full Profile continues to impress
"I think he hit a 52-yarder today. Wednesday is kind of our two minute day, and we had a two-minute drill to finish up the good on good. We usually work on long field goals on Tuesday, and he nailed it from 52 on his first attempt. I am excited to see him get out there and have the opportunity to do it in front of a bunch of people. (On kickoff) he's done a really nice job."
LB Kendall Joseph

Kendall Joseph
RS Fr. Linebacker
#34 5-11, 230
Belton, SC
View Full Profile looks healthy
"He has practiced well. He has gotten better and better each day. He and Jalen (Williams) are taking all of the second team reps, and they've done a nice job."
Who will start at defensive tackle
"We will talk about that more as a staff tomorrow - tomorrow is our last staff meeting, and we will talk about some game-specific things as far as how we will rotate guys. Last year, we didn't really know who would make the decision to start at tackle until after Thursday's practice. Literally, every rep counted because the competition was so tight. We will make those decisions after tomorrow. But we have a lot of guys that are going to go play."
Ball security has been solid
"Outside of one day in the stadium it's been a solid camp. Nobody works harder than Tony (Elliott) with the fundamental and ball security and it reflects in the backs. I think National Championship-caliber was 18 this past year, and we hope to be right around there or less. We hope to have none. But we want to win that turnover margin. It's been solid."
Will the team hold back parts of the gameplan
"We will just do what we have to do to win. The last thing on my mind is worrying about somebody down the road. I just want to be 1-0. So we are dialed in on playing our best each and every week. We are not trying to preserve anything. We have a great gameplan, and we want to execute that gameplan and go on to the next one."
The chemistry of the staff
"I love the chemistry of our staff, I really do. It's great. From offense to defense there is just excellent chemistry. First of all, on defense, we have continuity. I think we have elite coaches. Mike Reed

Mike Reed
Assist. Coach / Defensive Backs
View Full Profile is as a good of a defensive back coach as there is in the country. He is an outstanding coach. Dan Brooks

Dan Brooks
Assoc. Head Coach / Def. Tackles
View Full Profile , they don't get any better than Dan Brooks. Marion Hobby

Marion Hobby
Co-DC / Defensive Ends
View Full Profile is elite. He is a huge asset to this program and Brent. And you know what I think about Brent, he is an outstanding linebackers coach. On the offensive side, we have great continuity there and Brandon Streeter

Brandon Streeter
Quarterback Coach
View Full Profile has brought a lot of experience to that room. He gets it. He has coordinated for nine years at a different level but he has excellent experience. He is a coach's son, played at Clemson, just gets it. He has done a great job supporting Jeff and Tony. Then those two guys it's just a seamless deal. They just work so well with each other. So I love the staff we have. I like the transition and turnover we have had in our support staff, our analysis and player development and all that stuff. A lot of those guys got jobs last year. That's what those are. Entry level things. Guys get opportunities to move on. So we got some fresh faces. Fresh energy and blood in there. I think those guys have done a nice job as well."
Religion, the FFRF and chaplain Reggie Pleasant and whether he will change anything
"We were not doing anything. Nothing to change. I am who I am. I'm pretty open about that. There is nobody that can tell me I can't be a Christian in everything that I do. But that's me. I coach football. We play the best football players. It's always been that way. I've addressed this a 100,000 times. There is no rule that you have to go to church, and if you don't go to church, you don't play or if you don't show up for chapel. Far from it. We play the best football players."
"Certainly, everybody has opportunities to grow if they want to spiritually, but that's a personal thing. It really is. Just like a person's sexuality. That's their personal decision there too. It really is not very complicated. But no we have not had to change anything because we don't do anything wrong. Reggie - He's our life coach. He works around the team and supports the university. He does a great job."
Facing a veteran Wofford team
"This is a very veteran team. I think as I said yesterday openers are really tough regardless of who you play because there is a lot of unknowns, new people. You've had more time to prepare than you ever do during the season. In fact, I was just saying today I don't know how we get ready in a week for a normal opponent because it is just like seems like it is always something to get ready for this first game. But it is even tougher when you play a team that got the amount of experience that they have because they are going to be pretty precise. I hope we make no mistakes, and we play like a bunch of salty veterans out there and just do everything right, but we got to match their precision. I know that. It's going to be a tough challenge for us. So it's a tough game and a tough opener. No different than last year. Physically we have more players, but it only takes 11. It only takes 11 to get the job done. So we have great respect for Wofford and the team they will bring in here. Our focus is just on trying to get our first group to really set the standard. Execute like we know we can and then get those young guys opportunities. They got to start somewhere. When they make mistakes, let's correct them and let's move forward."