| | |
| --- | --- |
| Wednesday night news and notes | |
---
| | | |
| --- | --- | --- |
| Wednesday, October 17, 2012, 7:26 PM | | |
CLEMSON – Clemson head coach Dabo Swinney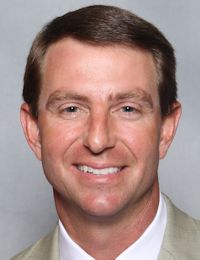 Dabo Swinney
Head Coach
View Full Profile said Wednesday night that the Tigers are as healthy as they have been all season, and the off week last week has re-energized the team as it prepares for this weekend's game against Virginia Tech.
Swinney met with the media following Wednesday's practice and said his team has had a good three days of practice this week.
"They've had three good days, good energy all three days," Swinney said. "That's what I was talking to them today; hopefully they're getting excited about playing again. Having a little off time, it's been good preparation. A lot of work on ourselves. It's been good work getting ready for Virginia Tech. Just anxious to get back at it, to see where they are. Hope we play with a lot of energy on Saturday, just like I've seen at practice."
The bonus is that the Tigers are healthy.
"We're going to have everybody. This is the best we've been in quite a while," he said. "That's a good thing. Hopefully, we can put a good run together and get lucky, as far as staying healthy, keeping everybody out there for a good while."
Other notes
On the progress of Kellen Jones
Kellen Jones
So. Linebacker
#52 6-1, 215
Houston, TX
View Full Profile , Justin Parker
Justin Parker
Jr. Linebacker
#8 6-1, 235
Port Royal, SC
View Full Profile and Martin Jenkins
Martin Jenkins
Jr. Cornerback
#14 5-10, 180
Roswell, GA
View Full Profile
"Kellen's good. Kellen's going to be back soon. Jenkins looks good. He's back in his uniform. He's still not released to practice. He's doing a lot of rehab work. Justin Parker's doing good. All those guys have made really good progress. Tony McNeal
Tony McNeal
RS So. Quarterback
#12 6-0, 195
Chester, SC
View Full Profile is back and dressing. He's out there running and doing some cutting. All of those guys are making some progress."
On who will be the main backup to Ellington this week
"We just kind of make those decisions as we get into the flow of the game. Sometimes there are certain things we prefer different guys to do. It just kind of depends on the situation. We don't have any hesitation with playing [Rod McDowell or D.J. Howard
D.J. Howard
RS So. Running Back
#22 5-11, 195
Lincoln, AL
View Full Profile ]. I think they've both demonstrated and earned our confidence, especially Rod. We felt good about D.J. coming out of the spring. But Hot Rod has really gone out on the field and performed at a high level for us. The confidence in him is really high. We feel like we've got three guys that can go play. Andre Ellington
Andre Ellington
RS Sr. Running Back
#23 5-10, 195
Moncks Corner, SC
View Full Profile is our bell cow, as he should be."
On the young offensive linemen, including Patrick DeStefano
Patrick DeStefano
Fr. Offensive Line
#71 6-5, 275
Roebuck, SC
View Full Profile , who will have surgery on his dislocated pinkie this week
"They are doing good. Isaiah [Battle] is doing good. I wish we could play him a little bit more. But the reps he is getting now will pay off for him. It is such a learning curve for him, and he probably had the most to learn of any of those guys. But [Jay] Guillermo and [Patrick] DeStefano and O.J. Jones, those guys are doing well. Guillermo and DeStefano in particular – they are well on their way. O.J. – I am particularly proud of him because he lost about 25 pounds and he has gotten serious. He really wasn't even in a position to have a chance to compete. He didn't have the commitment that he needed,. But he has learned that and he knows that if he will have a chance to play at this level, he will have to get his body in great shape. I think he is much more serious about it now and we will see where he is in January and he has given himself a chance to compete in the spring. Guillermo and DeStefano, they competed their tails off in camp. They are really smart players and I am excited about them. Same thing with Joe Gore
Joe Gore
RS Fr. Offensive Tackle
#73 6-5, 275
Lake Waccamaw, NC
View Full Profile , and now that we have moved Eric Mac Lain
Eric Mac Lain
RS Fr. Tight End
#88 6-4, 260
Hope Mills, NC
View Full Profile in there I am really excited about what we have on the offensive line. "
On quarterback Chad Kelly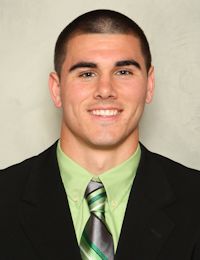 Chad Kelly
Fr. Quarterback
#11 6-2, 210
Buffalo, NY
View Full Profile
"He is what you are looking for. He is a very talented player. But he is not a laid-back, nonchalant guy. When he crosses the line, it doesn't matter if he is on the scout team or doing drills or just throwing routes against air, he wants to be good. That is what I love about him. He is a great competitor. He still has some maturing to do, but boy will he compete. That is what you want. You want that guy that will fight at the quarterback position. I am excited about him."

Tags: Clemson Football
,
Andre Ellington
,
Chad Kelly
,
D.J. Howard
,
Dabo Swinney
,
Joe Gore
,
Justin Parker
,
Kellen Jones
,
Martin Jenkins
,
Patrick DeStefano
,
Tony McNeal