| | |
| --- | --- |
| Wednesday Clemson football practice report | |
---
| | |
| --- | --- |
| Wednesday, December 21, 2011, 4:45 PM | |
AUDIO: Dabo Swinney after practice comments (MP3 format)
CLEMSON – The Clemson Tigers finished their last practice before the Christmas break in a light rain Wednesday afternoon, and head coach Dabo Swinney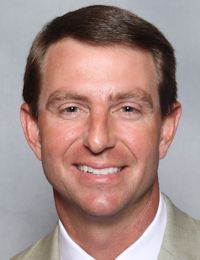 Dabo Swinney
Head Coach
View Full Profile said afterward that he had a special message for the players.
The team will have short meetings on Thursday before heading home for Christmas. Many will meet the team in Florida, some will fly to Miami, while the majority will meet back in Clemson early next week for a bus charter to the bowl game.
Swinney said he wanted to make sure that all of his players arrive and don't do anything over the break to jeopardize their trip.
"I talk to them all the time about making good decisions," he said. "Travel safe. Enjoying Christmas, the meaning of Christmas. Just enjoy your family and an opportunity to be at home during a special time. We talked a lot about, you're not invincible. People know who you are. You represent Clemson all the time, not just when you're here. "
He said that losing a teammate for whatever the reason is a hard thing to take.
"I've been a part of it. There's nothing that rocks your team to the core like losing one of your teammates or something like that, for something stupid," he said. "Hopefully, everybody will enjoy a nice break and travel safe. We'll arrive down there on the 27th. Most of the guys are on the charter. We've got a few that are flying in on their own. Some will be driving there. Look forward to getting everybody back together on the 27th and getting back to work."
On next year's defensive line
"We'll have a good group. Malliciah [Goodman] will be back. Obviously, there's another level for him. I'm real excited about Corey Crawford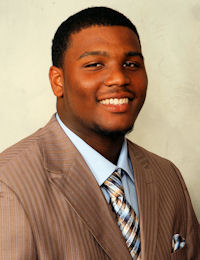 Corey Crawford
Fr. Defensive End
#93 6-5, 280
Columbus, GA
View Full Profile . All those guys that are playing inside at defensive tackle, I really think they're going to grow up a ton this offseason. I think you'll see us play a lot more guys next year. We'll be in a little more of that mode, which is kind of what we'd like to be. This year has been a different year, from that standpoint. We were lucky to keep these guys healthy for most of the season and just kind of bring these guys along, as opposed to just having to throw them in the fire. They've all learned a lot. We have a good group. I think we're going to sign some guys that are going to help us as well. The future is bright on both sides of the line. A lot of youth."
On Phillip Price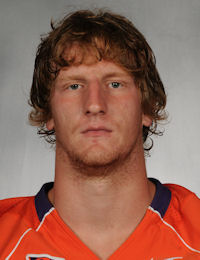 Phillip Price
RS Sr. Offensive Tackle
#79 6-5, 315
Dillon, SC
View Full Profile and his knee injury
"He's good. We've been really holding him the last couple of days. He'll have tomorrow, the 23rd, 24th, 25th, 26th and 27th. He's got several days before we get back in pads. I think he'll be ready to go by the time we play. He's responded."
On the health of the rest of the team
" David Smith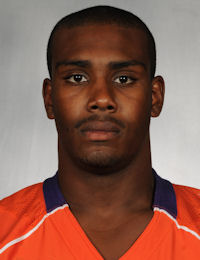 David Smith
RS Sr. Offensive Tackle
#73 6-5, 310
Greenville, SC
View Full Profile banged his toe up. We've held him today and yesterday. He should be fine by the time we get back down to the bowl site. He should be good to go."