| | |
| --- | --- |
| Watson to get the start Saturday; FSU film review | |
---
| | | |
| --- | --- | --- |
| Sunday, September 21, 2014, 7:24 PM | | |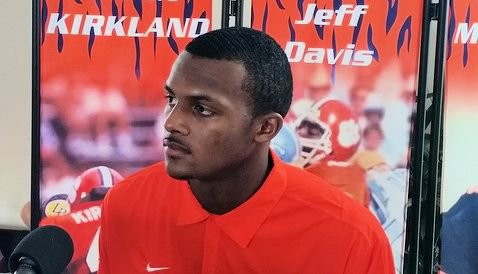 Clemson head coach Dabo Swinney

Dabo Swinney
Head Coach
View Full Profile made it official Sunday night, saying during his Sunday night teleconference with the media that freshman Deshaun Watson

Deshaun Watson
Fr. Quarterback
#4 6-3, 204
Gainesville, GA
View Full Profile will get the start when Clemson hosts North Carolina next Saturday night at 7 pm.
Watson played most of Saturday's loss to Florida St., and Swinney said that Watson showed enough to earn the start this week.
"He will get the opportunity to start this week. I just think that's where we are," Swinney said. "He was the player of the game. He played great. He took care of the ball and made some big plays. Really proud of him. You never know until you see them in that situation. We know we have something special in that young man.
He then said that knowing he will start will make it easier on Watson's preparation.
"It's a different deal when you know you're going to start. The way we prepare our quarterbacks, though, we prepare them both to be starters," he said. "It's more about who they're repping with. Deshaun has prepared well the last three weeks. He's a very focused, serious guy. He pays a lot of attention to details. It'll be good for him to get more reps with the first group."
Swinney said that Cole Stoudt

Cole Stoudt
Sr. Quarterback
#18 6-4, 231
Dublin, OH
View Full Profile handled the news with class.
"He was obviously very disappointed, but in the second half I thought he made some good suggestions. It's a tough situation. It's not as much what Cole did as it is what Deshaun did," Swinney said. "The first two games both played well. This game Cole did fine other than that one missed throw, but we have to make that play. Deshaun came in and took us down the field. We went back with him and he just continued to play at a high level. It's a tough thing. We have to make the right decisions. We're going to need Cole and we have to continue to give him an opportunity to compete. We will still get him an opportunity to compete, but we are where we are after three games."
Other notes
FSU review
"First of all very difficult loss, obviously, probably as difficult as any I've ever been a part of. Really proud of our team and their will to win. I felt they played a heck of a ballgame and were the better team. When I watched the film, I felt the same way. Obviously some critical mistakes that cost us. Proud of the effort that was displayed by our guys. Our staff had a good plan and we were in a position to win. We have to find ways to win those type of games. Lot of positives. I think we can play with anybody, but we have to get better at the little things. It's fundamentals that hold up during critical situations. We're 1-2 because of some missed opportunities but we are an improved team after three games. There is no question we were much improved last night from where we were when we started the season. We have had two tough ones on the road. We have to play smarter to win those type of games. Experience should pay dividends going forward."
Mistakes
"Offensively we are improving. Special teams, two games on the road it really cost us from a field goal standpoint. Hopefully that is something that can get corrected. We're going to focus on the opportunities ahead of us. The red zone, three times in the 15 and got zero points. We fumble with a minute+ left and just had a lot of major mistakes. The play of Deshaun was special. We had some big catches in the game. The play of our defense was special. Seeing some young guys out there like Choice and Gallman in that setting was good."
The defense
"Defensively, really not a lot of negatives. We had a poor opening drive in the third. That was probably the worst. We had them at three and nine and had a 12-man penalty. That was huge. Then 17-10 with six minutes left and we give up a big play on second and 24. We can learn from that and be smarter. But I couldn't be prouder of our defense. We held probably the best o-line in the country to minus 12 yards rushing through four quarters. We had five sacks and were excellent in third down. We dominated in the trenches and really competed on a high level in the back end. They did a great job of challenging their receivers."
Special teams
"Special teams, I thought (Bradley) Pinion did very well outside of one punt. One field goal was about 23 yards. That was the biggest disappointment. We'll see if we can get back to work there. Ammon probably had his best week of practice last week and it's just not quite transferred to the field."
Injuries
"Injury-wise, we have some guys kind of beat up. Martin Jenkins

Martin Jenkins
RS Sr. Cornerback
#14 5-9, 185
Roswell, GA
View Full Profile is the only one now who looks questionable. He has a mid-foot sprain. Right now, it looks like all hands may be on board. We'll see where Sam Cooper

Sam Cooper
RS Sr. Tight End
#86 6-6, 250
Brentwood, TN
View Full Profile is as we get back to going tomorrow."
Jordan Leggett

Jordan Leggett
So. Tight End
#16 6-5, 251
Navarre, FL
View Full Profile
"He hurt his left knee a little bit but did not have any swelling. We're confident we will have him back. It was pretty sore during the game."
Watson being comfortable under center
"We have to get Deshaun comfortable. Cole has had a lot of snaps under center but it has not been as smooth for Deshaun."
Heartbreaking loss
"It's very heartbreaking. We work really hard. When you are in a position to win and you don't get it done, it's heartbreaking for all of us. We've played two top 12 teams at their place. We've got a long way to go. I think we've got a really good team. We made a bunch of mistakes in week one and we did not make most of those mistakes in the FSU game. The mental errors were way down. We played four quarters. It was a well-played game with not a lot of mental errors. Just some fundamentals and tough breaks that cost us. I love how our guys played in the trenches. So there is a ton to build off of. We held them to -12 yards rushing. They could not run on us. We wish we were 3-0 right now, but I don't have any doubt that our experience will pay off. We're coaching a much better team today than we were four weeks ago."
Players of the game other than Watson
" Stephone Anthony

Stephone Anthony
Sr. Linebacker
#42 6-2, 244
Polkton, NC
View Full Profile and Corey Crawford

Corey Crawford
Sr. Defensive End
#93 6-5, 276
Columbus, GA
View Full Profile were just tremendous; defensive players of the game. Stephone did not play very well against Georgia, but he came back the last two weeks and was lights out. It's two weeks in a row he's been player of the game. We did not name a player of the week for special teams yet."