| | |
| --- | --- |
| Video rewind: Orange Bowl second and third quarters | |
---
| | | |
| --- | --- | --- |
| Wednesday, January 15, 2014, 10:10 AM | | |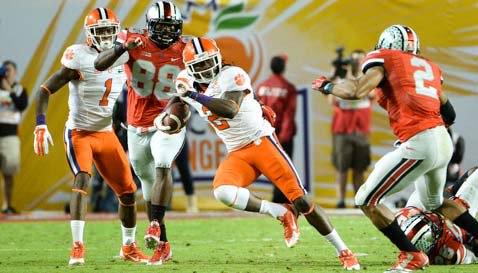 Football is over, basketball is in full swing and baseball will be here before you know it.
At Clemson, however, football is never really over, and because I had a little extra free time I wanted to take a few hours and go back and watch the Orange Bowl. Go to the video tape, as it were. Our seats in the press box at Clemson are great, and we can see just about everything we need to see, but at the Orange Bowl our seats allowed us to see one thing really well…the Ohio St. sideline.
As a result, people who were watching at home on television had a better seat for the game than the media. Our seats - if you went into the endzone that Clemson had in the second and third quarters, go to the corner where Martavis Bryant

Martavis Bryant
Jr. Wide Receiver
#1 6-5, 200
Calhoun Falls, SC
View Full Profile juggled and caught the fade pass and go to the back pylon. From there, draw a line at an angle from that far corner and you have the media seats. They got the job done, but were horrible for seeing the line of scrimmage.
I sat down Monday morning, remote in hand, and watched the game, and was amazed at how much I didn't see.
Watching the second and third quarters, I was amazed at how many times I heard the names of Spencer Shuey

Spencer Shuey
Gr. Linebacker
#33 6-3, 230
Charlotte, NC
View Full Profile and Stephone Anthony

Stephone Anthony
Jr. Linebacker
#42 6-2, 235
Polkton, NC
View Full Profile . Both of those linebackers played outstanding games, and Anthony was just everywhere.
Here are some of the plays I watched, with the YouTube clips from the second and third quarters. We will do the fourth quarter later this week.
*Early in the second quarter, the defense got a sack on Miller, and it was after Venables showed a three-man front on 3rd-and-8. Venables had the two ends and a d-tackle, but brought both Spencer Shuey and Bashaud Breeland

Bashaud Breeland
RS Jr. Cornerback
#17 6-0, 195
Allendale, SC
View Full Profile off the edge. The Buckeyes couldn't block everybody and Miller didn't have a lane to run through. That was the gameplan – make him throw it and don't let him run wild.
*Still early second quarter, and here we see what he hope is a glimpse of the future with Clemson's tight ends when Jordan Leggett

Jordan Leggett
Fr. Tight End
#16 6-6, 235
Navarre, FL
View Full Profile gets loose for a 43-yard gain. Leggett was at the bottom of the stack with Darrell Smith

Darrell Smith
Gr. Fullback
#40 6-1, 250
Gadsden, AL
View Full Profile in the backfield, and slips out for a big gain. It looked like the linebacker went with Martavis Bryant on the play, and let Leggett get out on the edge alone.You can tell the burst he had during the spring game isn't quite 100 percent back, but he showed pretty good speed for a tight end.
*Remember the Tajh Boyd

Tajh Boyd
RS Sr. Quarterback
#10 6-1, 225
Hampton, VA
View Full Profile interception in the end zone? I went back and looked, and you can see head coach Dabo Swinney

Dabo Swinney
Head Coach
View Full Profile hold up three fingers as the team comes back to the sideline. My guess is that he was saying the smart play would have been to throw it out of bounds and take the easy field goal for three points. In support of Boyd, if he had put a little more air under the ball, it would have been a touchdown. But there were also six scarlet jerseys around the ball….just throw it in the stands.
*Now, the good for Tajh Boyd. On this third down play, the Buckeyes bring a corner blitz, and Boyd and Bryant both read it and Boyd hits Bryant, who is the "hot" receiver on the play. Bryant then takes it for a big gain, showing why NFL scouts drool over his potential.
*Oh, and plays like this ….
And plays like this one at the end of the third quarter, where Bryant tips the pass to himself and comes down with the touchdown. He will get to the NFL Combine and blow NFL execs away with his athletic ability.
* Vic Beasley

Vic Beasley
RS Jr. Defensive End
#3 6-3, 225
Adairsville, GA
View Full Profile does exactly what you are supposed to do on a play like this..he takes the quarterback and lets the other defenders do their jobs. He makes the right read on this short third down and tackles Miller for a loss.
*This fumble late in the third quarters is one of the plays that kind of got lost in the clutter of the exciting fourth quarter. However, Ohio St. had just scored to go ahead 29-20, and had stopped Clemson deep in its own territory and was going to get the ball back. Another score, and the Buckeyes might have been able to put the game away. However, punter Bradley Pinion

Bradley Pinion
So. Punter
#92 6-5, 230
Concord, NC
View Full Profile 's kick had a hangtime of 4.6 seconds, and Adam Humphries

Adam Humphries
Jr. Wide Receiver
#13 5-11, 190
Spartanburg, SC
View Full Profile fights off the block to get in the face of the Ohio St. returner, Philly Brown. Once Brown drops the ball, Humphries takes Brown out of the play, and Robert Smith

Robert Smith
Jr. Safety
#27 5-10, 210
St. George, SC
View Full Profile recovers. The turnover wound up being a big play.
*A few plays later, Sammy Watkins

Sammy Watkins
Jr. Wide Receiver
#2 6-1, 205
Fort Myers, FL
View Full Profile reminded us of why he is so special. Watkins goes up and over the defender, high points the ball and catches the 30-yard toss from Boyd. The replays make it look even better, and it almost looks as if Watkins breaks his ankle when he lands in the end zone.
*Ohio St. got the ball back and faced a third down when Miller rolled out to his left. Vic Beasley blows up the play – he is held and a penalty is called – but Miller escapes Beasley and attempts to throw a pass up the sideline. Just as he releases the ball, Shuey drills Miller into the turf, and for one of the first times we hear analyst Matt Millen call Miller a "hurtin' buckaroo." Freshman safety Jayron Kearse

Jayron Kearse
Fr. Safety
#20 6-4, 205
Fort Myers, FL
View Full Profile makes a nice read on the play and intercepts the pass.
Video Recap of First Quarter of the Orange Bowl

Tags: Clemson Football
,
Adam Humphries
,
Bashaud Breeland
,
Bradley Pinion
,
Darrell Smith
,
Jayron Kearse
,
Jordan Leggett
,
Martavis Bryant
,
Robert Smith
,
Sammy Watkins
,
Spencer Shuey
,
Stephone Anthony
,
Tajh Boyd
,
Vic Beasley