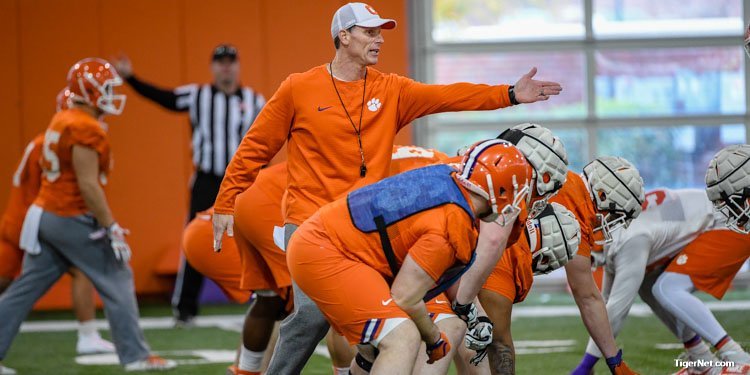 | | |
| --- | --- |
| Venables says Tua Tagovailoa is "a monster to handle" | |
---
| | | |
| --- | --- | --- |
| Sunday, January 6, 2019, 8:01 AM | | |
SAN JOSE, CA – Just as Alabama is trying to figure out how to stop Trevor Lawrence, Brent Venables is trying to find a way to slow down Tide quarterback Tua Tagovailoa.
Alabama's offense runs through Tagovailoa, who has been nothing short of spectacular this year and will by far be the best quarterback Clemson has faced this season. In 14 games, Tagovailoa has completed 223-of-321 passes for 3,671 yards, 41 touchdowns, and just four interceptions.
Venables, who addressed the media Saturday morning at Clemson's media day prior to the national championship at the SAP Center, said that because Tagovailoa is the whole package a quarterback he's difficult to prepare for.
"His accuracy, his competitiveness, his athletic ability, his ability to improvise. He's got the best players on the planet around him at every position, and they're two and three deep, Venables said. "They get whoever they want, and they've got them all on their roster right now. They probably have offered maybe 15 percent of the guys that are on our team and on our side of the ball on defense. I bet you that might be pushing it – maybe a corner, maybe two corners and a D-lineman. After that, they ain't offering any of our guys. Maybe Tre Lamar. I think Tre Lamar, too.
"So that being said, just they've got great, great skill. They've got great size and physicality up front. And they've got the best of the best across the board -- the tight end that's all world. So that helps too. But Tua in himself is a monster to handle. And just again, his accuracy is just like our guy. Everybody loves Trevor Lawrence, and that's who Tua is. And Trevor's a very good athlete, but I think Tua's a little bit different in some ways, from a mobility standpoint, just different."
Venables has had a front row seat to seeing Lawrence – Clemson's freshman quarterback – catch the attention of the college football world and he sees a lot of the same characteristics in Tagovailoa.
"His accuracy, his decision-making, his instincts, his competitiveness all put him in that real special elite category. He plays with a lot of passion, and yet at the same time great poise for such a young player," Venables said. "But his accuracy is crazy. He's got a big arm, but he has that accuracy, like Josh Heupel at Oklahoma. He had the worst release and the funky looking ball, unbelievable accuracy, not very much arm strength and certainly didn't have that kind of mobility. Great quarterback in his own right.
"But Tua's kind of got it all. He's the total package. Perception is that he's got this unbelievable character to go along with it and just a real likable, easy to pull for kind of guy and very grounded and just got a great foundation to him.
"When you look at Tua and then you look at Trevor, who you see in practice every day, these are two guys you're going to see for a long time. What do they share? Same kind of accuracy and release and decision-making. Trevor is a tremendous athlete. I don't know if you'd call him a dual threat. I would call Trevor very mobile, and then you'd call Tua a legit two-way threat, dual-threat quarterback that's not just a run or set up the throw."
With his accuracy and arm strength, Tagovailoa has given the Alabama offense a new dimension, something that will force Clemson to play nearly perfect Monday night.
"It's a great challenge. Ask everybody else that's played him," Venables said. "We've just got to play well collectively and try to limit the explosiveness of what they do and play with discipline and rush lanes and things of that nature. So it's a great, great challenge.
"Now they're able to use their weapons in every way, running and throwing. It just gives them a tremendous true balance in what they do, just not a deep ball threat. He can do it all and just run the entirety of their offense and run it at a very elite level. So just makes it a little -- there's not much margin for error, where maybe in the past you had a little bit more -- you didn't have to play near perfect, you didn't feel like."

Upgrade Your Account
Unlock premium boards and exclusive features (e.g. ad-free) by upgrading your account today.
Upgrade Now