| | |
| --- | --- |
| Venables on move of Barnes, linebacker battle | |
---
| | | |
| --- | --- | --- |
| Saturday, August 4, 2012, 9:34 PM | | |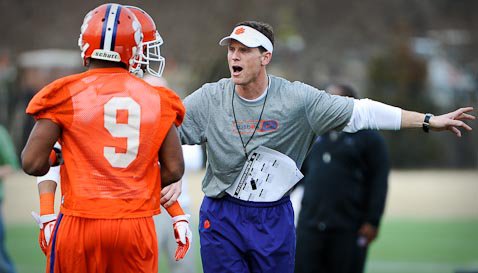 CLEMSON – The big news coming out of Saturday's practice was that Tavaris Barnes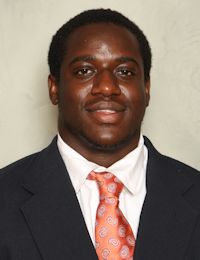 Tavaris Barnes
RS So. Defensive End
#6 6-4, 270
Jacksonville, FL
View Full Profile , a rising junior defensive lineman out of Florida, is moving from defensive tackle back to defensive end.
Barnes came to Clemson as a highly-touted defensive end, but moved inside a year ago in order to help the numbers in the interior of the line. Now, with just two players returning with experience at the end spots, defensive coordinator Brent Venables said that Barnes will move back outside.
Barnes weighed in at 269 pounds Thursday night.
"We are looking at him at defensive end right now," Venables said after Saturday's practice. "He has looked good. He makes us better there right now. He gives us another guy with an athletic body and he has some experience. He's got good quickness. He was a little bit undersized for a defensive tackle. I think he was somewhere in the mid- 260s [pounds]. I think it suits him well for us right now."
Other notes from the Venables interview
On the second practice
"Our guys are excited. Great energy and great passion. You can see that they are hungry to practice and hungry to compete. We've got really good leadership. There is a lot of carryover from the spring. Guys that are experienced players- you can see that experience out on the practice field. They are doing a really great job of knowing what to do and doing it with great urgency. I've been really pleased with their effort."
On the battle at outside linebacker
"We have a good competition there. I'm excited because competition makes everybody better. Travis [Blanks] and Quandon [Christian] are really battling it out. We also have Lateek [Townsend] at both outside positions and he has really picked up on that well. I think Travis is hungry and very coachable."
On LB Tony Steward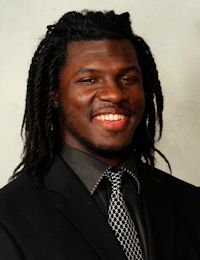 Tony Steward
So. Linebacker
#7 6-1, 245
Hastings, FL
View Full Profile
"He is doing well. I've been pleased. For a guy who has only had two days in this system, he has been in great position on the football, knows what he's doing, and is not lost. I've been happy for him. It looks like he is feeling confident and moving with confidence with no lingering physical effects. He will start out a WILL."
On the battle at WILL linebacker
"Corico has done really well with the move to weak side linebacker. I think he understands the position and has a really good grasp of it. I hope that is a really strong battle between him and Tig [Willard]. From what I've seen up to this point, I feel comfortable with the two of them giving us one really good quality player that that will gives us consistency, knows what to do, and will play at a high level. Tig is battling now. It will be fun to watch. Tony needs to dominate and be the best guy [if he wants to win the WILL job]. I'm pulling for all of them. I think we stay the course until we start grading scrimmages and massaging depth charts and figuring everything out. He has to grade out the best with consistency."
On the defense's progress since spring practice
"You can see that the guys have really worked at it. They have put themselves in the right place mentally obviously through some of the conditioning. The most pleasing part is that you don't feel like you have to start over from a mental standpoint. That comes from great maturity and great leadership. I think we have great leadership at linebacker and in the backend in the secondary. When you have a really good football team, usually the players are policing themselves. I think with our guys, it's pretty obvious that we have that."
On Travis Blanks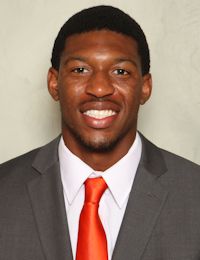 Travis Blanks
Fr. Defensive Back
# 6-1, 180
Tallahassee, FL
View Full Profile
"He is very strong. He has gained a lot of weight since he has been here. He has put on good strength, weight, and knowledge. He says that he feels night and day to where he was in the spring. I thought he looked pretty solid in the spring. I think he is moving around with a lot of confidence right now. He definitely wanted to be a defensive back. Our job is to put him in the right spot. The good thing for him is that he can play multiple spots and do pretty good so that is the nickel back spot or the fifth defensive back."
On middle linebacker Stephone Anthony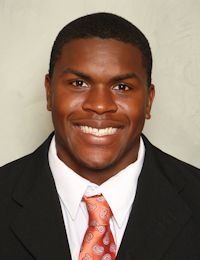 Stephone Anthony
So. Linebacker
#12 6-3, 235
Polkton, NC
View Full Profile
"Stephone can be as good as Stephone wants to be. I think he has great desire to be a great player and the humility that it takes to get there. It's a process and it just doesn't happen overnight. He's willing to invest in the process every day and get better every day."
On safety Rashard Hall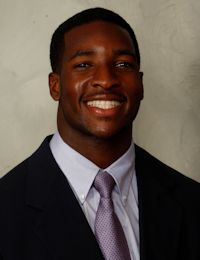 Rashard Hall
Gr. Safety
#31 6-1, 210
St. Augustine, FL
View Full Profile
"He might think he has limitations. In person he looks good. He has a good feel for the game and for the defense in general. We aren't reinventing the wheel. He understands football and he is confident in himself."