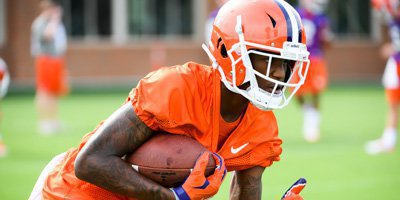 | | |
| --- | --- |
| Unstoppable: Talented Tigers start practice as freshmen impress | |
---
| | | |
| --- | --- | --- |
| Thursday, August 3, 2017, 6:35 PM | | |
CLEMSON – Unstoppable.
The lyrics from a YFN Lucci song reverberated through the indoor practice facility Thursday as the defending national champions held the first practice of fall camp.
Can't see nobody stoppin' us, yeah, we unstoppable
Went through a whole lot of obstacles
I swear we did the impossible
The Tigers look to do the impossible again, and there's no shortage of talent on this roster despite the losses of the stars that led the Tigers to a title.
Sure, there are some familiar faces missing, but they've been replaced by a hungry group of kids and they all have the kind of talent college coaches drool over. In many ways it was a typical first day of camp – the freshmen all had their moments and did the drills wrong and were called out by the coaches – but the sheer amount of talent on this team is unmistakable.
Everybody will want to know about the quarterbacks, so we'll start there after adding the caveat that it was the first practice, they weren't in pads and they didn't practice against a defense while we were there. But….Kelly Bryant looked great. He has a confidence and a swagger that I haven't seen before, he looked like he was in command of the offense when they went tempo.
I didn't see any accuracy issues, and he flat out looks the part of a big-time college quarterback. He is chiseled and hasn't lost any of that first step. As one observer said, Bryant looks like he already has on pads (his shoulders are so wide).
Zerrick Cooper also looks the part, and in the brief time we watched I can tell you I still think he has the best "arm talent" of anyone in the group. Dude can sling it. Freshman Hunter Johnson looks more comfortable than he did in the spring, and his arm talent is also unmistakable. And that brings us to true freshman Chase Brice, who was the most accurate of all the quarterbacks during one drill.
That's four really good problems to have.
*The longer period allowed us to take an extended look at the wide receivers. Cornell Powell ran with the first team in the absence of Ray-Ray McCloud, who will likely be at practice next week. Head coach Dabo Swinney bragged on Hunter Renfrow before practice (he's added good weight) and Renfrow was moving around with ease.
Of course, it's easy to be drawn in by the talent Jeff Scott has assembled. Diondre Overton, Trevion Thompson, Powell, Renfrow, Deon Cain, T.J. Chase and McCloud all look the part of top-level receivers, but now you add in the freshman and the group takes on an even better look.
Amari Rodgers reminds me of Artavis Scott (he even wears the number 3), and he spent time at punt return. He had the typical freshman moment – they all did – when he forgot to tell the official if he was on or off the line scrimmage when he lined up.
That brings us to Tee Higgins. Mercy. He makes everything look effortless, and it's obvious the talent that he has. One observer asked which former Clemson receiver I would compare him to, physically, and I couldn't come up with one. The only receiver that comes to mind when I watch him is A.J. Green when Green was the same age.
Chase looks a lot thicker, and freshman Will Swinney (the son of the head coach) looks like he's been around for forever. He knows where he's going and what he's doing, and has some of the best hands out there. He will also get a long look at holder on field goals and extra points.
One of the big questions coming into fall camp is who is going to grab hold of the starting tight end spot and while it was only one practice, Milan Richard looked at acted the part. He caught anything and everything thrown his way.
*Swinney announced that Garrett Williams, Tucker Israel and Richard Yeargin wouldn't be participating in practice due to various injuries and illnesses, however, all three were present and very involved in all facets of Clemson's first practice. Yeargin went around and talked to every defensive lineman, while Israel encouraged all of his offensive teammates. Ray-Ray McCloud was in green for Thursday's practice due to a wrist injury but was able to go through some of the individual drills.
*The punting competition may not be settled until game week with Will Spiers, Carson King and Michael Batson all showing a lot of improvement. They all had booming punts at times and some miskicks, so this one will come down to who can show the most consistency throughout fall camp.
At punt return, Scott and Swinney worked a bunch of guys – Hunter Renfrow, Tavien Feaster, Amari Rodgers, Amir Trapp, Tee Higgins, Will Swinney and Will Brown. All looked extremely comfortable fielding the ball, but Feaster, Rodgers and Trapp all had a little extra burst after the catch.
*Brent Venables has a lot of "dudes" on his side of the ball, and after today I can't wait to see more of Baylor Spector and Logan Rudolph. Both of those guys look like they want to maim somebody, and they didn't have pads on.
*As expected, we saw a lot of Jordan Williams working on the inside at defensive tackle. He came in at 280 pounds, and he looks like he can be a quick-twitch player in the middle. He drew the ire of assistant Miguel Chavis at one point during a drill, and Chavis chased him out of the drill. Welcome to the big-time, kid.
*At defensive back, A.J. Terrell is unmistakable. He was the first one I noticed when I walked in the indoor, and he stands out during drills because of his size and athleticism. I wish we could have stayed just a little later and watched him in coverage.
The same can be said LeAnthony Williams, who is comparable to Terrell in size. Mike Reed and Mickey Conn have some talented pieces to play with in the secondary.
*This may be the best looking group of running backs that Tony Elliott has had since he's been at Clemson. C.J. Fuller worked with the first group and then it was Tavien Feaster, Adam Choice, Darien Rencher, Ty Thomason and Travis Etienne. Fuller and Choice look better than they ever have, while Feaster has really added a lot of upper body strength and looks like a 5-star running back.
A former player told me that Feaster runs like former back Kenny Flowers and he is right. I can see the similarities.
If you just glance quickly at the running backs and see No. 9 on the field, you'd think you were looking at a young Wayne Gallman, it's actually Etienne, who has a similar build and seems to have a very similar skillset. Don't sleep on Rencher or Thomason either.
*I like the way the Tigers have recruited along the offensive line, and Matt Bockhorst, Noah DeHond, and Blake Vinson all show signs that they are going to be really good. Vinson even ran with the second-team line at left tackle, with John Simpson (LG), Gage Cervenka (C), Maverick Morris (RG) and Tremayne Anchrum (RT).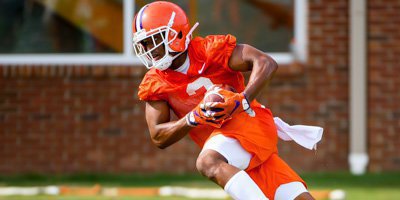 *On the defensive side of the ball there are a bunch of good looking athletes in the secondary. Isaiah Simmons is just a physical specimen and immediately jumps out at you.
At linebacker, Dorian O'Daniel and Kendall Joseph are obviously the leaders of the group and know what they're doing, but if you spend a few minutes watching, you'll quickly find Tre Lamar, who is a technician and strives to do every drill to perfection. And, I haven't seen a linebacker at Clemson who looks like Shaq Smith in a really long time. Smith has gotten bigger in the last year and has improved his technique and his knowledge of the game.
As we told you a month or so ago, Christian Wilkins moved back to defensive tackle and Jordan Williams – the freshman from Virginia – has also moved from end to tackle.
On a lighter note, the new defensive line Power Ranger is Jabril Robinson. The five are Christian Wilkins, Austin Bryant, Dexter Lawrence, Clelin Ferrell and Robinson.
Nikki Hood contributed to this story.

Tags: Clemson Football
,
Kelly Bryant
,
Zerrick Cooper
,
Hunter Johnson
,
Chase Brice
,
Cornell Powell
,
Ray-Ray McCloud
,
Hunter Renfrow
,
Diondre Overton
,
Trevion Thompson
,
Deon Cain
,
TJ Chase
,
Amari Rodgers
,
Artavis Scott
,
Tee Higgins
,
Will Swinney
,
Garrett Williams
,
Tucker Israel
,
Richard Yeargin
,
Will Spiers
,
Carson King
,
Michael Batson
,
Tavien Feaster
,
Amir Trapp
,
Will Brown
,
Logan Rudolph
,
Jordan Williams
,
Miguel Chavis
,
AJ Terrell
,
LeAnthony Williams
,
C.J. Fuller
,
Adam Choice
,
Darien Rencher
,
Ty Thomason
,
Travis Etienne
,
Wayne Gallman
,
Matt Bockhorst
,
Noah DeHond
,
Blake Vinson
,
John Simpson
,
Gage Cervenka
,
Maverick Morris
,
Tremayne Anchrum
,
Isaiah Simmons
,
Kendall Joseph
,
Tre Lamar
,
Shaq Smith
,
Christian Wilkins
,
Jabril Robinson
,
Austin Bryant
,
Dexter Lawrence
,
Clelin Ferrell
,
Brent Venables
,
Tony Elliott
,
Jeff Scott
,
Mike Reed
,
Mickey Conn