| | |
| --- | --- |
| Uiagalelei HS coach says Clemson-FSU postponement 'stinks' after cross-country trip | |
---
| | |
| --- | --- |
| Saturday, November 21, 2020, 5:17 PM | |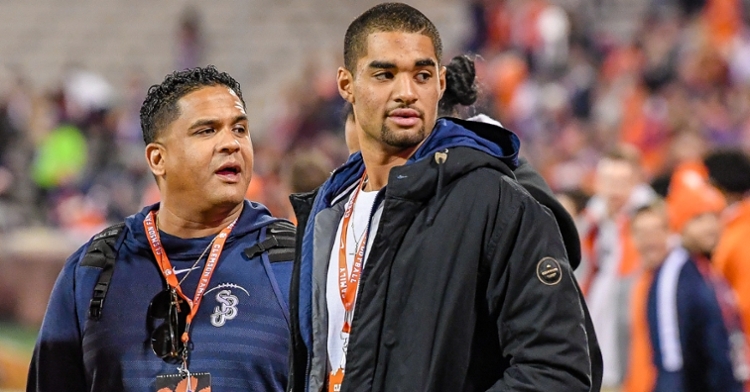 Clemson had to pay around $350,000 in non-refundable money to make the trip to Tallahassee this weekend for a game that wound up being postponed, a huge chunk of money in a time when athletic departments are cutting sports and scratching for every dollar. The team wasn't the only one affected monetarily by the decision.
Clemson backup quarterback DJ Uiagalelei had a good-sized contingent on hand from California – including members of his family – but also Terry Bullock, one of his high school coaches at Bosco. Bullock brought Uiagalelei on his first recruiting trip to Clemson and brought the highly-touted signal caller back to Clemson for head coach Dabo Swinney's high school camp that June.
Bullock has another Bosco player that plays for Florida State – redshirt sophomore defensive back Jaiden Lars-Woodbey – and thought the cross-country flight would be a worthwhile expense to be able to see two of his former players in action, perhaps even against each other.
It wasn't to be, and Bullock spoke with TigerNet about the experience of laying out over $1,000 in travel expenses only to see that go up in the proverbial smoke of the postponement.
"Me and my son and my daughter came out yesterday (Friday) and we got to Tallahassee in the afternoon," Bullock told TigerNet during a layover in Atlanta. "We got to hang out with Jaiden Lars-Woodbey and we had a late lunch and hung out. We then went and picked up his mom at the airport and came back to his apartment and hung out and played dominoes for a little bit. And then we had to drop him off at the stadium at 5 pm because they had to have a team meeting and meals and all of that.
"And then DJ called me when they got in from Clemson into Tallahassee, and it was actually pretty cool because coach allowed us to come by the hotel for a little bit and we got to hang out with him out front. We hung out with DJ and Bryan Bresee, they are all roommates, and they let us hang out outside for about an hour."
Bullock woke up early Saturday, ready to see the game played when he got the call that the contest had been called off.
"It just kind of stinks, you know? The kid that tested positive was a redshirt freshman who really doesn't play and just traveled with Clemson," Bullock said. "He doesn't play, and they sent him home Friday. I know Coach Swinney offered to get the whole team tested and told him they would get the results in the afternoon and they would play Saturday night. They could play Sunday or even Monday, and they offered to stay, and Florida State just refused. He gave them three different options and they refused to play."
All of his plans changed in an instant.
"We were going to pick up Jaiden's mom and be at the stadium at 9:45. But after all that happened, Coach (Brandon) Streeter texted me and said we could come hang out until Clemson left at 11," Bullock said. "We were already up and ready to go, and we got our bags packed, and in the meantime, I changed my flight to come home Saturday. I got to talk to RJ Mickens' dad, Ray Mickens, because we used to do a lot of stuff with the Nike camps. And then we got a bite to eat and now we are on our flight back to LAX and I will drop my daughter off at club volleyball practice and I will go back to work Monday morning."