| | |
| --- | --- |
| Top storylines of the spring - quarterback race, leadership, special teams and more | |
---
| | | |
| --- | --- | --- |
| Friday, February 13, 2015, 8:01 AM | | |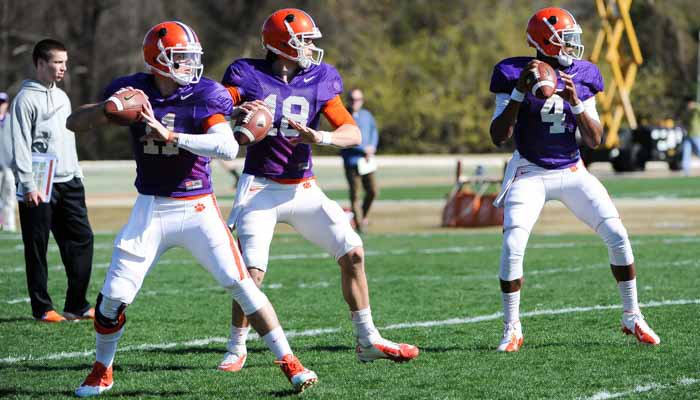 A perfect storm of athletics is ready to hit the Clemson campus – the baseball season opens today, the basketball team is closing in on the stretch run and a possible postseason berth and football, the king of all Clemson sports, opens spring practice in just a few short weeks.
Ah, football, where have you been? Clemson's 2015 season is still several months away but plenty will happen between now and the kickoff against Wofford in early September. That includes spring practice and the chance for some early position battles to start sorting themselves out.
With that in mind and to kick off our own spring practice previews, we take a look at a few of the top storylines heading into the spring.
Quarterbacks
Deshaun Watson

Deshaun Watson
Fr. Quarterback
#4 6-3, 204
Gainesville, GA
View Full Profile is the starter, but he will be on the shelf as he recovers from his ACL surgery in December. That leaves Nick Schuessler

Nick Schuessler
RS So. Quarterback
#12 6-3, 195
Grayson, GA
View Full Profile to battle it out with early enrollees Kelly Bryant and Tucker Israel for the backup spots. This competition will be fun to watch – Schuessler has done enough to earn a scholarship, but the coaches stuck with Cole Stoudt

Cole Stoudt
Sr. Quarterback
#18 6-4, 231
Dublin, OH
View Full Profile last season even when Stoudt was struggling. With the addition of Bryant and Israel the competition gets a little tougher and it's going to be interesting to see if anyone gains any separation by the end of the spring. Why is this important? If Schuessler were to win the backup job outright, it might mean the kids get a chance to redshirt next season. But would the coaches send the early enrollees into the summer thinking they didn't have a shot in the fall? Probably not.
Bryant is more in the mold of Watson – crazy athletic and able to make big plays with his feet. Israel has been in a true passing system longer and might have a better grasp on reading defense. Both players will have had two months in the playbook when spring practice starts, and whichever one shows the bigger grasp of the offense might have the advantage. Schuessler knows the offense, but will have to show the coaches he can take the next step and be the kind of player that can step in and run the offense if something happens to Watson yet again.
Special Teams
Chances are the fans think Ammon Lakip

Ammon Lakip
RS Jr. Kicker
#36 5-10, 200
Alpharetta, GA
View Full Profile had a bad year. However, Lakip hit all but one of his extra point attempts and was 19-of-25 on his field goal attempts. Those aren't bad numbers for a kid who suffered through a disastrous start – he missed his only field goal against Georgia in the opener and was just 1-of-3 against Florida St. He then went on to hit 15-of-16 attempts and finished fairly strong. This spring he will battle Alex Spence

Alex Spence
Fr. Kicker
#47 6-2, 190
Florence, SC
View Full Profile for the job, and I've heard the coaches want to see what Spence has to offer.
Punting – Bradley Pinion

Bradley Pinion
Jr. Punter
#92 6-6, 230
Concord, NC
View Full Profile opted to go to the NFL and forego his senior season, so the coaches will be relying on Andy Teasdall

Andy Teasdall
RS So. Punter
#95 5-11, 185
Winston-Salem, NC
View Full Profile to wow them this spring. He has the job – for now – but this is another area where Spence will push for playing time. Also, don't forget that Pinion was the kickoff specialist and the Tigers will have to find a replacement.
Adding to the questions surrounding the special teams – main punt returner Adam Humphries

Adam Humphries
Sr. Wide Receiver
#13 5-11, 193
Spartanburg, SC
View Full Profile has graduated and the coaches will spend the spring trying to find someone to fill his shoes. Mackensie Alexander

Mackensie Alexander
RS Fr. Cornerback
#2 5-11, 190
Immokalee, FL
View Full Profile ? Artavis Scott

Artavis Scott
Fr. Wide Receiver
#3 5-11, 190
Oldsmar, FL
View Full Profile ? It remains to be seen which player will get the first crack.
And don't forget long snapper – the steady and reliable Michael Sobeski

Michael Sobeski
RS Sr. Long Snapper
#75 6-2, 220
Roebuck, SC
View Full Profile has graduated and the coaches will now look to Jim Brown

Jim Brown
RS Jr. Long Snapper
#51 6-4, 235
Walterboro, SC
View Full Profile to take over the snapping duties. With so many holes to fill – including a glaring lack of success in the return game – there are a ton of questions surrounding this group.
Offensive line
The left tackle spot is seemingly secured by Isaiah Battle

Isaiah Battle
Jr. Offensive Tackle
#79 6-7, 285
Brooklyn, NY
View Full Profile , but the rest of the spots on the line could be up for grabs – left guard David Beasley

David Beasley
RS Sr. Offensive Guard
#68 6-4, 323
Columbus, GA
View Full Profile graduated, center Ryan Norton

Ryan Norton
RS Jr. Offensive Line
#58 6-3, 292
Simpsonville, SC
View Full Profile was inconsistent last season, right guard Reid Webster

Reid Webster
RS Sr. Offensive Tackle
#77 6-3, 300
Woodstock, GA
View Full Profile has graduated and right tackle Kalon Davis

Kalon Davis
RS Sr. Offensive Guard
#67 6-5, 340
Chester, SC
View Full Profile has graduated. Spencer Region

Spencer Region
RS Jr. Offensive Guard
#74 6-4, 333
Cullman, AL
View Full Profile elected to forego his final season of eligibility and Oliver Jones' football career has ended due to injuries. That's a lot to lose.
Veterans Tyrone Crowder

Tyrone Crowder
RS Fr. Offensive Guard
#55 6-2, 322
Marston, NC
View Full Profile , Eric Mac Lain

Eric Mac Lain
RS Jr. Offensive Tackle
#78 6-4, 306
Hope Mills, NC
View Full Profile , Jay Guillermo

Jay Guillermo
RS So. Center
#57 6-3, 314
Maryville, TN
View Full Profile , Joe Gore

Joe Gore
RS Jr. Offensive Tackle
#73 6-5, 283
Lake Waccamaw, NC
View Full Profile and Maverick Morris

Maverick Morris
RS Fr. Offensive Line
#69 6-4, 291
Broxton, GA
View Full Profile will all get looks but many eyes will be on the freshmen – Mitch Hyatt, Jake Fruhmorgen, Noah Green and Zach Giella. All four of the standouts from the 2015 recruiting class are on campus and my early guess is that two of these guys might have to play. Which two would it be?
Can Guillermo recover from the foot injury he suffered last season and claim the starting job at center, or will Norton keep his hold? Will one of those two move to a guard spot in an effort to have an experienced guy at both positions? Will Mac Lain finally grab a starting spot? Can Joe Gore recapture the form he showed the coaches last fall that allowed him to start the opener at Georgia? Will Crowder's technique improve enough for him to solidify a spot? Can redshirt freshmen Taylor Hearn and Justin Falcinelli make inroads into the starting lineup?
Defensive leadership
Let's face it, this defense has to replace a lot of experience and leadership. There is no shortage of talent on the roster, and a lot of these guys played a ton of snaps last fall. Guys like Ben Boulware

Ben Boulware
So. Outside Linebacker
#10 5-11, 235
Anderson, SC
View Full Profile , Jayron Kearse

Jayron Kearse
So. Safety
#20 6-4, 215
Fort Myers, FL
View Full Profile , Mackensie Alexander, D.J. Reader
D.J. Reader
Jr. Defensive Tackle
#48 6-2, 322
Greensboro, NC
View Full Profile , Carlos Watkins, T.J. Burrell

T.J. Burrell
RS So. Linebacker
#41 5-11, 215
Goose Creek, SC
View Full Profile and Shaq Lawson

Shaq Lawson
So. Defensive End
#90 6-3, 269
Central, SC
View Full Profile all have started in their careers, but now these guys will be counted on to be leaders. Gone is the charismatic but quiet presence of Grady Jarrett

Grady Jarrett
Sr. Defensive Tackle
#50 6-1, 290
Conyers, GA
View Full Profile and DeShawn Williams

DeShawn Williams
Sr. Defensive Tackle
#99 6-1, 292
Central, SC
View Full Profile and the dependable Robert Smith

Robert Smith
Sr. Safety
#27 5-11, 211
St. George, SC
View Full Profile . Who will emerge as the voice of this group? Don't rule out Alexander or Lawson. One is quiet and lets his play do the talking but is the kind of leader every young player can emulate. Lawson is talkative but someone that is already looked up to.
More storylines
There will be more storylines to watch - can Milan Richard make an impact at tight end? Will Jordan Leggett finally break through? Will Jay Jay McCullough be back? Will a corner like Cordrea Tankersley solidify a starting spot before Mark Fields arrives this summer? Which linebackers will emerge from the group that redshirted last season? Will Trevion Thompson make a move at receiver? Can Germone Hopper keep the doubters at bay? Will Zac Brooks be ready to go? Will Tyshon Dye push Wayne Gallman for the starting spot? There are a lot of questions and we will try and get to them all before the start of the spring.

Tags: Clemson Football
,
David Beasley
,
Deshaun Watson
,
Kalon Davis
,
Reid Webster
,
Joe Gore
,
Adam Humphries
,
Grady Jarrett
,
Eric Mac Lain
,
Ryan Norton
,
Robert Smith
,
DeShawn Williams
,
Nick Schuessler
,
Cole Stoudt
,
Ammon Lakip
,
Spencer Region
,
Michael Sobeski
,
Jim Brown
,
Isaiah Battle
,
Jay Guillermo
,
Bradley Pinion
,
Shaq Lawson
,
T.J. Burrell
,
D.J. Reader
,
Ben Boulware
,
Tyrone Crowder
,
Mackensie Alexander
,
Jayron Kearse
,
Maverick Morris
,
Andy Teasdall
,
Artavis Scott
,
Alex Spence