| | |
| --- | --- |
| Title game: Clemson vs. Florida St. prediction | |
---
| | |
| --- | --- |
| Friday, November 6, 2015, 8:22 PM | |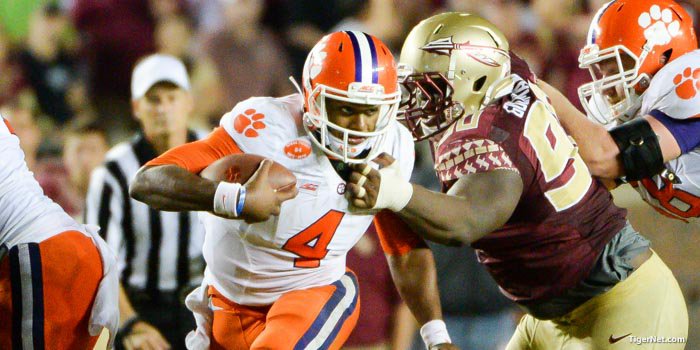 The ACC Atlantic Division title is on the line Saturday, but this game is bigger than the ACC. National rankings and a berth in the College Football Playoff are also on the line.
Welcome to Clemson and Florida St.
No. 1 Clemson takes on No. 16 Florida St. at 3:30 p.m. in Death Valley. A Clemson win secures the Atlantic title and a berth in the ACC Championship Game. If Florida St. wins (they have one conference loss) they would have to win out to notch the berth.
As usual, the stakes are high, and the winner of this game has been the conference champ every year since 2011.
Buckle your chinstraps, boys, this is gonna be fun.
NO. 16 FLORIDA ST. AT NO. 1 CLEMSON
SATURDAY, NOVEMBER 7, 2015
Memorial Stadium (81,500, Sold Out)
Clemson, S.C. Kickoff: 3:30 p.m.
TV: ABC NATIONAL (Chris Fowler, Kirk Herbstreit, Heather Cox)
CLEMSON RADIO NETWORK (Don Munson, Rodney Williams, Michael Palmer)
National Radio: Westwood One Satellite Radio: XM 84, Sirius 84
SERIES HISTORY
Overall Record: Florida State leads 20-8
at Clemson: Florida State leads 8-5
at Florida State: Florida State leads 12-3
First Meeting: Florida State 38-13 in 1970
Last Meeting: FSU, 23-17 in OT, 2014
Last Clemson Win: 35-30 in 2011
Streak: Florida State won 3 in row
NOTABLE
*Each of the last six years the winner of the Clemson vs. Florida State game has gone on to win the Atlantic Division Championship. Each of the last four years the winner of this game has won the ACC Championship.
*Clemson's win at NC State was the 40th over the last four years and thus made this year's senior class just the third to record at least 40 wins in a career. Only two previous senior classes had 40 wins in four years, the 1990 class that finished with a 40-8 record (four straight 10-2 seasons) and the 2014 seniors, who finished 42-11. This year's senior class is 40-7 entering Saturday's game vs. Florida State. At the moment, the group's .851 winning percentage is the best in school history. The record entering this year was .833 held by John Heisman's 1903 senior class and the Clemson seniors of 1990, who were 40-8 for a .833 winning percentage as well.
*The 51 points Florida State scored the last time they visited Clemson, a 51-14 win in 2013, is the most points by a visiting team in Death Valley history.
*The last four FSU QBs to face Clemson set career-high passing marks (at the time) - Sean Maguire, 304, 2014; Jameis Winston, 444, 2013; EJ Manuel, 380, 2012; Clint Trickett, 336, 2011.
WHEN FSU HAS THE BALL
Florida St. boasts one of the top – if not the top – running back in the nation in Dalvin Cook. Cook leads the ACC in rushing yards per game at 148.1 and is the only ACC back over 1000 yards already this season. He has 11 touchdowns and an incredible 8.2 yards per carry figure, and when he's getting yards in chunks, the Seminoles are hard to stop.
The question is who will play quarterback. Everett Golson has started all but one Florida State game this year and is third in the ACC in passing efficiency with a 151.0 figure. He has completed 139-207 passes for 1,659 yards and 11 touchdowns. He is second to Clemson's Deshaun Watson on passing yards per game with 237 and has just one interception. Golson's backup, Sean Maguire, started the recent win over Syracuse for Florida State and completed 23-35 passes for 348 yards and three touchdowns. His only other start came last year when he led Florida State to a 23-17 overtime victory against Clemson. Golson is the better athlete, but Maguire proved last week he isn't afraid to throw the ball down the field.
The Tigers are 5th nationally in total defense and are 14th national against the run, giving up just 3.05 yards per rush and 109.13 yards per game on the ground. The Tigers are also first nationally in pass completion percentage defense.
One key for Clemson will be stopping Cook and making sure he doesn't rip off huge gains, but the real test might lie in stopping the passes to the backs out of the backfield. Clemson's defense was exposed against Notre Dame and struggled last week against North Carolina St. If the 'Noles have success getting chunks of yards by throwing into the spots where Clemson's linebackers are in coverage, it could be a long night.
ADVANTAGE: EVEN
WHEN CLEMSON HAS THE BALL
Florida State ranks 24th nationally in total defense, yielding 323.5 yards per game. The Seminoles rank 23rd in passing defense (184.1 ypg) and 38th in rushing defense (139.38). The Noles have allowed just four rushing touchdowns this season. Only Iowa and Alabama have yielded fewer, and opponents have scored only nine touchdowns in 17 red zone penetrations, which ties FSU for the 10th fewest TDs allowed this season. FSU's red zone rushing defense has been especially stingy, yielding just 2.04 yards per carry. The Noles' pass defense has been outstanding on third down as opponents are completing just 45.3 percent of their attempts (34 of 75), have been intercepted four times and only converted 22 first downs.
Clemson's Wayne Gallman is second in the ACC in rushing at 109.2 yards per game. The sophomore has 874 yards in 159 carries and has scored seven touchdowns. He averages 5.5 yards per carry. Gallman is coming off his best game of the season as he had 172 rushing yards in a career high 31 carries in the win over NC State. He also had three receptions for 19 yards giving him 34 touches for 191 yards. Gallman already has five games with at least 100 yards rushing this year. All five have come in the last six games, four ACC games, and Notre Dame. The Clemson record for 100-yard rushing games in a season is seven, set by Kenny Flowers in 1985 and Raymond Priester in 1996.
Watson has moved into first place in the ACC in passing efficiency with a 168.3 figure this year as he has completed a league-best 70 percent of his passes for 1936 yards, and 20 touchdowns. For his career, Watson now has an efficiency rating of 176.11, second best among all active FBS quarterbacks who have thrown at least 325 passes. He is also second in the nation QBR.
Watson, who is now 12-1 as a starter, has led Clemson to 58 and 56 points the last two weeks and is a combined 38 of 49 for 526 yards and six touchdowns, with each of those scoring tosses going to a different receiver. Watson also has tacked on 22 carries for 149 yards and two touchdowns on the ground.
In wins over Georgia Tech, Boston College, Miami and now N.C. State over the last four weeks Watson is 86-for-120 (72 percent) for 1,211 yards and 11 touchdowns. In other words, he's on a different level than he was earlier in the season, and appears to be regaining the form (if not surpassing it) that made him a freshman sensation a year ago.
Clemson has played four of the top 16 teams in the nation in terms of total defense ranking. Boston College is first allowing just 224 yards a game, NC State is 10th at 297.8, Appalachian State is 12th at 298.6 and Louisville is 16th at 309.3. Clemson has gained appreciably more yards against these teams than they give up on average. Clemson gained 532 yards against Boston College, 308 more yards than the Eagles give up on average. Clemson gained 325 more yards against NC State than the Pack gives up on average.
They key for Clemson is simple: Score touchdowns in the redzone, keep Watson upright and have some semblance of success with Gallman in the running game. Right now, the Tigers have too many weapons. Cover Artavis Scott? Say hello to Deon Cain or Ray-Ray McCloud or Charone Peake or Hunter Renfrow? Gallman is out, so you can relax? Nope, Zac Brooks is proving to be a valuable asset off the bench. Wanna double the receivers? Tight end Jordan Leggett will be open. Leave a 1-on-1 matchup somewhere and Watson will find it.
ADVANTAGE: CLEMSON
SPECIAL TEAMS
Clemson's special teams are a mess. Andy Teasdall is 90th in the nation in punting, while FSU's Carson Beatty is 26th nationally and averaging four more yards per punt. The 'Noles Roberto Aguayo is 13-for-17 and isn't having his regular stellar success, but he's still plenty good. The Tigers' Greg Huegel is 12-for-14 on field goals but for whatever reason Clemson is having extra point issues.
That brings us to coverage – Clemson has already given up two kickoff returns for touchdowns and Clemson is 120th nationally (out of 128) in opponent kickoff returns. Against a good team, that's a recipe for disaster. Florida St. is 7th nationally.
FSU's Jesus Wilson and Kermit Whitfield are dangerous returners while Clemson hasn't managed much in the return game. McCloud has been close but hasn't broken one.
ADVANTAGE: FLORIDA ST.
WHAT WILL HAPPEN
Clemson is playing better football than Florida St. at this point. The hype two years ago was through the roof, and Clemson's players crumbled under the pressure. This year, the hype game has already been played (against Notre Dame in the rain) and this one, for the most part, has flown under the radar a little bit. The focus has been on rankings and head coach Dabo Swinney, and that's allowed the Tigers to focus on the opponent.
This one will be won in the trenches and at quarterback, and Clemson is just better in both spots. The 'Noles will use special teams to keep it interesting, and I'm still not convinced Clemson can cover the backs out of the backfield. Florida St. will score points.
Clemson will score more.
FINAL: CLEMSON 41, FLORIDA ST. 24
---
GUEST PREDICTIONS
---
Mickey Plyler
- 6AM-9AM EST on WCCP 105.5FM -
34-24 Clemson
Tony Crumpton - Associate Editor - 38-28 Clemson
Nikki Hood - TigerNet Writer - 35-24 Clemson
Lawton Swann - Clemson Sports Talk / TigerNet Talk - 35-20 Clemson
Pigskin Prophet - 37-24 Clemson
| Game | Actual | David Hood | Mickey Plyler | Tony Crumpton | Nikki Steele | Lawton Swann | Pigskin Prophet |
| --- | --- | --- | --- | --- | --- | --- | --- |
| Wofford | 49-10 CU | 41-13 CU | 41-17 CU | 52-13 CU | 42-17 CU | 47-13 CU | 47-13 CU |
| App St | 41-10 CU | 37-17 CU | 42-17 CU | 41-14 CU | 45-13 CU | 45-17 CU | 42-17 CU |
| Lou | 20-17 CU | 28-20 CU | 34-24 CU | 31-20 CU | 28-17 CU | 35-20 CU | 34-21 CU |
| ND | 24-22 CU | 24-21 CU | 27-24 CU | 28-24 CU | 20-14 CU | 26-17 CU | 23-20 CU |
| GT | 43-24 CU | 30-21 CU | 35-17 CU | 31-17 CU | 38-17 CU | 31-17 CU | 33-21 CU |
| BC | 34-17 CU | 27-3 CU | 31-7 CU | 32-9 CU | 29-0 CU | 31-7 CU | 27-0 CU |
| Miami | 58-0 CU | 33-24 CU | 31-21 CU | 35-21 CU | 28-20 CU | 35-20 CU | 30-24 CU |
| NCSU | 56-41 CU | 30-13 CU | 31-17 CU | 45-17 CU | 35-10 CU | 41-13 CU | 38-17 CU |
| Points | - | 10 | 8 | 14 | 12 | 12 | 10 |
* Points: 3 pts for best prediction of the week (tiebreaker is Clemson score), 1pt for picking the correct winner

Tags: Clemson Football
,
Michael Palmer
,
Charone Peake
,
Zac Brooks
,
Wayne Gallman
,
Jordan Leggett
,
Andy Teasdall
,
Deshaun Watson
,
Artavis Scott
,
Hunter Renfrow
,
Ray-Ray McCloud
,
Deon Cain
,
Greg Huegel