| | |
| --- | --- |
| Tigers wrap up strong practices, prepare for Deacons on Thursday in primetime | |
---
| | | |
| --- | --- | --- |
| Tuesday, November 4, 2014, 6:04 PM | | |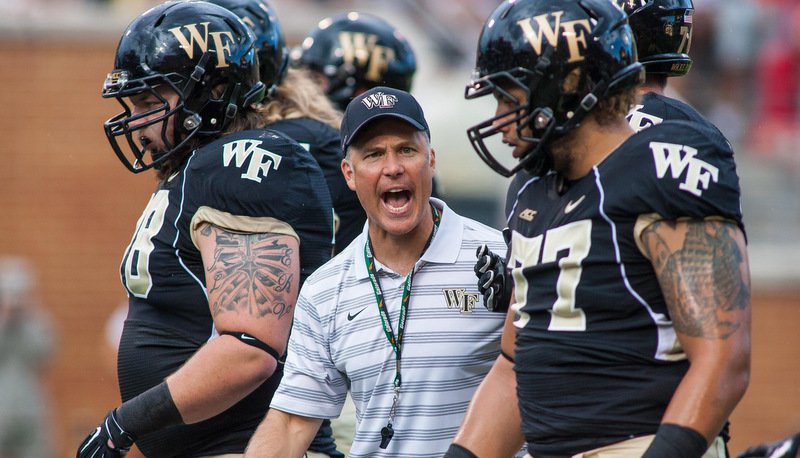 CLEMSON – The final third of the regular season begins Thursday night at Wake Forest, and head coach Dabo Swinney

Dabo Swinney
Head Coach
View Full Profile said some time off was just what his team needed heading into a stretch run that will be critical to the Tigers' bowl hopes.
The Tigers and Demon Deacons tangle Thursday night at 7:30 p.m. on ESPN.
"We are excited about getting back at it and heading up to Winston-Salem. I like how our team has prepared," Swinney said Tuesday in the WestZone. "I think we've made really good use of the extra time. Just having a few days off physically has meant a lot for the team. Today is Thursday to us as far as trying to keep the same process for our guys. We've had some really good practices. Sunday we had an outstanding practice and that set the tempo for this week. I like the energy I'm seeing from our guys. They are excited about playing again and getting back out on the road."
Wake Forest has a 2-6 records – their wins are over Gardner-Webb and Army – but Swinney says the Demon Deacons have played better in recent games.
"Wake Forest doesn't have the record they would like to have but they are improving by the week. Coach Clawson did a really good job at Bowling Green. My in-laws are alumni of Bowling Green, so go Falcons," Swinney said. "They had a chance to beat B.C. and we all know how good that bunch is. They led FSU 3-0 after the first quarter and was only trailing 16-3 after three quarters. Offensively, they are very young. But defensively, they are aggressive. Their corners are two of the best corners in the league and I will be very glad when they are gone. We've got to do a good job of competing with these guys. Special teams they lead the league in punt return average. They are 9-for-9 on field goals. They punt the ball very well. But for us it's about finishing strong. Finishing the month of November."
Other notes
Finding the best five on the offensive line
"(Isaiah) Battle is back. Obviously he's one of our best players. David Beasley

David Beasley
RS Sr. Offensive Guard
#68 6-4, 323
Columbus, GA
View Full Profile got banged up and he's one of our best offensive linemen too. My challenge to these guys is not wait until the fourth quarter to turn it on. Battle and Beasley for sure. (Ryan) Norton is a guy is not going to start this week. Reid Webster

Reid Webster
RS Sr. Offensive Tackle
#77 6-3, 300
Woodstock, GA
View Full Profile is going to start for us at center this week. Sometimes guys have to be challenged and football is important to Ryan Norton

Ryan Norton
RS Jr. Offensive Line
#58 6-3, 292
Simpsonville, SC
View Full Profile . We got to get him back and dialed in. He can be more consistent. I think he's responded in practice but he won't start. Kalon Davis

Kalon Davis
RS Sr. Offensive Guard
#67 6-5, 340
Chester, SC
View Full Profile will start at right tackle and Tyrone Crowder

Tyrone Crowder
RS Fr. Offensive Guard
#55 6-2, 322
Marston, NC
View Full Profile at right guard. Feel good about Mac ( Eric Mac Lain

Eric Mac Lain
RS Jr. Offensive Tackle
#78 6-4, 306
Hope Mills, NC
View Full Profile ) and Joe Gore

Joe Gore
RS Jr. Offensive Tackle
#73 6-5, 283
Lake Waccamaw, NC
View Full Profile . And will be really excited about getting (Jay) Guillermo back in the mix when we can."
On Robbie Caldwell

Robbie Caldwell
Assistant Coach / Offensive Line
View Full Profile
"I think Robbie Caldwell is the coach of the year. He's done a tremendous job of finding guys and cross-training guys. We've pulled it together on offense. Young guys are developing. Continuity - quarterback, running back, tight end and OL hasn't been there in knowing what you've got week in and week out. It's been fun too. It's been a challenge. Reid Webster might be the MVP. It's unbelievable what we've gotten out of him this year. So that's one of the storylines. As a team we've found ways to win games. They've responded. But we need to have a great November because that's ultimately how we are going to be judged by this season."
On the College Football Playoff polls
"Last week I didn't see one second of it. I was at a function in Greenville. It really doesn't matter. There is so much football to be played. It's like the BCS - it gives something for everybody to talk about every week. It will matter at the end of the month. For us - we just want to have the best finish we can have. There were only 11 FBS schools that finished with 2 losses or less. And we were one of them. So that's the goal for us."
What did he like about the open date?
"Just the guys coming back to work - the attitude. The spring in their legs. Guys did a good job of taking care of themselves. When you get an opportunity to rest - rest. We have a lot of veteran guys that understand. Being in the training room. Getting the cold tub. All of those things that help them maintain peak performance this time of the year. But the biggest thing is how they practice. When they came back in Saturday morning, they were ready for game week. Then, we typically don't practice on Sunday and yet we did and it was a tremendous day."
Wayne Gallman

Wayne Gallman
RS Fr. Running Back
#9 6-1, 209
Loganville, GA
View Full Profile
"I think his confidence is really high right now. Immensely since the beginning of the year. He's going to be an excellent player. He has to learn how to be a running back but he's made big strides for us. Wayne played in the Wing-T so it was a different deal in this offense learning to get downhill. He was running more horizontally there. Wayne has benefited."
On Wake coach Dave Clawson praising the Clemson defense
"He's just trying to give praise to our defense. And they are good. It's been hard to move the ball on them. Regardless of who we play, it's been very difficult. Florida State had -13 rushing yards on us. Nobody has been consistently able to move the ball up and down the field. And we've called the game in that way as a result. It's almost cost us a couple of times. But these guys have a chance to be the best in the country and we want to harness that. They are relentless."
Comparable to the 1992 Alabama defense?
"Different times as far as offensive philosophies. Only way to do it is to take that roster and track the two deep in the NFL compared to that one. A bunch of guys from this defense are going to play in the NFL. A bunch. That's the only way you can truly compare it. That year we had the third and fourth pick in the draft at D-end. I think this team is better at safety than that team. As far as how it all matches up otherwise, you have to look at few years down the line to see what his group has done in the NFL."
More confidence with Deshaun at quarterback
"Yes I think we are improving. I've seen some really good signs. Coaches are coaching hard. But I like what I've seen in critical situations the last two games. On the road at Boston College. What we did in the fourth quarter of the last game. We've got a bunch of guys playing positions where they haven't originally started. I'm very encouraged. I'm very encouraged on how Cole has played and how he's improved. Leggett has made some big plays in the last couple of games. Seeing Gallman come on. It's a work in progress. We want to be better but I think our best football is in front of us still."

Tags: Clemson Football
,
David Beasley
,
Kalon Davis
,
Reid Webster
,
Joe Gore
,
Eric Mac Lain
,
Ryan Norton
,
Wayne Gallman
,
Tyrone Crowder
,
Robbie Caldwell
,
Dabo Swinney