| | |
| --- | --- |
| Tigers turn attention to Florida St. | |
---
| | | |
| --- | --- | --- |
| Monday, September 8, 2014, 4:02 PM | | |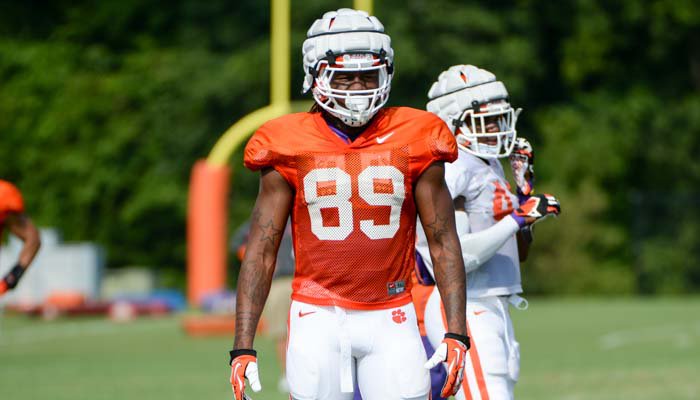 CLEMSON – Clemson head coach Dabo Swinney

Dabo Swinney
Head Coach
View Full Profile said that while many fans might consider Saturday's 73-7 trouncing of South Carolina St. a glorified scrimmage, the coaches are using the game film to identify the types of players they have on the roster.
Swinney won't hold his usual Tuesday weekly news conference this week – the Tigers are off Saturday – but did a conference call with the media Monday to discuss Saturday's win and the upcoming contest in Tallahassee against top-ranked Florida St.
"As I expected, really pleased with what the tape showed. You are what you are on film," Swinney said. "If you're a guy who is a great effort guy, you'll be a great effort guy on film. If you're a technician guy, you'll be a technician guy on film. We wanted to grow mentally and I think we did that in this game. The team was very focused for four quarters. We played almost 80 guys.
"Obviously we are a physically superior team. I thought our guys played very well from start to finish for four quarters. 7 yards rushing and 44 total yards, that's great. I was very pleased to see Dorian O'Daniel

Dorian O'Daniel
RS Fr. Linebacker
#6 6-1, 217
Olney, MD
View Full Profile do well on special teams. I think he had five tackles on special teams. We didn't punt the ball at all. Seeing Ammon Lakip

Ammon Lakip
RS Jr. Kicker
#36 5-10, 200
Alpharetta, GA
View Full Profile gain confidence on field goals was big. He was our special teams player of the game."
Swinney said he was pleased to see so much of Clemson's young talent perform at a high level.
"We had a very clean performance from start to finish. It was great to see our young talent perform well and get experience," he said. "It was good to see Artavis Scott

Artavis Scott
Fr. Wide Receiver
#3 5-11, 190
Oldsmar, FL
View Full Profile and Demarre Kitt

Demarre Kitt
Fr. Wide Receiver
#8 6-1, 183
Tyrone, GA
View Full Profile , Tyrone Crowder

Tyrone Crowder
RS Fr. Offensive Guard
#55 6-2, 322
Marston, NC
View Full Profile , Jay Guillermo

Jay Guillermo
RS So. Center
#57 6-3, 314
Maryville, TN
View Full Profile , Jay Jay McCullough

Jay Jay McCullough
RS So. Tight End
#89 6-3, 248
Fort Mill, SC
View Full Profile , Wayne Gallman

Wayne Gallman
RS Fr. Running Back
#9 6-1, 209
Loganville, GA
View Full Profile , Deshaun Watson

Deshaun Watson
Fr. Quarterback
#4 6-3, 204
Gainesville, GA
View Full Profile , Adam Choice

Adam Choice
Fr. Running Back
#26 5-10, 211
Thomasville, GA
View Full Profile and a bunch of others. Charone Peake

Charone Peake
RS Jr. Wide Receiver
#19 6-3, 204
Moore, SC
View Full Profile can be a great player for us, same thing with Mike Williams

Mike Williams
So. Wide Receiver
#7 6-5, 208
Vance, SC
View Full Profile . Those two guys can be very, very good for us. Overall just a very good day for us. We got a lot done as a team. We got better. We have to continue to develop our depth and sharpen up. "
One of Clemson's five goals each season is to win the division, and that goal usually starts with beating Florida St.
"Our goal is to win the division. It does not get easier because we're playing the number one team in the land," Swinney said. "I think we will be a very battle-tested team. Very few teams out there that will be as battle-tested as we will be after three games. It's exciting, though, to go on the road and play in a great environment against the best team in the country. I think they have won about 18 in a row. They have earned the right to be number one. Looking forward to practice this week."
Swinney said the Tigers will fine tune some areas this week while also mixing in preparation for Florida St.
"It's a mixture. We will get started on them, definitely. All your meeting time will be on Florida State," he said. "We'll start studying their personnel. We watched last year's game as a staff. We've just got two games this year to see if anything has changed personnel-wise or philosophy-wise. We will zero in on fundamental stuff and technique stuff that we need to improve on. That's part of it and also a good head-start. All next week will be a normal game week for us."
OTHER NOTES
Injury news
"We got going yesterday with practice. Health-wise we're in good shape. We will get Martin Jenkins

Martin Jenkins
RS Sr. Cornerback
#14 5-9, 185
Roswell, GA
View Full Profile back. We decided not to play Ebenezer Ogundeko

Ebenezer Ogundeko
RS Fr. Defensive End
#1 6-3, 246
Brooklyn, NY
View Full Profile , but he's fine. We'll see where Sam Cooper

Sam Cooper
RS Sr. Tight End
#86 6-6, 250
Brentwood, TN
View Full Profile is this week and next week."
Jay Jay McCullough's progress
"We're excited about him. We've been patient with him. He's had to redshirt. He wasn't quite there. He had a good spring, a good summer and fall camp. Most players, their sophomore year, that's when you start to see guys come on. Jay Jay never played tight end, so it was a transition for him. He was a running back. So there was a lot to learn fundamentally. He is making good progress. We recruited him to be a good player and we think he's got a chance to be a great one. He's not yet, but he has the talent to be. It was great to see him rewarded. I thought he played well in the UGA game. He did not show up in the stat line but he was a bright spot in that game from a physical standpoint and we need him to grow in that area."
On Jay Guillermo's start at center
"He did good. I'm really proud of Jay. He missed a couple of assignments. He had a couple of mental errors. He played two spots for us. He's another one of those young guys that we've known had all the talent and potential. It's getting him to put it all together. He wasn't very mature when he got here. He is kind of emerging and we have seen that since the spring. He has been serious about becoming a great player. He has taken more ownership of the system. It was great to see him to play a couple of spots in the ballgame. He got his first start and we'll see where we go with that from here."
Lack of big plays in the running game
"We wanted to throw the ball quite a bit. I think we wanted to throw it every snap to start that one series. The things we did in the running game, we were efficient. We weren't great early but I think we got better as the day went. We ran the ball effectively. They were not an easy team to prepare for. We studied a lot of Louisville trying to get ready for that game. There were some unknowns. I thought we were able to run the ball better as the game went on."
On the freshmen
"We have recruited well. It's fun to see guys get an opportunity and take advantage of it. Artavis (Scott) is like a red-shirt freshman to me. He's like a totally different guy as opposed to a Trevion Thompson

Trevion Thompson
Fr. Wide Receiver
#1 6-3, 191
Durham, NC
View Full Profile who came in during July. He's very talented, but the transition isn't as easy for him because he wasn't here in the spring. Those guys have had a year under their belt already because they've been here. Artavis looks like a veteran guy out there. He's fast, confident. Same thing with Deshaun (Watson). He's just gotten better and better and better. More comfortable. Seeing them, they will all have to play well for us to be good this year. But yes, it's good to know we have some great young talent on the team."

Tags: Clemson Football
,
Sam Cooper
,
Martin Jenkins
,
Charone Peake
,
Ammon Lakip
,
Jay Guillermo
,
Jay Jay McCullough
,
Mike Williams
,
Wayne Gallman
,
Tyrone Crowder
,
Dorian O'Daniel
,
Ebenezer Ogundeko
,
Deshaun Watson
,
Demarre Kitt
,
Trevion Thompson
,
Artavis Scott
,
Adam Choice