| | |
| --- | --- |
| Tigers find redemption in 31-28 victory over Demon Deacons | |
---
| | | |
| --- | --- | --- |
| Saturday, November 12, 2011, 5:48 PM | | |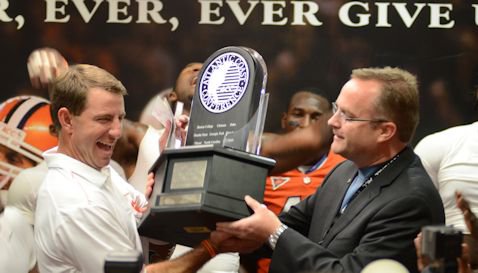 CLEMSON – Redemption.
A storyline that has defined a season managed to define Clemson's final regular season home game, and as Chandler Catanzaro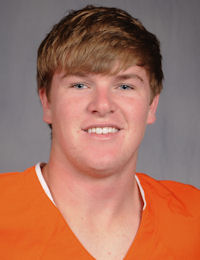 Chandler Catanzaro
RS So. Punter / Kicker
#39 6-2, 200
Greenville, SC
View Full Profile 's 43-yard field goal sailed through the uprights, an emotionally exhausted crowd, players and coaches were finally allowed to exhale following the latest installment.
A season that has served as redemption for last year's 6-7 record saw an offense try to redeem itself for a sluggish start, a defense that was gashed early and often as the Tigers fell into a 28-14 hole finally found it's bite, and a kicker that had missed a potential go-ahead field goal just minutes earlier found his redemption as he soaked in the roar of the crowd.
Catanzaro kicked his field goal as time expired, and No. 9 Clemson rallied from a third quarter, 14-point deficit as the Tigers defeated Wake Forest 31-28 Saturday in Death Valley and clinched the ACC Atlantic Division title.
Catanzaro had missed a 30-yard attempt just two minutes before his game-winner for the Tigers (9-1, 6-1 Atlantic Coast Conference). The Clemson defense managed to stop the Demon Deacons however, and gave the Clemson offense one final shot with 42 seconds remaining.
Clemson managed 41 yards in just four plays, and this time Catanzaro's attempt was straight and true and sent the Tigers to the ACC title game for the second time in three years, setting off a celebration as Tigers fans swarmed the field.
The Tigers finished their home season 7-0, their first perfect season in Death Valley since 1990.
Clemson quarterback Tajh Boyd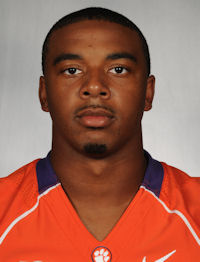 Tajh Boyd
RS So. Quarterback
#10 6-1, 225
Hampton, VA
View Full Profile – who struggled to a 9-for-20 start that included two interceptions, found his redemption in a finish that saw him hit 18 of his final 23 passes, and 141 of his 343 passing yards came in the decisive fourth quarter when the Tigers needed him most.
"Redemption - that's been the story of the season," Boyd said after the game. "Nobody expected anything from us coming into the season and we wanted to accomplish this as a team. I'm very proud of the way the guys responded in the face of adversity. We're still not done yet. It would be a great season if it ended now, but it's not over. Hopefully, these next two games, the ACC Championship Game, and a BCS bowl, that's what we want to accomplish. We just have to keep working and take it from there."
Clemson head coach Dabo Swinney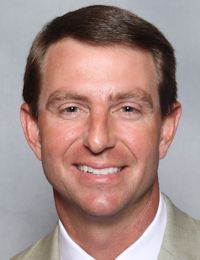 Dabo Swinney
Head Coach
View Full Profile said the Tigers showed their youth on Saturday – and their resilience.
"We are a family with one goal and one dream, and we're all in," Swinney said. "Our seniors have provided great leadership. We win together and we lose together. We showed our youth today. Let's admit it, the third quarter was ugly, but our players truly had each other's backs. We don't flinch. We are like a family."
The Deacons used a 21-point third quarter to take a 28-14 lead, and it started with a Michael Campanaro 50-yard punt return for a touchdown. Two plays later, Wake Forest had the ball again after
Andre Ellington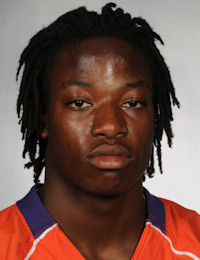 Andre Ellington
RS Jr. Running Back
#23 5-10, 190
Moncks Corner, SC
View Full Profile 's fumble, and the Deacons scored two plays later on Brandon Pendergrass' 19-yard touchdown run for a 21-14 lead.
Boyd was intercepted on Clemson's ensuing possession, and Pendergrass hit pay dirt again with a 33-yard scoring run that gave Wake the 28-14 lead.
Boyd answered by going 5-for-5 on a 68-yard drive that ended with Brandon Ford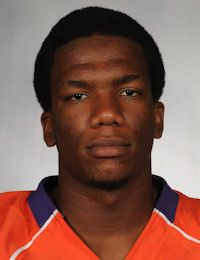 Brandon Ford
RS Jr. Tight End
#80 6-4, 235
Wando, SC
View Full Profile 's seven-yard touchdown reception, and then the Tigers tied it at 28-28 with 5:27 remaining on Jaron Brown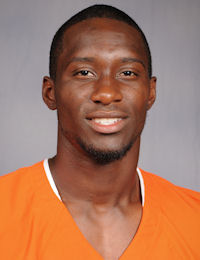 Jaron Brown
RS Jr. Wide Receiver
#18 6-2, 200
Cheraw, SC
View Full Profile 's 10-yard scoring grab. Boyd was 5-for-6 on that drive.
The Clemson defense answered the call, forcing Wake into a three-and-out, but the next drive ended with Catanzaro's miss.
The Demon Deacons again grabbed a quick first down, this time to their own 38-yard line. However, the Clemson defense forced two incomplete passes and on third down Wake quarterback Tanner Price was sacked for a 13-yard loss by Rennie Moore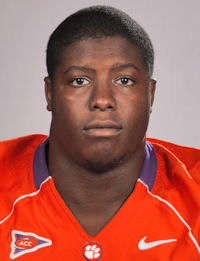 Rennie Moore
RS Sr. Defensive Tackle
#94 6-3, 265
Saint Marys, GA
View Full Profile and Brandon Thompson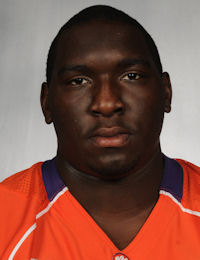 Brandon Thompson
Sr. Defensive Tackle
#98 6-2, 310
Thomasville, GA
View Full Profile , the last play in Death Valley for Clemson's two seniors.
Boyd hit tight end Dwayne Allen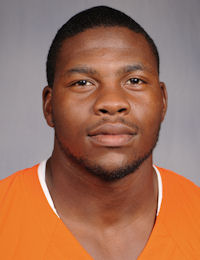 Dwayne Allen
RS Jr. Tight End
#83 6-3, 255
Fayetteville, NC
View Full Profile on two passes that covered 33 yards, and after a spike Boyd hit Adam Humphries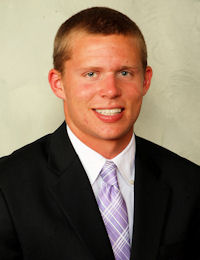 Adam Humphries
Fr. Wide Receiver
#13 6-0, 190
Spartanburg, SC
View Full Profile – in for an injured Sammy Watkins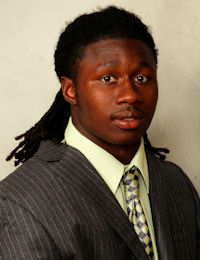 Sammy Watkins
Fr. Wide Receiver
#2 6-1, 200
Fort Myers, FL
View Full Profile – on an eight-yard pass to the Wake 26-yard line, setting up Catanzaro's field goal.
The Tigers return to action next week against North Carolina State, and have a chance at 10 wins in a season for the first time since 1990.
Swinney said the fourth quarter was a frantic one for players and coaches alike.
"We didn't take any fourth quarter coffee breaks," he said. "We had to earn and work for everything we have done so far this season. I am so proud of our players and staff. It was a great win for our seniors, and this leaves a lot for the younger guys. We were the first to punch our ticket for Charlotte, but we still have more games ahead of this season."


Score by Quarters     1  2  3  4   Score


-----------------    -- -- -- --   -----


Wake Forest.........  7  0 21  0  - 28       Record: (5-5,4-3)


Clemson.............  7  7  7 10  - 31       Record: (9-1,6-1)



Scoring Summary:


1st 05:33 CU - Andre Ellington 4 yd run (Chandler Catanzaro kick), 10-80 3:35, WF 0 - CU 7


    00:53 WF - Cameron Ford 3 yd pass from Tanner Price (Jimmy Newman kick), 12-73 4:36, WF 7 - CU 7


2nd 05:46 CU - Andre Ellington 1 yd run (Chandler Catanzaro kick), 13-80 5:39, WF 7 - CU 14


3rd 09:43 WF - Michael Campanaro 50 yd punt return (Jimmy Newman kick), , WF 14 - CU 14


    08:06 WF - Brandon Pendergrass 19 yd run (Jimmy Newman kick), 2-25 0:44, WF 21 - CU 14


    05:32 WF - Brandon Pendergrass 33 yd run (Jimmy Newman kick), 4-44 1:25, WF 28 - CU 14


    01:23 CU - Brandon Ford 7 yd pass from Tajh Boyd (Chandler Catanzaro kick), 10-68 4:04, WF 28 - CU 21


4th 05:27 CU - Jaron Brown 10 yd pass from Tajh Boyd (Chandler Catanzaro kick), 10-80 3:18, WF 28 - CU 28


    00:00 CU - Chandler Catanzaro 43 yd field goal, 5-41 0:42, WF 28 - CU 31



                                     WF       CU


FIRST DOWNS...................       21       27


RUSHES-YARDS (NET)............   35-145   42-179


PASSING YDS (NET).............      172      343


Passes Att-Comp-Int...........  37-24-0  44-27-2


TOTAL OFFENSE PLAYS-YARDS.....   72-317   86-522


Fumble Returns-Yards..........      0-0      0-0


Punt Returns-Yards............     3-63      1-3


Kickoff Returns-Yards.........     5-59    4-103


Interception Returns-Yards....     2-37      0-0


Punts (Number-Avg)............   5-43.8   3-38.7


Fumbles-Lost..................      5-0      1-1


Penalties-Yards...............     1-10     6-58


Possession Time...............    30:08    29:52


Third-Down Conversions........  8 of 16  9 of 16


Fourth-Down Conversions.......   0 of 1   2 of 3


Red-Zone Scores-Chances.......      2-5      4-5


Sacks By: Number-Yards........      0-0     1-13




RUSHING: Wake Forest-Brandon Pendergrass 20-134; Orville Reynolds 2-10;


Chris Givens 1-5; Tommy Bohanon 1-1; TEAM 1-minus 1; Tanner Price 10-minus 4.


Clemson-Andre Ellington 25-98; Sammy Watkins 2-32; Tajh Boyd 11-27; D.J. Howard


3-14; Mike Bellamy 1-8.

PASSING: Wake Forest-Tanner Price 24-37-0-172. Clemson-Tajh Boyd


27-43-2-343; TEAM 0-1-0-0.

RECEIVING: Wake Forest-Michael Campanaro 9-72; Chris Givens 4-31; Brandon


Pendergrass 3-9; Cameron Ford 2-21; Danny Dembry 2-17; Orville Reynolds 2-9;


Terence Davis 1-10; Andrew Parker 1-3. Clemson-Jaron Brown 6-78; Sammy Watkins


5-62; Dwayne Allen 4-48; Brandon Ford 3-51; Andre Ellington 3-42; DeAndre


Hopkins 3-38; Adam Humphries 3-24.

INTERCEPTIONS: Wake Forest-Josh Bush 1-29; Zach Thompson 1-8.


Clemson-None.

FUMBLES: Wake Forest-Tanner Price 3-0; Merrill Noel 2-0. Clemson-Andre


Ellington 1-1.

Stadium: Memorial Stadium      Attendance: 80000


Kickoff time: 12:01 PM  End of Game: 3:26 PM   Total elapsed time: 3:25


Officials: Referee: Tom McCreesh; Umpire: Donald Yates; Linesman: John Busch;


Line judge: Jack Weiland; Back judge: Doug Smith; Field judge: Tyrone Anderson;


Side judge: Rich Street;


Temperature: 65 deg    Wind: Calm      Weather: Sunny




Tags: Clemson Football
,
Adam Humphries
,
Andre Ellington
,
Brandon Ford
,
Brandon Thompson
,
Chandler Catanzaro
,
Dabo Swinney
,
Dwayne Allen
,
Jaron Brown
,
Rennie Moore
,
Sammy Watkins
,
Tajh Boyd