| | |
| --- | --- |
| Tigers defeat Terriers 35-27 | |
---
| | |
| --- | --- |
| Saturday, September 10, 2011, 8:16 PM | |
CLEMSON – The Clemson Tigers defeated FCS opponent Wofford 35-27 Saturday afternoon in Death Valley, as expected, but there were enough head-scratching moments and uninspired play to make Clemson fans nervous about the rest of the season.
The Clemson offense managed 476 yards of total offense and running back Andre Ellington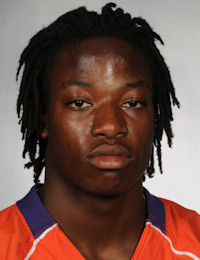 Andre Ellington
RS Jr. Running Back
#23 5-10, 190
Moncks Corner, SC
View Full Profile rushed for 165 yards on 22 carries, but there were enough missed assignments, mistakes in the kicking game, missed tackles and average line play to lead to a chorus of boos echoing throughout the stadium for the second straight week.
Clemson head coach Dabo Swinney said he was happy to come away with a win over the defending Southern Conference champs.
"First off, I can't give enough credit to Coach [Mike} Ayers and his team," Swinney said. "I knew this would be a tough, four-quarter game and it was. We made some big mistakes on defense that led to three touchdowns for them. Bottom line – we found a way to win. It's the second week in a row that we've won the second half. Wofford didn't score a touchdown in the second half. The defense stepped up and the offense finished the game. We have to improve on some things and we have to get better fast in some places. It's good to get this win and get to 2-0."
Ayers, however, said it all when he said he wasn't pleased with a moral victory, and knows his team could have pulled off the upset, especially after the Terriers played the Tigers even through the first two quarters.
"Sometimes, you make a play and sometimes you don't," Ayers said. "They had some studs on defense. I was pleased with the way that we played. Am I pleased with losing? No. I told our guys at halftime that I wasn't happy with them. We were in a situation where we should have been ahead by a couple of
scores."
The Tigers took the opening kickoff and promptly marched to midfield, but were stopped on a fourth-down rush by Chad Diehl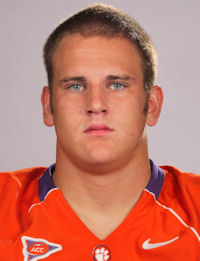 Chad Diehl
RS Sr. Fullback
#30 6-2, 265
Lyman, SC
View Full Profile that gave Wofford the ball and momentum. Five plays later, the Terriers cashed in on a 27-yard run by quarterback Mitch Allen and Wofford led 7-0 early in the quarter.
The teams traded punts, and Clemson needed just two plays to score on its third possession, with Boyd hitting Martavis Bryant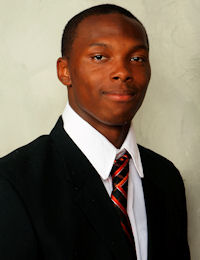 Martavis Bryant
Fr. Wide Receiver
#1 6-4, 195
Anderson, SC
View Full Profile on a streak down the left sideline for a 42-yard touchdown. However, the hold on the extra point was bobbled, and Wofford led 7-6 with 5:32 remaining in the opening quarter.
It didn't take Wofford long to answer, however, with Allen hitting a wide open – no Clemson defender within 20 yards – Brenton Bersin on a 66-yard touchdown pass for a 14-6 lead.
The Tigers answered on their next play from scrimmage, though, with Andre Ellington bursting through the middle on a 74-yard touchdown run and it was 14-13 Wofford with 4:36 remaining in the quarter.
Wofford then put together a drive that saw a running third-down conversion and a fake punt that covered 26 yards, the drive ending with Wofford punching it in a one-yard plunge by Eric Breitenstein, and Death Valley sat stunned as the Terriers led 21-13.
Clemson responded with a scoring drive, getting a little help on an offsides penalty by Wofford on what would have been a failed third down. Boyd then hit Watkins over the middle on a 38-yard touchdown pass, the true freshman going high to make the grab and rolling into the end zone. Boyd then hit Nuk Hopkins in the back of the end zone for the two-point conversion and the score was tied at 21 heading into halftime.
Swinney said the first half was indicative of how far some of Clemson's freshmen have to go.
"We made mistakes and guys have to grow up," Swinney said. "Today was another learning experience. We have to do better against the option. We got burned on fourth down against the option and the guy ran forever. If you're going to cover the quarterback, you can't move to the outside and try to cover the
pitch. Things like that have to change. Bottom line – we're never mad at a win. We've played better in games that we've lost. We will get better."
The Terriers jumped back on top on the opening drive of the second half, getting a 24-yard field goal by Christian Reed to lead 24-21.
The Tigers took their first lead of the day on the ensuing possession, going 65 yards in 12 plays, scoring on a five-yard run by Boyd that put Clemson up 28-24 with 7:54 remaining in the third quarter.
Wofford then ground another long drive that ended with a 38-yard field goal by Reed to make it 28-27, but the Tigers went up by eight when Boyd hit Hopkins on a 17-yard pass in the end zone for a 35-27 tiger lead early in the fourth quarter.
Clemson's Kantrell Brown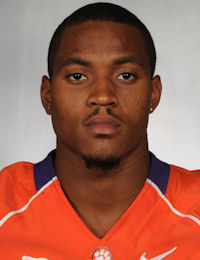 Kantrell Brown
RS Sr. Safety
#37 6-1, 195
Saint Matthews, SC
View Full Profile ended the next Wofford drive with an interception of Allen, returning the interception 43 yards to the Wofford 17-yard line. The Tigers went for a fake field goal on fourth down, but Benton again bobbled the ball and the Tigers were unable to convert the opportunity, but held on for the win.
Center Dalton Freeman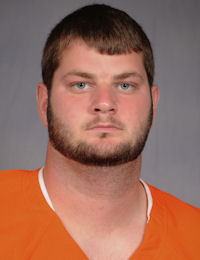 Dalton Freeman
RS Jr. Offensive Line
#55 6-5, 285
Pelion, SC
View Full Profile said he was disappointed in the play of the offensive line and especially the way the Tigers started the game for the second straight week.
"We're disappointed with the way we started the game. We went into the game thinking they were going to do a lot of things they didn't do," Freeman said. "Our preparation has to get a lot better. We came in at halftime and made adjustments. We went back to our basic offense and we ran plays the way we normally run our blocking schemes and pass protections. If we come out like that next week against Auburn, it's not going to work."
Ellington echoed Freeman's sentiments.
"It's a lot like last year. We have to focus and prepare well," Ellington said. "We cannot take those guys lightly because they are a great team. Last year's loss was just more motivation for us. If we don't prepare well, it will be tough to win."


Score by Quarters     1  2  3  4   Score


-----------------    -- -- -- --   -----


Wofford............. 14  7  6  0  - 27       Record:


Clemson............. 13  8  7  7  - 35       Record:

Scoring Summary:


1st 10:12 WOF - Mitch Allen 27 yd run (Christian Reed kick), 5-51 2:21, WOF 7 - CU 0


    05:32 CU - Martavis Bryant 42 yd pass from Tajh Boyd (Spencer Benton rush failed), 2-45 0:35, WOF 7 - CU 6


    04:52 WOF - Brenton Bersin 66 yd pass from Mitch Allen (Christian Reed kick), 2-79 0:34, WOF 14 - CU 6


    04:36 CU - Andre Ellington 74 yd run (Chandler Catanzaro kick), 1-74 0:12, WOF 14 - CU 13


2nd 04:01 WOF - E. Breitenstein 1 yd run (Christian Reed kick), 12-74 5:56, WOF 21 - CU 13


    02:03 CU - Sammy Watkins 38 yd pass from Tajh Boyd (DeAndre Hopkins pass from BOYD), 6-72 1:51, WOF 21 - CU 21


3rd 11:46 WOF - Christian Reed 24 yd field goal, 6-67 3:09, WOF 24 - CU 21


    07:54 CU - Tajh Boyd 5 yd run (Chandler Catanzaro kick), 12-65 3:48, WOF 24 - CU 28


    02:04 WOF - Christian Reed 38 yd field goal, 13-60 5:46, WOF 27 - CU 28


4th 14:35 CU - DeAndre Hopkins 17 yd pass from Tajh Boyd (Chandler Catanzaro kick), 8-58 2:24, WOF 27 - CU 35


                                    WOF       CU


FIRST DOWNS...................       16       20


RUSHES-YARDS (NET)............   57-272   42-215


PASSING YDS (NET).............      127      261


Passes Att-Comp-Int...........    8-2-1  29-18-0


TOTAL OFFENSE PLAYS-YARDS.....   65-399   71-476


Fumble Returns-Yards..........      0-0      0-0


Punt Returns-Yards............      0-0      0-0


Kickoff Returns-Yards.........    6-103    6-116


Interception Returns-Yards....      0-0     1-43


Punts (Number-Avg)............   5-35.2   4-41.5


Fumbles-Lost..................      1-0      3-1


Penalties-Yards...............     6-30     3-44


Possession Time...............    33:27    26:33


Third-Down Conversions........  6 of 16  7 of 15


Fourth-Down Conversions.......   2 of 3   1 of 3


Red-Zone Scores-Chances.......      3-3      2-4


Sacks By: Number-Yards........     4-31      0-0




RUSHING: Wofford-Mitch Allen 13-89; E. Breitenstein 22-62; Donovan


Johnson 10-56; Kasey Redfern 1-28; Derek Boyce 4-16; Bryan Youman 1-8; Alex


Dunmire 1-7; Brad Nocek 1-3; L. Farrar 3-2; Montae Monroe 1-1. Clemson-Andre


Ellington 22-165; Sammy Watkins 3-30; Mike Bellamy 2-19; Tajh Boyd 10-9; D.J.


Howard 1-2; Roderick McDowell 1-1; Chad Diehl 1-0; TEAM 1-minus 2; Spencer


Benton 1-minus 9.

PASSING: Wofford-Mitch Allen 2-7-1-127; Brian Kass 0-1-0-0. Clemson-Tajh


Boyd 18-29-0-261.

RECEIVING: Wofford-Brenton Bersin 2-127. Clemson-DeAndre Hopkins 5-73;


Sammy Watkins 4-56; Jaron Brown 3-55; Dwayne Allen 2-15; Andre Ellington 2-12;


Martavis Bryant 1-42; Bryce McNeal 1-8.

INTERCEPTIONS: Wofford-None. Clemson-Kantrell Brown 1-43.

FUMBLES: Wofford-Mitch Allen 1-0. Clemson-Jaron Brown 1-0; Spencer Benton


1-1; Mike Bellamy 1-0.

Stadium: Memorial Stadium      Attendance: 73500


Kickoff time: 3:34 PM   End of Game: 6:25 PM   Total elapsed time: 2:51


Officials: Referee: Jeff Heaser; Umpire: Mike Wooten; Linesman: Tracy Lynch;


Line judge: Joe Griesser; Back judge: Dale Shaw; Field judge: Mike Cullin;


Side judge: Michael Triana;


Temperature: 85 deg    Wind: Calm      Weather: Sunny