| | |
| --- | --- |
| Tigers change up bowl prep | |
---
| | | |
| --- | --- | --- |
| Wednesday, December 26, 2012, 6:18 PM | | |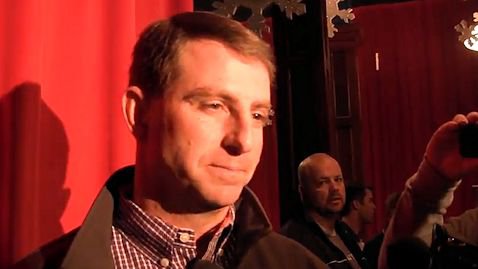 ATLANTA, GA – The loss to West Virginia in last season's Orange Bowl has had reverberations throughout this season, and they continued during Clemson's bowl practices.
Clemson head coach Dabo Swinney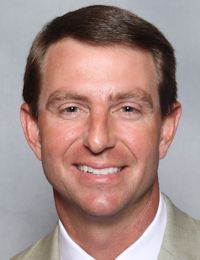 Dabo Swinney
Head Coach
View Full Profile , speaking to the media at Wednesday's Chick-fil-A Bowl team welcome party in Atlanta, said he took something from each of his bowl experiences as he crafted a plan for this year's bowl game.
"We did some things differently- the amount of time on the field, the amount of days in a row, the amount of days off, conditioning, competitive work versus fundamental work versus LSU work- we've done a lot of things differently," Swinney said. "Those are things you are always trying to get better at. I've been at a lot of bowl games. I've been to the Sugar Bowl twice, the Orange Bowl twice, the Fiesta Bowl, Chick-fil-A three times, Music City twice, Citrus, Outback, Champs. I've been in a bunch of bowl games. I've seen it done a lot of different ways. You try to grow your knowledge from all of your experiences and then you talk to other coaches. I'm very confident in how we've prepared. Now we just have to play well in the game."
Swinney said he wanted more competition during practice.
"I think we probably had more competitive work than we did last year- good on good," he said. "More live work, and I think that's something that we had a lot more veteran guys last year, so we didn't have as much live work. We were a very young team, but most of our starters were senior OL guys and senior DL guys. This year that isn't the case, but I think that hopefully it will help us. You can have great preparation- I thought last year, we had great preparation, prepared well and practiced well, but we just didn't necessarily play well in the game.
"I've been around when he haven't practiced well all week and then played great in the game and weeks where we've had great weeks of preparation and then played bad. When you're dealing with 17-22 year olds, that's kind of the world we live in. The teams that can minimize that and create consistency are the teams that become the cream of the crop. Fortunately, we've been able to win a whole lot more than we've lost."
Other notes from the welcome session
On preparing for LSU's "rabbit" defense
"We've seen that. We have that as a package as well. That's more of when you're facing passing situations, they pin their ears back. If you come predictable, it's a long night. You want to have some balance and dictate the tempo and rhythm from a play calling standpoint. We have to execute. If they can slide those guys down and bring all of that speed down, it's tough. They can match you outside and disrupt you, not that you aren't going to get open because against these guys, that's open [holding hands about a foot apart]. You're not going have guys just running free. This is a really talented group and the reason they can do that is because they have speed up front that they know is going to get there at some point if they can just buy some time on the outside. We have to do a great job of mixing it up, keeping the balance, staying on schedule, taking care of the football, and playing good defense on our end."
On academic casualties
"Tony McNeil was academically ineligible and Shaq Anthony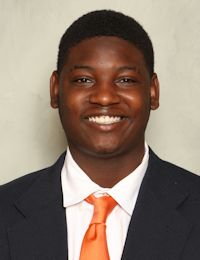 Shaq Anthony
RS Fr. Offensive Tackle
#76 6-4, 265
Williamston, SC
View Full Profile was academically ineligible. Those were our two casualties in that regard."
On Wednesday's practice in the Georgia Dome
"I thought today was good. Today was kind of like a Monday practice for us. I thought they came back with good energy and good focus. They were all here 100-percent last night and ready to go. It was good. I think practicing in the Dome was an added benefit. Being able to get out there- it's not often at a bowl site that you get to practice where you play. Being able to be in the venue where you're going to play, I thought was good. I thought they were ready to go. They showed up last night ready to go. Good focus at practice too."
On practicing in the indoor practice facility
"We had a couple of really nasty days that would've been difficult for us to simulate what we're going to play in. It was tremendous for us to go out there and not only practice inside in the lighting and roof, but being able to have that surface was huge for us. Having a very good environment to just go to work in and being able to eliminate some distractions that you might have otherwise had, we didn't have that."