| | |
| --- | --- |
| Tiger Tidbits - Florida State Edition | |
---
| | | |
| --- | --- | --- |
| Wednesday, September 19, 2012, 9:38 AM | | |
I don't know about you, but I'm a little bit excited about this weekend's game against Florida St.
Big game? Absolutely. And this one, for some reason, just has the same kind of feel as the game at Virginia Tech last year had. I remember everyone talking about how good Logan Thomas was, how good David Wilson was, and how tough it was for any opponent to go into Lane Stadium and win.
At the end of the day, Clemson was simply a much better team and history didn't really play out.
Now, I 'm not saying Clemson is better than Florida St. The Seminoles – unlike how I feel about Virginia Tech – have tons of talent across the board. Scary, next-level talent at a lot of positions. But I think that sometimes people forget that this Clemson team has a lot of talent, too. And a pretty good coaching staff. This one will be more than fun.
In talking with several players over the past few days, and a few of the coaches, I get the sense that this is a confident bunch heading to Tallahassee. They are saying all the right things – starting with head coach Dabo Swinney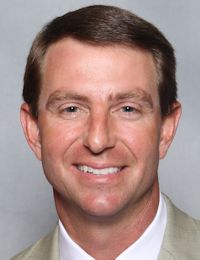 Dabo Swinney
Head Coach
View Full Profile – and have been politically correct across the board. But drop the recorders and turn off the video recorders, and you get the sense this group feels like they can go down there and win.
One offensive player told me that FSU has basically the same defense that Clemson ran over last season – remember how everybody was talking about how great that group was after the Oklahoma game? But Clemson still managed to score 35 points and put up 443 yards of total offense. And the scoring drives weren't cheapies either – seven plays for 80 yards, eight for 77, nine for 79, 11 for 70 and six for 80 yards. In other words, Clemson scoring drives totaled 41 plays for 386 yards.
Not only that, but Clemson was 9-for-17 on third down against them.
I also had one defensive player tell me that new defensive coordinator Brent Venables
Brent Venables
Defensive Coordinator / Linebackers
View Full Profile got a head start on the game – he said that Venables gathered the entire defense in a corner of the locker room following Saturday's game against Furman, and began letting them know what they could expect this week in practice and this Saturday against Florida St.
This is the kind of week that, come Friday, I will be ready to put on a helmet and go hit somebody.
*We've all heard about linebacker Justin Parker
Justin Parker
Jr. Linebacker
#8 6-1, 235
Port Royal, SC
View Full Profile , who is red-shirting this season because of a groin injury he suffered this summer. The last time I really saw Parker, he was moving gingerly and I didn't know how long it would take for him to get back on the field.
However, I saw him Tuesday and he was moving around pretty good, and word has it that he was able to practice Tuesday for the first time this fall. I am not sure if he would be available unless it became an actual emergency – several linebackers going down at once – but it's nice to have him there in case he's needed.
*Speaking of linebackers, Oklahoma transfer Kellen Jones
Kellen Jones
So. Linebacker
#52 6-1, 215
Houston, TX
View Full Profile was on crutches Saturday. He broke a couple of bones in his right foot, and will be on the shelf for six weeks or so. That's disappointing for Jones, who is having to sit out because of NCAA transfer rules, because he was making a name for himself in practice, and the coaches were using his speed to simulate speedy defensive ends. He would have come in handy this week.
*This is my last linebacker note, I promise. But Tony Steward
Tony Steward
So. Linebacker
#7 6-1, 235
Hastings, FL
View Full Profile impressed me last week in his limited action against Furman. He had seven tackles and showed incredible burst. There was one play where he actually over-ran a receiver, showing good speed, but couldn't quite make the cut he needed to get back in the play. That tells me he is close to being all the way back, but not quite.
However, I wouldn't be surprised to see defensive coordinator Brent Venables utilize his speed at some point during Saturday's game. One of the keys for the Clemson defense will be making quarterback E.J. Manuel feel uncomfortable in the pocket, and while Steward may not quite be ready to be that every-down linebacker, I could see him used in a blitz package of sorts.
I know the coaches wanted to bring him along slowly, but he is close to getting back to the point where he can be a major contributor.
*This probably isn't interesting to anyone but me, but every time I watch a college game, I wonder whatever happened to the coffin corner punt. In years past, the punter would angle the punt out of bounds inside the opponent's 20-yard line. Since the advent of the rugby-style kick, we don't really see it, but I am dumbfounded when I see a punter just blast a punt through the back of the endzone.
Is it a lost art?
I talked to a college coach who not only happens to be a friend of mine, but also coaches special teams, and he said there were a variety of factors for the decline.
Yes, many of the kickers coming into the game now rely on the rugby-style kick, and they simply haven't learned how to angle a kick out of bounds, not with any accuracy.
He also said that many more teams are using the "shield" punt formation, which puts seven men on the line of scrimmage, three on the second level and then the punter. The "shield" allows for better punt coverage and also defends against the blocked punt. However, punters who are kicking behind the "shield" are also taught to get the ball off quicker, and there simply isn't time to try and angle the ball. Lastly, he said that when you want to try an angle a punt, you want to make sure that the side you are punting to is solid, and that's something you can't accomplish with the shield.
To learn more about the shield, check out this link.
http://xandolabs.com/2012/01/the-efficiency-of-the-shield-punt-scheme/
*Clemson commit Deshaun Watson had quite a week last week in Gainesville's win over Winder-Barrow. Watson went 18-for-18 for 331 yards and seven touchdowns.
*I posted in this space a few weeks ago about former Clemson running back Mike Bellamy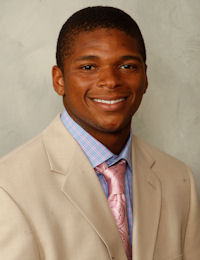 Mike Bellamy
Running Back
#5 5-10, 175
Nocatee, FL
View Full Profile and the fast start he got off to for Eastern Arizona College. However, he has cooled off over the past two weeks, and doesn't seem to be getting a ton of carries. He had four carries for 52 yards a week later, but had just one rush for minus-15 yards last week.
*Finally, one press box story, and it has to do with the Maryland game last season.
One of the first announcements you hear in every press box before every game is, "There will be no cheering in the press box." Now, that doesn't mean we can't be loud and appreciate a spectacular play, and sometimes you see someone who crosses the line.
However, I saw three guys who got absolutely giddy last year in College Park. One worked for a local newspaper [he was young], another worked for the school paper, and yet another guy worked for one of the Maryland websites.
As Maryland built their 18-point lead, you could see them trying to do subtle high-fives [if that's possible] and loving every minute of what they thought would be a huge Maryland win. The guy that worked for the newspaper actually called into his editorial section just before the half, grinning from ear to ear, and told them the headline to write [Terps shock Clemson in College Park rout], but told them he already had the game story written and would go ahead and file the lead with the action in the first half.
When he hung up the phone, he again high-fived his buddies, and they all discussed what their story angles would be and how they were going to cover the big win.
Now, I've been in their shoes before, and I've gotten burned. When I worked for the Greenville News, it seemed like every time I wrote a lead for a story at the half, I would have to change it. Heck, I even wrote a great lead when Clemson had the big lead over UNC at the ACC basketball tourney in 2011, and we know how that turned out.
But these guys were just beside themselves, and when the newspaper guy sat down beside me, I complimented him on his great headline. And then I told him that from what I had seen, he might not wanna count the ole chickens before they were hatched, because to that point Maryland hadn't really stopped the Clemson offense or Sammy Watkins
Sammy Watkins
So. Wide Receiver
#2 6-1, 205
Fort Myers, FL
View Full Profile .
He basically told me that there was no way Clemson could ever come back and win that game, and that he would eat the empty popcorn boxes in front of me if Maryland blew the lead. You see, Maryland doesn't serve a media meal like most schools, but they do serve popcorn, and the boxes are everywhere.
With every Clemson score, he and his buddies got more and more quiet, and when Andre Ellington
Andre Ellington
RS Sr. Running Back
#23 5-10, 195
Moncks Corner, SC
View Full Profile broke off that long TD run that basically sealed the contest, I gently nudged an empty popcorn box in his direction. Shockingly enough, he disappeared on me, and never showed back up in the press box after the postgame interviews.