| | |
| --- | --- |
| The reasons why Clemson won't reach 11 wins again in 2014 | |
---
| | | |
| --- | --- | --- |
| Monday, June 30, 2014, 1:22 PM | | |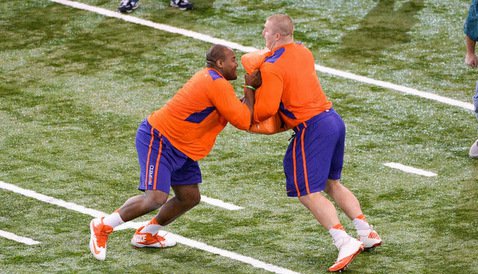 The Clemson football program achieved a first last season, winning 11 games in back-to-back seasons for the first time in school history. That stat is a tad misleading because the NCAA went to a 12-game schedule in 2006, giving programs one extra chance at a win.
However, the back-to-back 11 seasons are significant in that Clemson has had 11 wins or more in a season just five times in the school's history – the 1948 team under Frank Howard went 11-0 and won the Gator Bowl by beating Missouri; Charley Pell (10) and Danny Ford

Danny Ford
Former Head Coach
View Full Profile (1) combined to win 11 games in 1978 as Clemson defeated Ohio St. in the Gator Bowl; Ford's 1981 team went 12-0 and won the national championship; and Swinney has led the Tigers to consecutive 11-2 seasons and wins over LSU and Ohio St. in the bowl games.
Clemson didn't register its first 10-win season until 1987 when Ford's squad went 10-2, setting off a string of four consecutive 10-2 seasons. Three of those seasons were under Ford, and Ken Hatfield repeated the record in his first season in 1990. Overall, Clemson has had 10 seasons of 10 or more wins, and Swinney has three of those, winning 10 games during the ACC Championship season of 2011 and then 11 in 2012 and 2013.
Can the Tigers make it four consecutive seasons of 10 or 11 or even more wins in 2014? All good things must come to an end, and 2014 just may be that year that breaks the streak of consecutive double digit win season. Yes, the Tigers will have a great defensive line and have playmakers all over the field, but a front-loaded schedule and inexperience on offense could spell disaster.
Here are the reasons Clemson will have trouble making it three consecutive years of double digit wins.
*The big three. Clemson once again has Georgia, Florida St., and South Carolina on the schedule with the Bulldogs and Seminoles on the road during the first three weeks of the season. Georgia should be improved on defense with the addition of Jeremy Pruitt as defensive coordinator; Florida State could possibly be better than they were a year ago when the Noles won the national championship; and South Carolina has just had Clemson's number over the past few seasons, even when the Tigers have been the better team. To make it to 10 or 11 wins, Clemson will need to win at least one of these three and not slip up anywhere else during the season, which brings me to my next point….
*The schedule. Yes, Clemson still plays in the ACC, but with the rotation of ACC Coastal opponents and the addition of Louisville to the Atlantic division, the ACC portion of the Tigers schedule is a little more difficult in 2014. Clemson has a difficult three-game stretch to begin ACC play by traveling to Florida St., and then returning home for games with UNC and Louisville. Nobody really knows what we're going to see out of the Tar Heels, but the offense should be better with Marquise Williams at the helm and running back Elijah Hood. Louisville is also a relatively unknown, but Bobby Petrino still knows how to coach offense and the Cardinals' defense has added a lot of star power to its roster, accepting transfers from Georgia and the SEC. And, then there's always the dreaded trip to Georgia Tech that always seems to bring out the worst in Clemson.
*The lack of a known playmaker. Over the last three seasons, Swinney and his staff have entered the season with at least one known offensive playmaker – whether it be Nuk Hopkins, Sammy Watkins

Sammy Watkins
Wide Receiver (2011 - 2013)
#2 6-1, 205
Fort Myers, FL
View Full Profile , Andre Ellington

Andre Ellington
Running Back (2008 - 2012)
#23 5-10, 195
Moncks Corner, SC
View Full Profile or Tajh Boyd

Tajh Boyd
Quarterback (2009 - 2013)
#10 6-1, 225
Hampton, VA
View Full Profile – and for the first time the Tigers don't know who will be that big-time playmaker. Clemson has talent at every position. The wide receivers have a plethora of guys who can make plays, starting with Charone Peake

Charone Peake
RS Jr. Wide Receiver
#19 6-3, 200
Moore, SC
View Full Profile and Mike Williams

Mike Williams
So. Wide Receiver
#7 6-5, 205
Vance, SC
View Full Profile . Running backs coach Tony Elliott

Tony Elliott
Assistant Coach / Running Backs
View Full Profile has Wayne Gallman

Wayne Gallman
RS Fr. Running Back
#9 6-1, 195
Loganville, GA
View Full Profile , Zac Brooks

Zac Brooks
Jr. Running Back
#24 6-1, 185
Jonesboro, AR
View Full Profile , Tyshon Dye

Tyshon Dye
RS Fr. Running Back
#23 6-1, 205
Elberton, GA
View Full Profile and D.J. Howard

D.J. Howard
RS Sr. Running Back
#22 5-11, 195
Lincoln, AL
View Full Profile . Jordan Leggett

Jordan Leggett
So. Tight End
#16 6-6, 235
Navarre, FL
View Full Profile could be an All-American at tight end. But, who is going to step up and be the guy that makes the critical third-down catch to keep a drive alive? Who is going to be the guy that steps up in the endzone and makes the game-winning touchdown catch? We just don't know. If it was third-and-short over the past few seasons, everybody in the stadium knew Tajh Boyd was keeping the ball. Who will be that guy?
*Clemson lost a lot of talent last year and while everyone focuses on the loss of Watkins, Boyd, McDowell and Bryant, they forget about one of the biggest losses off the 2013 squad – Chandler Catanzaro

Chandler Catanzaro
Punter / Kicker (2009 - 2013)
#39 6-2, 195
Greenville, SC
View Full Profile . Catanzaro was 67-of-82 (81.7 percent) on field goals and 203-of-207 on extra points for 404 points in 53 games (52 starts) in his career making Clemson fans comfortable when he came on the field. He hit game-winning field goals against Wake Forest to clinch the ACC Atlantic title in 2011 and against LSU as time expired in the 2012 Chick-fil-A Bowl. Ammon Lakip

Ammon Lakip
RS Jr. Kicker
#36 5-10, 185
Alpharetta, GA
View Full Profile has been around the program for three years and will have the first opportunity to claim the starting kicker job. As a backup kicker, Lakip was 1-for-2 on field goals and 8-for-9 on extra points. Can he develop the consistency and confidence to hit big-time kicks on the road at Georgia and Florida St. during the first three weeks of the season?
*The offensive line. Yep. This group scares me. Over the last few seasons, the Tigers have had players like Dalton Freeman

Dalton Freeman
Center (2008 - 2012)
#55 6-5, 265
Pelion, SC
View Full Profile and Brandon Thomas

Brandon Thomas
Offensive Line (2009 - 2013)
#63 6-3, 305
Spartanburg, SC
View Full Profile anchoring the line, and they were All-ACC caliber players. Who is that stud lineman this season? Isaiah Battle

Isaiah Battle
Jr. Offensive Tackle
#79 6-6, 280
Brooklyn, NY
View Full Profile has the talent, but needs to prove it on the field. And an offensive line needs consistency, but Shaq Anthony

Shaq Anthony
RS Jr. Offensive Tackle
#76 6-3, 265
Williamston, SC
View Full Profile and David Beasley
David Beasley
RS Sr. Offensive Guard
#68 6-4, 315
Columbus, GA
View Full Profile – two players who will play a key roles this season – are out against Georgia. Will line coach Robbie Caldwell

Robbie Caldwell
Assistant Coach / Offensive Line
View Full Profile have to mix-and-match to find the five best all season? If so, it could be a long season on the line.

Tags: Clemson Football
,
Ammon Lakip
,
Andre Ellington
,
Brandon Thomas
,
Chandler Catanzaro
,
Charone Peake
,
D.J. Howard
,
Dalton Freeman
,
Danny Ford
,
David Beasley
,
Isaiah Battle
,
Jordan Leggett
,
Mike Williams
,
Robbie Caldwell
,
Sammy Watkins
,
Shaq Anthony
,
Tajh Boyd
,
Tony Elliott
,
Tyshon Dye
,
Wayne Gallman
,
Zac Brooks