| | |
| --- | --- |
| Swinney says Tigers won't lose focus on task at hand | |
---
| | | |
| --- | --- | --- |
| Sunday, October 23, 2011, 7:20 PM | | |
CLEMSON- Clemson head coach Dabo Swinney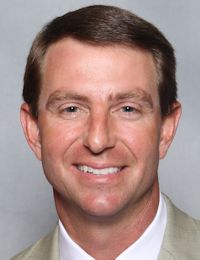 Dabo Swinney
Head Coach
View Full Profile is adamant that his team won't be caught up in all of the hoopla surrounding the Tigers' 8-0 start and No. 6 national ranking.
He even threw out a warning to media members during Sunday's teleconference, telling them in advance that he wouldn't answer any questions about the rankings or the BCS.
"We turn the page to Georgia Tech. It's a really good football team," Swinney said. "I hope nobody will ask me about polls. As I've said, just to save you from asking the question, it's a waste of time to answer that stuff. None of that matters if we don't take care of ourselves. Our focus is all on getting ready for Georgia Tech. We just have to find a way to get to 9-0."
Swinney said that he didn't pay too much attention to the late games played last night.
"I did get a chance to watch a couple of ballgames last night, but I don't allow myself to waste any brainpower worrying about that stuff," Swinney said. "There's just too much football to be played. Three or four weeks from now, we can look at some of those things. We have to win our division. That's what we've got to do. All that other stuff is not even worth thinking about. We've got too many things to do. We've got one thought and that's Georgia Tech."
Instead, Swinney preferred to talk about Clemson's 59-38 win over North Carolina Saturday and was pleased with the fact that many of his younger players saw game action.
"There were a lot of good things on the tape from this ballgame in all phases", Swinney said. "But also, there are a lot of things we have that we can improve on. We played a lot of guys. That was probably the best thing. There are a lot of guys who are making improvement in practice, but they have not played a lot. To get them in the game and coach off that tape will be beneficial for us.
Swinney also noted other positives from the game while also naming the players of game.
"I'm proud of our team," Swinney said. "We're only the fourth team in 115 years to be 8-0 here. To be a part of it is special. Offensively, Tajh and Nuk were our players of the game. We took advantage of some turnovers. We're spreading the ball around. Our quarterback is playing lights out. I'm not 100-percent sure but we have snapped the ball more than any team in the country or we're right there at it. I think that's helped us in the second half as we've worn some people down. We had just enough running here and there to keep them honest yesterday.
"Defensively, we obviously made a few mistakes, but they scored 17 points on our first team defense and they got none in the second half. 21 of the points were on the kickoff return, the fumble down there and the long pass in the fourth quarter on our backups. The story in the game was turnovers. We scored twice defensively. And we stopped the run. This was a team that could run the ball. And we got off the field on third down. Overall this was a really good win."
*On playing Georgia Tech and the rivalry
"I don't think about it at all. I started looking at the tape today. We've had some battles and that's a rivalry game. That has nothing to do with this team. A lot of guys weren't here in 2008 and then in 2009. Several were here. But they were here last year when we won. It's about his team and how we prepare this week and how we execute. The one that makes the fewest mistakes is the one that usually wins in this game."
*On the play of the reserves Saturday
"Offensively it was good to see D.J. Howard
D.J. Howard
RS Fr. Running Back
#22 5-11, 195
Lincoln, AL
View Full Profile back in there. We got some of those young offensive linemen in there. Those guys did some positive things. Cole didn't have much of an opportunity. DeShawn Williams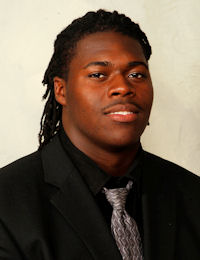 DeShawn Williams
Fr. Defensive Tackle
#99 6-1, 290
Central, SC
View Full Profile kind of gets the big picture and understands what it's all about. He's caught my eye. And some young guys got in there and that helped. I thought Justin Parker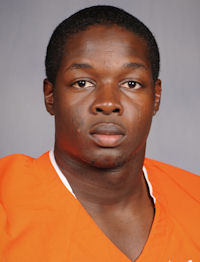 Justin Parker
So. Linebacker
#8 6-1, 225
Port Royal, SC
View Full Profile did a good job at SAM. Corey Crawford
Corey Crawford
Fr. Defensive End
#93 6-5, 280
Columbus, GA
View Full Profile has played but he got some significant snaps. There were several guys."
*On the play of Martavis Bryant
Martavis Bryant
Fr. Wide Receiver
#1 6-5, 205
Calhoun Falls, SC
View Full Profile
"He's done really well. We knew that he'd get better as the season went. Physically, he was ready to go at the beginning of the year, but he had a lot to learn about the position and the system. As he has gotten more reps in practice, he has really improved. And he is a very talented player, as talented as anybody we have. As he puts the whole package together, he'll be a good weapon for us. He's a little bit like Nuk last year from a mental standpoint."
*On Joe Craig
Joe Craig
RS Fr. Wide Receiver
#81 5-10, 160
Gaffney, SC
View Full Profile who was suspended for Saturday's game for a violation of team rules
"He'll be back Monday. Just team discipline. It's disappointing. He'll hopefully learn from it and get better. That's really about all there is to it. Nothing other than that."