| | |
| --- | --- |
| Swinney says Stoudt "brings everything to the offense that we need to win" | |
---
| | | |
| --- | --- | --- |
| Sunday, November 16, 2014, 6:56 PM | | |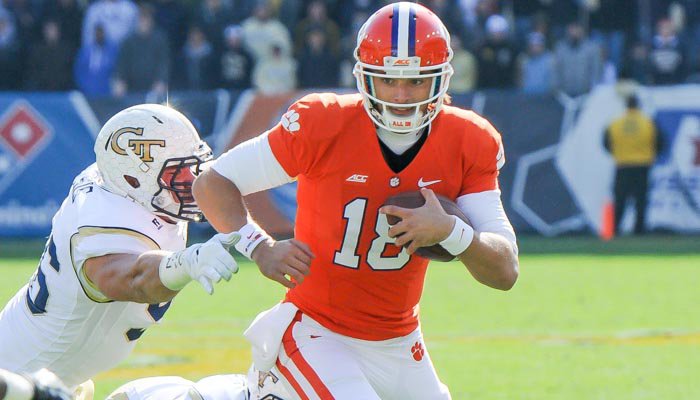 CLEMSON – Clemson head coach Dabo Swinney

Dabo Swinney
Head Coach
View Full Profile talked to media Sunday evening on his weekly teleconference, and he reiterated what he and offensive coordinator Chad Morris

Chad Morris
Offensive Coordinator / QBs
View Full Profile said in the aftermath of Clemson's loss to Georgia Tech Saturday – no starter for next week's game against Georgia St. has been named or will be named, but he thinks that senior Cole Stoudt

Cole Stoudt
Sr. Quarterback
#18 6-4, 231
Dublin, OH
View Full Profile still has everything it takes to lead the Tigers to victory.
Swinney said that the coaches plan is to challenge Stoudt this week.
"Not going to name a starter today. Probably won't name one the next two days," Swinney said. "We'll go back to work and see. Obviously Cole played really poor. No way to sugarcoat that. But he has played well. He was player of the game for us against Wake. He has proven he can win. That was a tough day yesterday. He can play better. We'll challenge him and see how he responds. We have to figure out who can take care of the ball for us. If we don't, it's not fair to our defense. We'll get back to work tomorrow. We'll decide on who starts and go from there. I would imagine both will play."
When asked what third-stringer Nick Schuessler

Nick Schuessler
RS So. Quarterback
#12 6-3, 195
Grayson, GA
View Full Profile could bring to the offense, Swinney defended Stoudt and said that the senior brings everything that Clemson needs to win.
"I think Cole brings everything to the offense that we need to win, but he's got to perform like he's capable of. He played well the last three years," Swinney said. "He came out of the gate and played well early in the season. I just think the competition and losing the job and the injury we have to get his confidence back. He can do everything we need him to do to win. We have video evidence of that. As far as Nick, he doesn't have a lot of experience. He missed a protection and didn't check it like he needed to, but he did play smart and within the system and took what was there. We just have to play within the system. Whomever is out there has to take care of the ball. We'll evaluate and make a decision and put a good plan together."
Stoudt has battled a sore shoulder, but said that right now it's more an issue of confidence and threw some of the blame on the people who constantly poormouth Stoudt.
"I think it's more confidence. It's a tough world we live in right now," he said. "It's tough on these young people. They're people. Back in the day someone might write a bad article and you never saw it. Now, they live in a world where they are surrounded by things. That's just the reality of it. My heart hurts for him. He is a better player than what he played yesterday and he knows that. It's just one of those days. We all have bad days. He had a rough day. Bottom line. It's our job to have him ready to go. The critical errors were just hard for us to overcome. Just weren't good enough to get it done."
He then said that nothing has changed in the offense since Stoudt played well in August and the coaches have to figure out how to get his confidence back.
"We're doing the same things. We put our plan in over the spring for what we do," he said. "We might call a few more things with Deshaun, but it's the same offense. We just have to get his confidence back. Bottom line. He has led us and he has won for us. And he can win again. That one is over with. We will challenge and correct, but it's over. We have to move on. At the end of the day we have a chance to have a great finish. It's amazing what a week or two can do. We know we are good enough to win. Hopefully we can finish the right way."
Stoudt threw three interceptions – two of which were returned for touchdowns – and Swinney chalked it up to a bad day with poor execution.
"He just didn't execute well fundamentally, technically. Didn't make good decisions with some simple fundamental things. Bad day," he said. "Disappointing but he's human. Everybody makes mistakes. It's unfortunate it's in front of the whole world to see. Ultimately it comes back on coaching. We have to have him ready and get it out of him because he is a much better player than what he was yesterday. He was much better against Wake. It really caught up with us with the turnovers."
Other notes
On loss at Tech
"Obviously pretty much a train wreck yesterday in Atlanta. Very disappointed to say the least. Defensively we made some mistakes but really played well enough to win. They were scoring 38 points a game and it's been a long time since they hadn't had a rushing touchdown. I wasn't pleased with how our two corners played on third and long. We gave up some big plays but we rallied and held them to field goals and that was huge for us. We created two turnovers. Really pleased with Dorian O'Daniel

Dorian O'Daniel
RS Fr. Linebacker
#6 6-1, 217
Olney, MD
View Full Profile and B.J. Goodson

B.J. Goodson
RS Jr. Linebacker
#44 6-1, 240
Lamar, SC
View Full Profile . They were our co-players of the game. Probably the biggest thing defensively is that they played to the end despite the frustration and the situation. They played with great effort and I was proud of that.
"Offensively, again, really poor. Disappointing because we felt we were off to a great start. Deshaun, when he went out we had 77 yards to their 10. The play he went out on he was going to score. It's going to be 10-0 and we're right on schedule, but the game of football sometimes will throw you some curve balls and we didn't hit the curve ball. Bottom line. When you score more points for the other team than you do for yourself, it'll be a long day. We've been living on the edge the last few weeks by losing the turnover margin.
"We have some adversity we have to fight through, but at the end of the day I'm proud to be a Clemson Tiger. We'll be part of the problem or the solution. We'll challenge our guys. We certainly have caught some tough breaks offensively and it's been at every position. That's frustrating, but we don't make excuses. What we have is good enough to win. And we have won. But our focus is trying to learn from yesterday and pick ourselves back up and respond the way the program should respond and that's with a strong finish, earn a good bowl game and send seniors out the right way."
Injury update
"I have not gotten any confirmation on the MRI. I hope to get something any moment to be honest with you. Still waiting to get confirmation on Deshaun and the David Beasley

David Beasley
RS Sr. Offensive Guard
#68 6-4, 323
Columbus, GA
View Full Profile injury. As soon as I know something, I'll let you know. It's knees on both of them. We're not sure what the actual injury is right now."
Why the offense looks different under Watson
"He's a great player. He proved that on the field. It's one of those things coming into the season where he won it on the field. He took us to another level. He's just a great player. He's a very smart player. He prepares very well and has a great understanding of what we do. He has great instincts. Bottom line. Unfortunate it's worked out the way it has. Kind of new territory. We haven't had quarterbacks get hurt around here. Kyle played every game. Tajh never missed a game. Deshaun wasn't injured in high school. He was the guy for four years. He's just had some tough breaks up here. At the end of the day that's why you play them all and you try to have the best possible finish you can. There are a lot of programs out there that have their own set of problems. We've still been able to find ways to win up until yesterday. We just couldn't overcome it yesterday."
On the morale of Deshaun
"His knee is a serious injury. I wouldn't call the other injuries serious. He's been slinging the ball for the last couple of weeks. It was just a small bone in his finger. He's a guy who's been healthy forever, but sometimes you have a stretch like this and you keep pushing forward. Look around the world of football and guys get hurt. When you do, pick yourself up and come back better than ever. Hopefully this won't be the norm and he'll come back next year if he's out the rest of this year and have a great, healthy season. Look at Tony Steward

Tony Steward
Sr. Linebacker
#7 6-1, 236
Hastings, FL
View Full Profile . He has had a great year. His last two years he has been able to stay healthy for us."