| | |
| --- | --- |
| Swinney says Saturday about more than just football | |
---
| | | |
| --- | --- | --- |
| Tuesday, November 17, 2015, 1:50 PM | | |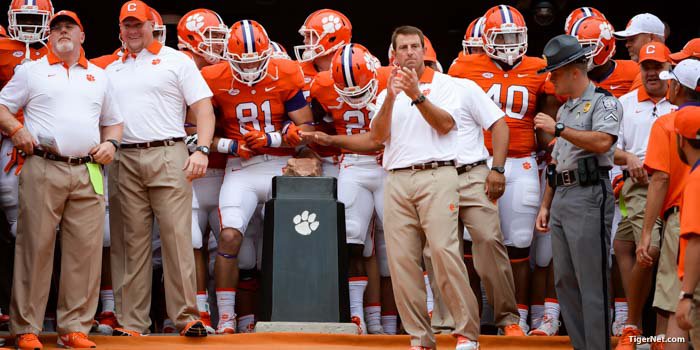 CLEMSON – Saturday's home game against Wake Forest has more than one storyline, something that head coach Dabo Swinney was quick to point out Tuesday.
It's the last home game of the season, the final regular season ACC game, Military Appreciation Day and Senior Day. The Tigers are also pointed towards a berth in the College Football Playoff and ending a stretch of three games out of the last four on the road.
Top-ranked Clemson (10-0, 7-0 ACC) hosts Wake Forest (3-7, 1-5) at 3:30 p.m. Saturday afternoon in Death Valley.
"Getting back home is something we've been looking forward to. It's a special time. No one does Military Appreciation Day better than Clemson," Swinney said during his Tuesday press conference in the WestZone. "I was reading in our notes that Tim Bourret gives us that the entire freshman class in World War I enlisted. That's just amazing the amount of servicemen we've had from Clemson University. There is just a deep, rich heritage here from a military standpoint. I think our fans get that. It really is a celebration and we play in Memorial Stadium and it is a great day to honor all those who fought for this country and served our country.
"It's also our seniors' last game. I remember my last high school game like it was yesterday. I won't ever forget walking off the field. There is a finality to it. You have to move on to the next thing. It's the same with these guys at this level. Some will have an opportunity to play on the next level, most won't. It's always a special time. And this is a group that left a legacy. They're going for their 43rd win on their senior day which would make them the winningest class ever. They can set a new standard for the next group. It's a chance for a 700th win in our program's history. Wow. That's a lot of wins and a lot of people who have come before us."
The Demon Deacons haven't had a ton of success on offense this season, ranking 112th nationally in total offense.
"Wake Forest is young offensively. They have 18 freshmen and sophomores listed in their two-deep offensively," Swinney said. "They're going to play two quarterbacks. Both have been effective. We don't know which one will start. They're going to play three freshmen wideouts who are raw but have great ball skills. They have improved. They have gotten better as the year has gone on. I think they're really good inside. They're veteran guys, good football players. To me it looks like they're the leaders. They have been battle-tested."
On the flip side, the Deacons are ranked 23rd nationally in total defense.
"Defensively they're totally different. They're a bunch of veterans," he said. "They're top 20 in the country in five different categories defensively. They held Notre Dame to under 300 total yards at Notre Dame. They really did a good job there. This is a big challenge for our offense. These guys are incredibly well-coached. They've got a very good scheme and know what they're doing. They do a nice job with their pressure package and zone-stoppers. They do a good job of attacking protections. It's a big challenge for us to be on the same page. I didn't think we played very well against them last year. We had some big plays but missed some plays too. It was a tough, hard-fought game. I have a lot of respect for what they have done defensively."
Swinney then reminded the media that Clemson is still alive for a spot in the College Football Playoff.
"The biggest thing for us is at the end of the day we have 18 days left to punch a ticket to the college football playoff. You talk about a fun time," Swinney said. "It's something at this point in the season where you have to embrace it and smell it. You work all year long. Man, we've got to maximize each day. We have to have a great day today. Let's have the best Tuesday we've had all year. We need to play a great game at home this week. When you have 18 days, you cannot afford to waste a day. We need to put the hammer down and put our best foot forward every day. We need to accelerate through the finish line, not cruise. That's where we are right now."
Swinney added that the coaches have talked to the players about what's at stake.
"Absolutely. Let's know where we are," he said. "Big picture, let's get dialed in on right now, this moment. The finish line is there. We can see it. We're here. Each day now is a step. If there are 18 days left, we can't waste a meeting or a practice or anything. We have to have a sense of urgency every single day. We're on our 11th game. Our regular season is over next Saturday, then it's the postseason. We're right here. Let's reset and have the best Tuesday we've had all year. It's a daily focus but understanding the opportunity that we have."
Being at the top of the rankings is something he thinks his team embraces.
"I don't think they've been uncomfortable," he said. "They expect to be one of the better teams in the country. They have expected to win every week and they have won every week. I just think now the finish line is within sight. It's right there and we're going to be judged by how we finish. They won't judge us by being 10-0. Let's embrace it and go get it."
OTHER NOTES
"He was going today to get his MRI results, actually. He looked good. We didn't practice him last night. He was getting with our guys today and we're getting the results back today."
Anybody besides Zac Brooks who might be playing their last game?
"He is graduating in December. The only other one is Travis Blanks, though he hasn't made up his mind yet. He's graduating in December. They don't owe us a fifth year and we don't owe them a fifth year. The goal for all of these guys, my big thing is, is graduating. Deshaun Watson is set to graduate in December of next year actually. We always embrace our guys that way. T.J. Burrell and Martin Aiken are going to graduate in May. That's really about it. Sometimes guys come to you and say they're ready to move on. My thing is, I just want them to graduate. That's my No. 1 goal in this program - to graduate our players. 120 seniors and 114 graduates, we've done a good job with that. We have a few guys who left early that still owe me two years, and I'm going to chase them to the ends of the earth to make sure they get it done because they're going to need it. Whether a guy is a fifth year guy or fourth year? I don't care. I just want them to graduate."
Deshaun Watson and the Heisman
"I don't have to vouch for Deshaun. Just watch the tape. He vouches for himself. I tell our players their voice is how they play. That's how they make their statement. That's all that needs to be said. Deshaun, as I've said, is the best quarterback in the country and is working his way to maybe being the best player in the country. That is my opinion. Everyone has an opinion, but that's my opinion. I love him and wouldn't trade him for anybody. He has led this team and has grown into this leadership role. I love the fire he has in his gut right now. He is so humble and so unselfish. He's one of the easiest guys I've ever been around day in and day out. You won't talk yourself into awards. Don't talk about it. Be about it. That's what I try to tell our guys. Just keep playing. If he's good enough to get it done, he'll get it done. If he's not, he won't. I love him. He doesn't need to win the Heisman for me to love him. I love him. I'll take him anyway."
Concern about the defense?
"We're like top 20 in every category. We've given up some big plays. Now first of all, give the opponent credit. Last week we had 48 snaps and they got 80 yards. That's pretty dominant, but they got 243 yards on seven snaps. Three of those were 100 percent on coaching. We just didn't give them a chance to be successful. Four of them, we didn't execute. They also blocked us and made some competitive plays. We're 10-0 because we've played great on defense all year."
Status of Mike Williams
"I'm not the judge and the jury here. I don't have anything to do with that. You need to talk to God about that. They just give me a report on who can play and that is who we get ready to play. I don't get involved in all that. If they ever tell me he can play, hey it would be great. I don't make those decisions.
"You have to ask the doctors. I really don't know. As I've said about five times, my personal opinions is that I don't think he will be back. That's just an opinion. I don't know. I've also said in Mike's mind, he's playing in the national championship game and that's ok. That's the mentality of a competitor. I don't have a clue. I know he's doing great. They're getting ready to take him out of his soft thing (brace) and they have cut him loose to start running and doing things like that. Someone would have to sign off in blood that he's okay before I'd put him back out there. I wouldn't tell him no. Somebody would have to come to me and say this kid is 100-percent fine to play. You want to make sure. He's got so much football left in front of him. We can win without Mike Williams. We don't have to have Mike Williams here to win. We are 10-0 without him. It's not like if we don't get Mike Williams back, we can't go win a championship. We've got some pretty good players."
Wayne Gallman and Tyrone Crowder
"We'll do what we have to do to win. If they're available to play, they'll play. We have guys who can help us win who haven't yet had opportunities because of people in front of them. Everyone's opportunity comes at different stages. If Wayne doesn't play, we have four backs that can win against anybody. We're very confident. Maverick Morris hasn't played a ton but he's ready to go and we have confidence in him. Same thing with Mackensie. If he's not ready to go, we'll get Adrian Baker out there, Marcus Edmond and Mark Fields.
How did Mitch Hyatt look in practice?
"Good. He is ready to roll. Didn't miss a snap."
Feeling pressure?
"I just laugh at that stuff. I understand the question. I'm not being rude. My best friend P.J. Tessman, who I grew up with, I get on the phone with him last night and his mom, "Sweet Mama" that is what we call her, she just goes to the doctor and finds out she has got very advanced lung cancer. They don't really know what they are going to be able to do. His job just kind of shut down so now he is looking for a new job. That's pressure. Do I feel pressure about a football game? No man. Turn the TV on. You got 150 people slaughtered in Paris. You got problems in this world. Football is not pressure. This is a game. That's the message I try to instill in our players all the time.
"First of all enjoy the moment. This is a brief, brief moment in your life to play a game that your body is not going to allow you to play forever even if you go to the NFL. Enjoy this brief moment of the relationships you have and just your time at Clemson. But also understand through this game you have a chance to bring some joy to people who really have pressure in their life, who really have problems. What kind of pressure do I have? Give me a break. I love what I do and it's important, but when you have the cross as the foundation of your life, football ain't going to bring no pressure. I promise you that. Absolutely zero. That's why it is fun. This is a game. It's fun. People lose total perspective out there a lot of times."

Tags: Clemson Football
,
Dabo Swinney
,
Travis Blanks
,
Zac Brooks
,
T.J. Burrell
,
Martin Aiken
,
Mike Williams
,
Wayne Gallman
,
Marcus Edmond
,
Tyrone Crowder
,
Mackensie Alexander
,
Adrian Baker
,
Maverick Morris
,
Deshaun Watson
,
Mark Fields
,
Mitch Hyatt