| | |
| --- | --- |
| Swinney says Choice will play this season, discusses Shaq Anthony transfer | |
---
| | | |
| --- | --- | --- |
| Thursday, August 21, 2014, 8:53 PM | | |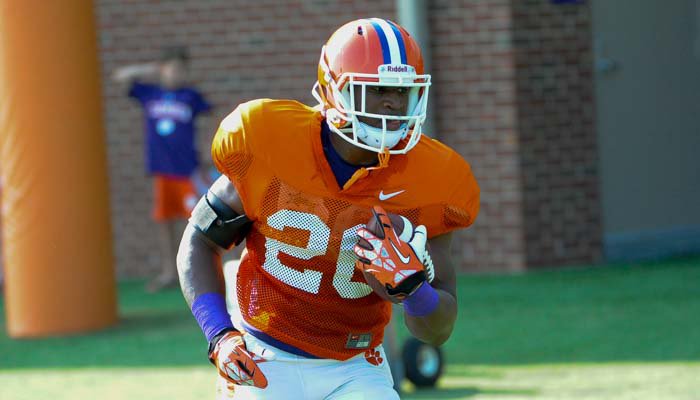 CLEMSON – The Clemson football held the annual Beanie Bowl Thursday afternoon, with part of the scrimmage moved from Death Valley to the indoor practice facility because of the threat of severe weather.
The Beanie Bowl is used to simulate a home game – including game uniforms and bussing around the stadium and running down the hill – as the coaches iron out the last few wrinkles before the start of the regular season.
"I am glad to get that behind us. It is that little rite of passage going into the season," head coach Dabo Swinney

Dabo Swinney
Head Coach
View Full Profile said after the scrimmage. "Lot of situations, lot of things that may never happen but you know you really need to focus. Second year in a row we had to start over here and move over to the indoor, so the indoor came through for us. I am anxious to get to game week on Monday."
The hot topic was the news that running back Zac Brooks

Zac Brooks
Jr. Running Back
#24 6-1, 199
Jonesboro, AR
View Full Profile will miss the season with a foot injury, and Swinney said the injury was similar to what former running back Andre Ellington

Andre Ellington
Running Back (2008 - 2012)
#23 5-10, 195
Moncks Corner, SC
View Full Profile experienced.
"Obviously a huge disappointment, really for him. He was one of those guys you could just see was ready to have a great year," Swinney said. "You could just see it and he had an excellent camp and great summer. You just hate it for him. It was a freak deal, and he kinda came down on Vic's (Beasley) foot the wrong way. A similar injury to what (Andre) Ellington had, just not as severe. Ellington kind of shattered his ligament and Zac just has a little tear but you still have to fix it.
"I know he was going to have a great year, but there is a positive in everything. The positive is that he hasn't been redshirted. I wish we could have redshirted him from the get-go but we had to have him ready. So he will get that year back, and it's good to know I have a guy like Zac Brooks - a player and a person like Zac Brooks - around here a couple of more years. He will be a junior next year and he is destined for some great things."
The loss of Brooks leaves the Tigers with running backs D.J. Howard

D.J. Howard
RS Sr. Running Back
#22 6-0, 205
Lincoln, AL
View Full Profile , C.J. Davidson

C.J. Davidson
RS Jr. Running Back
#32 5-10, 203
Clemson, SC
View Full Profile and Wayne Gallman

Wayne Gallman
RS Fr. Running Back
#9 6-1, 209
Loganville, GA
View Full Profile and means that freshman Adam Choice

Adam Choice
Fr. Running Back
#26 5-10, 211
Thomasville, GA
View Full Profile will play this season.
"Adam will play. He will play. We have to get him ready, and we will give the green light on him," Swinney said. "We only have three backs - so you are sitting there with C.J. and D.J. and Gallman who really like, but it's hard to make it through the season with three backs. And Tyshon (Dye), we hope to get him back at some point. But when he does come back he will really have to get himself going. But Choice has had a great camp. He is probably one of the most natural runners and one of the best we have signed here in a long time. He runs low to the ground. He is physically ready - still mentally have to grow him up some, but because of the situation we now have we will grow him up some and get him plenty of reps and get him ready to go."
However, Choice will have to work on his pass protection.
"Pass protection is a whole new deal for him. He played quarterback, so he hasn't done a whole lot of pass protection," Swinney said. "Might be the best runner with a ball in his hands, but there is more to being a running back than carrying the football."
OTHER NOTES
Shaq Anthony

Shaq Anthony
RS Jr. Offensive Tackle
#76 6-4, 276
Williamston, SC
View Full Profile leaving the program
"It is what it is. I support his decision. He has done a good job for us since he's been here. Sometimes guys need a change. Sometimes they need a little more than maybe what is here. We wish him well and we will move on. I support his decision and we will keep rolling. But I like the guys we have."
On Cole not being overwhelmed at Georgia
"I'd be surprised. He's prepared very well. When you've prepared well, you just go perform and execute. I don't expect him to be perfect or anything like that, but as far as being overwhelmed in the moment that would shock me."
On depth at tackle
"It is what it is. You've got some unknown things that happen from time to time. It would be nice if we had Giff [Timothy]. [Patrick] DeStefano - he's in street clothes now, it'd be nice if we had him. Shaq moves on. I think we've addressed that in our recruiting. We're really excited about what Joe Gore

Joe Gore
RS Jr. Offensive Tackle
#73 6-5, 283
Lake Waccamaw, NC
View Full Profile has done and Isaiah Battle

Isaiah Battle
Jr. Offensive Tackle
#79 6-7, 285
Brooklyn, NY
View Full Profile . Maverick Morris

Maverick Morris
RS Fr. Offensive Line
#69 6-4, 291
Broxton, GA
View Full Profile is a young, promising prospect. Eric Mac Lain

Eric Mac Lain
RS Jr. Offensive Tackle
#78 6-4, 306
Hope Mills, NC
View Full Profile has shown that we can count on him. Kalon Davis

Kalon Davis
RS Sr. Offensive Guard
#67 6-5, 340
Chester, SC
View Full Profile has played left and right tackle since the spring and has done a nice job. Reid Webster

Reid Webster
RS Sr. Offensive Tackle
#77 6-3, 300
Woodstock, GA
View Full Profile has played all five position and has probably had as good of a camp as anybody that we've had up front - just very consistent. He'll be a guy that will also be in the mix. We have good people that will be in the mix. We don't have any excuses and we're not making none. We're going to get five ready and go play."
On Chris Register

Chris Register
Fr. Outside Linebacker
#45 6-4, 242
Greensboro, NC
View Full Profile
"He's done good. He's like Ebo was last year. He's not quite there yet. He's one of those guys that we'll probably put in power hour and grow him up if we don't have any significant injuries. It would be nice to throw a guy like that down there with Joey Batson for the fall because he's going to be a really good one for us."
On Zac Brooks' mindset
"Zac, that depends on the individual. Zac is a very mature young man. He's wired the right way. He thinks the right way and he's got a great attitude. Yeah, he's disappointed, but he understands that things happen for whatever reason and he sees the positive in that he's going to get his year back and still have two years. It's something that he can come back from and be just fine."
On Deshaun Watson

Deshaun Watson
Fr. Quarterback
#4 6-3, 204
Gainesville, GA
View Full Profile playing
"He's had a great camp. We won't hesitate to put him in there."

Tags: Clemson Football
,
Andre Ellington
,
Shaq Anthony
,
Kalon Davis
,
D.J. Howard
,
Reid Webster
,
Joe Gore
,
Eric Mac Lain
,
Isaiah Battle
,
Zac Brooks
,
Wayne Gallman
,
Maverick Morris
,
C.J. Davidson
,
Deshaun Watson
,
Chris Register
,
Adam Choice