| | |
| --- | --- |
| Swinney on Florida rumors: "I love Clemson and I love my job" | |
---
| | | |
| --- | --- | --- |
| Wednesday, November 19, 2014, 7:06 PM | | |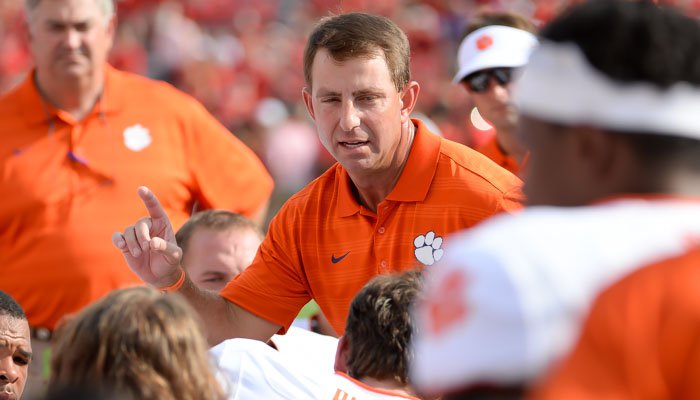 CLEMSON – Clemson head coach Dabo Swinney looked genuinely stunned and dumbfounded following Wednesday's practice when he was asked about an internet report that stated he had an interest in the head coaching vacancy at Florida.
Swinney was asked about the report by one of the media members present, and his immediate response was a shake of the head and then, "What report was that?"
Swinney then intimated that Florida hasn't even had contact.
"Nobody has talked to me to get a report," Swinney said. "We are not going to even acknowledge that kind of stuff. Ya'll know I love Clemson. I love my job. I love my players. Me and my assistant coaches are trying to finish a great season, that's what we are trying to do...have a great finish and try to put together hopefully the best recruiting class we have ever had. We will see how it [recruiting] all pans out but that is where our focus is. Great finish, great bowl game, great recruiting class and building Clemson into a college football playoff team so we can get where we want to be. That is our biggest focus."
He then went on to say his love of Clemson is why he recently signed a long-term contract.
"Our focus is on playing this game. Again the more you sit around and talk about all the kind of stuff the more of a distraction it is," he said. "I LOVE my job. I just signed a long contract because of that. This is a place that is special to me and I've invested a lot here. My focus is 100% on winning here and winning at the highest level.
*I spoke with a source close to Swinney after practice, and he laughed at the suggestion Swinney would be interested in Florida. He said that with Deshaun Watson

Deshaun Watson
Fr. Quarterback
#4 6-3, 204
Gainesville, GA
View Full Profile coming back next season, a highly-rated recruiting class coming in and the momentum building in the program that Swinney has told his staff he wouldn't go anywhere. He also mentioned Swinney's family situation – his three sons are heavily involved in school in the area – and said there was "absolutely no basis" to that report.
On David Beasley

David Beasley
RS Sr. Offensive Guard
#68 6-4, 323
Columbus, GA
View Full Profile 's availability this weekend
"He wants to play. We'll see how it is. I don't know how much we'll play him but he wants to play. It's one of those things that he's gotten better and better and better. We'll see how he is on Saturday and what kind of juice he's got going, which will determine how much he plays. We need our best guys out there because we really need to get that confidence, chemistry and continuity where we need it to be."
Deshaun Watson update
"Watson is doing all of the underwater treadmill stuff from a running standpoint and he's doing some rehab stuff out here. Most of his running right now is on the treadmill. We're trying not to put a ton of stress on him right now. "
On Cole Stoudt

Cole Stoudt
Sr. Quarterback
#18 6-4, 231
Dublin, OH
View Full Profile
"He has had a good week, just like I knew he would. He was back at work and I think he will play a great game Saturday."
On if Cole's mental edge wasn't sharp with the return of Watson
"I think that can be a natural thing for young people. You've won four games and are offensive MVP and feeling pretty good. But that's the nature at any level, the starter come backs and you have to be ready to go. He didn't have a good game Saturday and we are going to play better. Everybody has to do their part. It's not just one player - everybody has to play better."