| | |
| --- | --- |
| Swinney likes the toughness of his football team | |
---
| | | |
| --- | --- | --- |
| Thursday, August 25, 2011, 8:39 PM | | |
AUDIO: Dabo Swinney after practice audio
CLEMSON, SC – With kickoff against the Troy Trojans less than nine days away, Clemson Head Coach Dabo Swinney came off the practice fields Thursday feeling pretty good about the shape of his football team and the level of toughness he feels they will bring to game days on Saturdays.
"We have come a long way in two years, and it is a process, but we are a much tougher football team. There is no doubt about it," Swinney said following practice. "We watched our guys play and compete for 60 minutes the first year and even last year we lined up and competed our butts off."
Swinney says the way his team handled the adversity from last year and still went out and practiced hard and competed each and every week was a sign of a team that was getting tough. He said they continued to practice the right way and worked hard in the summer when no one was watching.
"We have grown in that area a ton, but we are still not where we need to be," he said. "We are not as nasty as we need to be yet, but, again, some of that is recruiting and getting the culture the way you want it. But, we have made a lot of progress."
Everything Clemson does from a preparation standpoint, to practice, to game days is about developing toughness both mentally and physically.
"We are not out there just banging into each other," Swinney said. "The mental side is just as important."
For example, toughness can be measured in several ways during the course of a football game, whether it is coming off the one-yard line, third-and-one, goal line or faced with having to make a difficult decision when nobody is looking.
"You have to have the toughness to do what is right. It is all of those things," Swinney said.
Chad Diehl
Chad Diehl
RS Sr. Fullback
#30 6-2, 265
Lyman, SC
View Full Profile , Tajh Boyd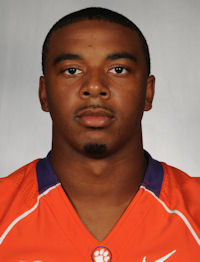 Tajh Boyd
RS So. Quarterback
#10 6-1, 230
Hampton, VA
View Full Profile , DeAndre Hopkins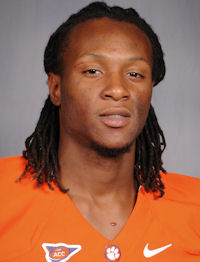 DeAndre Hopkins
So. Wide Receiver
#6 6-1, 195
Central, SC
View Full Profile , Jonathan Meeks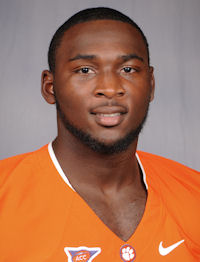 Jonathan Meeks
Jr. Safety
#5 6-1, 205
Rock Hill, SC
View Full Profile , Rashard Hall
Rashard Hall
RS Jr. Safety
#31 6-2, 200
St. Augustine, FL
View Full Profile , Corico Hawkins
Corico Hawkins
Jr. Linebacker
#42 5-11, 230
Milledgeville, GA
View Full Profile , Jonathan Willard
Jonathan Willard
RS So. Linebacker
#46 6-2, 220
Loris, SC
View Full Profile , Quandon Christian
Quandon Christian
RS So. Linebacker
#34 6-3, 215
Lake View, SC
View Full Profile , Andre Branch
Andre Branch
RS Sr. Defensive End
#40 6-5, 260
Richmond, VA
View Full Profile and Brandon Thompson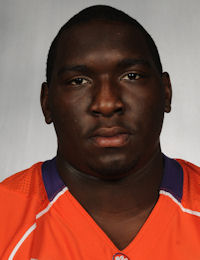 Brandon Thompson
Sr. Defensive Tackle
#98 6-2, 310
Thomasville, GA
View Full Profile were just a few of the names Swinney threw out as guys who he considers to be tough.
"I can call the roster for you," he said. "We have a bunch of tough guys on this team."
As far as practice goes, the Tigers concentration on Thursday was 100 percent on Troy, which comes into Death Valley on September 3 for a 3:30 p.m. kickoff.
"Since we did not have a practice yesterday, it gave us (coaches) an opportunity to go back and look at (Troy) and review the initial thoughts we had about them," Swinney said. "We had a good practice today, and tomorrow will be a mock game against Troy. It is an all Troy practice, but it will be game situations, substitutions and those kinds of things.
"We have a lot to teach these guys. We have a bunch of guys that don't know anything about game day."
One of those guys was a freshman who asked one of the veteran players, "What time do we have to show up at the game on Saturday?"
For the record, the Clemson team busses out of Tigertown on Friday afternoon during home games and stays at a hotel in another nearby city before bussing back to Clemson on Saturday.
"That's what we are dealing with," Swinney said. "They just really don't know, so we have a lot of things to teach them and go over."
Two guys he will be teaching are freshmen linebackers Stephone Anthony
Stephone Anthony
Fr. Linebacker
#12 6-2, 220
Wadesboro, NC
View Full Profile and Tony Steward
Tony Steward
Fr. Linebacker
#7 6-2, 225
Hastings, FL
View Full Profile . Swinney says both will be playing in next Saturday's game. He said they will try to hold off on fellow freshmen linebackers Lateek Townsend
Lateek Townsend
Fr. Linebacker
#20 6-2, 197
Bennettsville, SC
View Full Profile and Colton Walls
Colton Walls
Fr. Linebacker
#48 6-2, 230
Charlotte, NC
View Full Profile .
The Tigers' annual Beanie Bowl will begin at 3:30 p.m. at Death Valley, and only Clemson students are invited to watch.

Tags: Clemson Football
,
Andre Branch
,
Brandon Thompson
,
Chad Diehl
,
Colton Walls
,
DeAndre Hopkins
,
Jonathan Meeks
,
Jonathan Willard
,
Lateek Townsend
,
Quandon Christian
,
Rashard Hall
,
Stephone Anthony
,
Tajh Boyd
,
Tony Steward