| | |
| --- | --- |
| Swinney covers secondary struggles, depth chart and position changes | |
---
| | | |
| --- | --- | --- |
| Wednesday, March 11, 2015, 6:43 PM | | |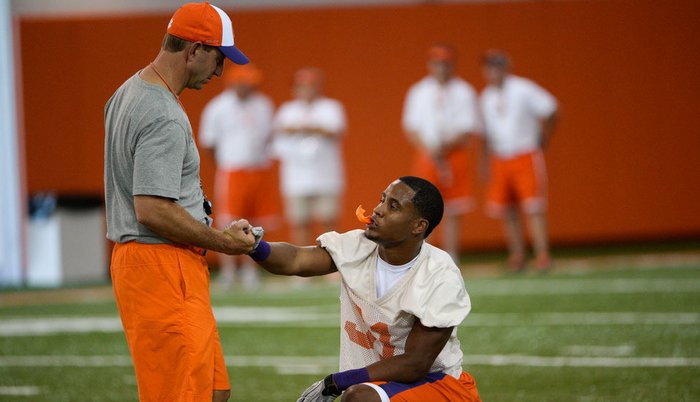 CLEMSON – The Clemson football team wrapped up practice number six Wednesday afternoon, the last practice before the team halts practice for spring break.
Clemson head coach Dabo Swinney

Dabo Swinney
Head Coach
View Full Profile covered a lot of ground, including a position change, the depth chart and the struggles of the secondary. The following is an edited transcript:
Opening statement
"We have 6 under our belt. You got one more practice that has to be in shorts, which is what we use for summer organization and splitting the teams up. And then you have the spring game. So basically, you got seven practices where the whole team is together. I was just telling them that we've got a lot to do and everybody has got to get better. The key is that we have meetings tomorrow and then will let them break on Friday. But when we do get back, we can't start over. We've got six days of installation that we have to retain and pick up and keep moving forward. We don't have time to just start over. So that's on them. That's those guys taking pride in their performance and their preparedness, being ready when they get back. Going back through their notes, going through their film on the iPad, all that stuff.
"Everything is available to them, there is no excuse to not be prepared for what we've done. We've gone over the mistakes and the corrections. That's the challenge to those guys. They need time to unplug and enjoy a little time off, which they'll do. But we've got a lot of work to do when get back within the next three weeks. This is a fun team to come out and practice with every day. One of the things, and I thought I saw a little bit of it today, is if somebody's not quite bringing that sense of urgency and purpose to practice then they get exposed pretty quick, because it's very competitive. You can't really hide out here and I love that. I thought we had a little bit of that today with our secondary. A couple of guys were a little lethargic, and wideouts had probably one of the best days of the spring. But that's what I'm talking about, there's no room for error. And it's that way at every position. Just really good competition, day in and day out. And that's what is going to make us better. Anytime you have that type or sense of urgency at practice, you can't help but to improve."
Next two corners besides Mackensie Alexander

Mackensie Alexander
RS So. Cornerback
#2 5-10, 190
Immokalee, FL
View Full Profile
"We're repping all those guys. I'm really pleased with Ryan Carter

Ryan Carter
RS So. Cornerback
#31 5-9, 180
Grayson, GA
View Full Profile and what he's done. I think he's really stepped up these last 6 days. Adrian Baker's done some good things. I'm really pleased with him, he's got some good work. Marcus [Edmond] is still coming. We really like [Kaleb] Chalmers. We think he's going to be an outstanding player. He's a technically advanced guy for a young player. I'm really pleased with where he is from a starting stand point. That is a very competitive group. All of them taking pride in their performance."
Dane Rogers

Dane Rogers
RS So. Defensive End
#85 6-3, 260
Shelby, NC
View Full Profile moves inside to tackle
"We've been repping him. He's one of those guys that's a little like Rennie Moore

Rennie Moore
Defensive Tackle (2007 - 2011)
#94 6-3, 265
Saint Marys, GA
View Full Profile was several years ago. That probably he'll have his hands in both over his career. Right now we're working him at the inside at the defensive tackle. He can play the Nose and the three technique. Right now that's where we have him and I think that is the best spot for him with our personnel."
The Quarterbacks
"I can't say enough good things about Nick Schuessler

Nick Schuessler
RS Jr. Quarterback
#12 6-3, 195
Grayson, GA
View Full Profile . This is one of those practices that you wish that everybody got to see. It was pretty impressive. He has had six outstanding days of football practice. It's great to see the light come on for guys. He has done an outstanding job of leading. He's made some big time throws. Just playing with a sense of urgency that I have not seen from Nick Schuessler since he's been here. He's playing with a confidence that I have not seen since he's been here. As a result of that, he's playing faster and more decisive and accurate. Really encouraged with Nick. This has been great to see him just blossom like he's doing right now, and taking it and running with it. And those two young guys, they just keep getting better every day. Both of them, they're just doing good things. They're absorbing it well. This break will be good for them because both of them are the kind of guys that will go back and be further along when they get back. It's important to them. I'm pleased with both of them.
Would you consider red-shirting both Bryant and Israel if Nick continues to play well?
"We're going to line them up and go with whoever gives us the best chance to win. Because whoever your back up is, he's one rolled ankle away from having to go in and win for you. We know that we're expected to win. When the backup comes in, that doesn't turn the scoreboard off. We'll put them in the order that gives us the best chance to win not really anything else. If that's a true freshman, a walk-on, whatever, it doesn't really matter. Right now, Nick is way out front. It's not even close right now. The guy is in his fourth year in the system. I was very curious to see how he was going to come to work this spring. He has really asserted himself as 'I am the leader and let's go.' And I really like that. And then those other guys, there should be clear separation day one, day two, three, four when you're talking about a guy that's a four year veteran that's very prideful in his work. As far as what's best, what's best is however it shakes out as to whoever is the best one, two, three, four are. Last year after spring ball, we had clear separation, and then you get through camp, and here's a little different deal. We got to get the game and things change. Guys keep getting better. We're not even close to making decisions or anything like that right now. We got a lot of work to do. And a lot of guys are going to improve and close the gap I'm sure."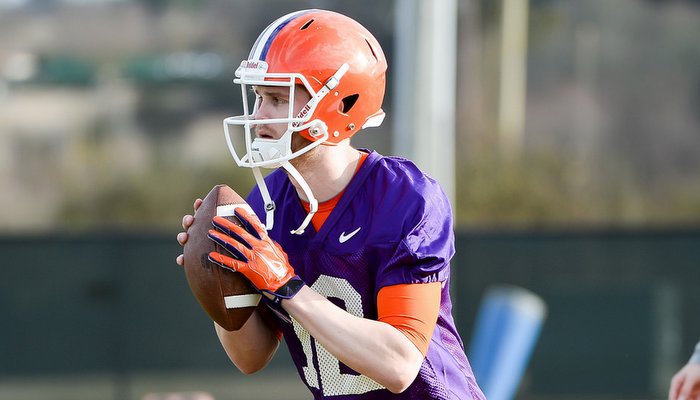 Injuries
*The break will also give players who are nicked up and suffering from injuries – mainly offensive linemen Joe Gore

Joe Gore
RS Sr. Offensive Tackle
#73 6-5, 290
Lake Waccamaw, NC
View Full Profile and Mitch Hyatt

Mitch Hyatt
Fr. Offensive Line
#75 6-6, 270
Sugar Hill, GA
View Full Profile – the chance to heal before the final stretch of practice begins.
"We'll get Joe and Mitch back Monday when we get back. They've been out the last couple of days. Mitch tweaked his hammy on field goal - the grass was slick. And, then Joe in a one-on-one drill stubbed his toe. Both of those guys were out today but they will be back that Monday."
On the offensive line
"Maverick [Morris] is working inside and outside. I really like what Eric Mac Lain

Eric Mac Lain
RS Sr. Offensive Tackle
#78 6-4, 305
Hope Mills, NC
View Full Profile is doing. [Isaiah] Battle is having a solid spring. And then you have [Tyrone]Crowder. It's a good group.
"We miss Jay big time right now because he's a guy that can really help us at center. [Justin] Falcinelli is going to be a heck of a player. We really, really like him. We know he can play guard. We're training him at center. We're working [Tyrone] Crowder at center. Zach Giella

Zach Giella
Fr. Offensive Line
#77 6-5, 275
Augusta, GA
View Full Profile and Zach Riggs

Zach Riggs
RS So. Center
#54 6-5, 270
Greer, SC
View Full Profile . Riggs is developing. He walked on as a tight end but he's developing. He's made that move to center and he's making the move nicely. Justin is the most inconsistent from a snap perspective. We're filming with the snap cam so they can see what they're doing. It all starts with the snap."
On the expectation and status of Jay Guillermo

Jay Guillermo
RS Jr. Center
#57 6-3, 310
Maryville, TN
View Full Profile 's return
"I really don't have any expectations. He is not in school. I hope he's back for summer one but I just want him to get well. I don't have any expectations or cutoffs or anything like that. I have no idea. I just hope that he gets well and can rejoin us."
On who's working on special teams at returner
"We got T.J. [Green] back and we're pleased with him. Artavis [Scott]. We've got Ray-Ray McCloud

Ray-Ray McCloud
Fr. Wide Receiver
# 5-9, 175
Land O' Lakes, FL
View Full Profile coming in and we think he's got a chance to be a pretty good return guy for us. Wayne Gallman

Wayne Gallman
RS So. Running Back
#9 6-1, 205
Loganville, GA
View Full Profile and C.J. Fuller

C.J. Fuller
RS Fr. Running Back
#27 5-9, 215
Easley, SC
View Full Profile have been working in that role."
*CORRESPONDENT TAYLOR LAWSON CONTRIBUTED TO THIS REPORT.

Tags: Clemson Football
,
Nick Schuessler
,
Rennie Moore
,
Joe Gore
,
Eric Mac Lain
,
Jay Guillermo
,
Wayne Gallman
,
Dane Rogers
,
Mackensie Alexander
,
Ryan Carter
,
Zach Riggs
,
C.J. Fuller
,
Mitch Hyatt
,
Ray-Ray McCloud
,
Zach Giella